Posted By Norman Gasbarro on July 19, 2013
According to family tradition, Conrad Reutler was a Civil War veteran.  At his grave site in Tumbling Run Cemetery, Blythe Township, Schuylkill County, Pennsylvania, there is a G.A.R. star and flag holder indicating that he served in the Civil War.  However, family research has been unable to confirm his service or the regiment in which he served.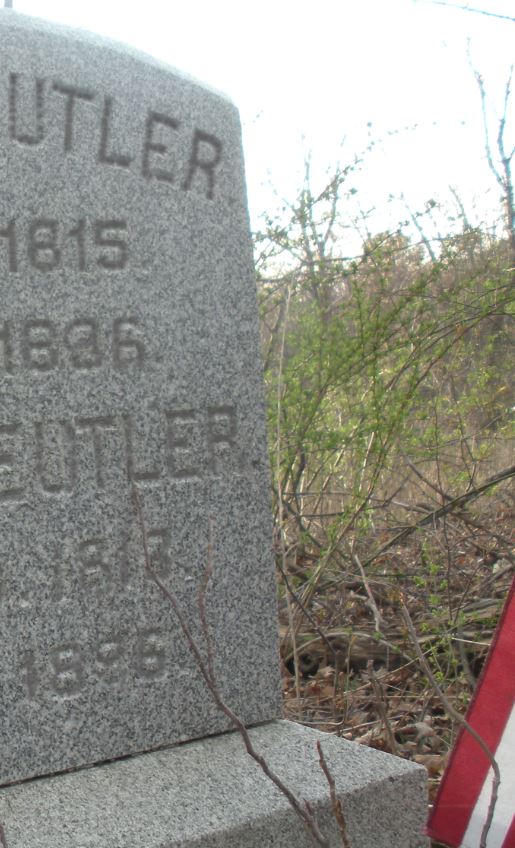 A portion of the picture of his grave marker is shown above – with the flag visible in the lower right hand corner.  From the picture, the  stone appears to be relatively new and may have been added  after the death of Conrad Reutler and his wife Maria, both of whom are buried in the plot.
Tumbling Run Cemetery is located across from a schoolhouse near Middleport, Schuylkill County.  The burial record, shown below, confirms that this was the original place of burial: "Buried at School House in Tumbling Run Valley across from Middleport."
Also confirming this is an obituary, shown below, that appeared in a local newspaper at the time of his death: "Interment will be made in Tumbling Run Cemetery."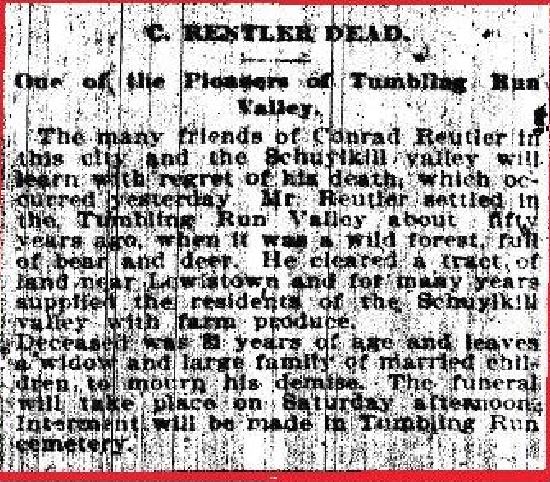 Conrad Reutler was born 11 January 1815 in Prussia, Germany.  He emigrated to America after his marriage to Maria Catharina Knoblach, also born in Prussia.  Together, the Reutler's had at least nine children, and possibly ten, although the last-noted, George Reutler, may have been a grandson rather than a son (he was only 11 years old in 1880, when Maria was at least 65).  Conrad Reutler was a farmer – a fact confirmed by his obituary and the census returns from 1860 through 1880.  There is person of a similar name – C. Ridler – who appears on the 1875 map of Blythe Township, Schuylkill County, living south of Middleport, near Germantown, and this is probably the location of the Reutler farm at the time the map was published (shown below).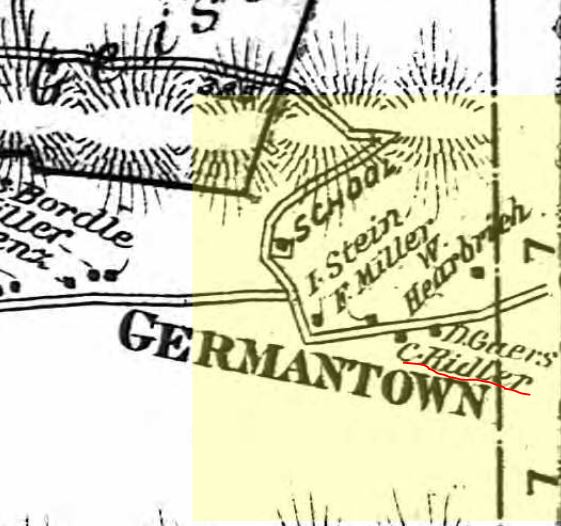 Similar to the family attempts to identify a specific regiment of Civil War service for Conrad Reutler, a recent search also failed to give positive results.  Searches were made in the compiled databases such as American Civil War Soldiers, U.S. Civil War Soldier Records and Profiles, U.S. Civil War Soldiers 1861-1865, and Pennsylvanians in the Civil War.  Also searched were the Pennsylvania Archives card files for service and for burial as well as the National Archives card file for pensions – and the 1890 Veterans' Census..  A search was also made in the records on Fold3 with no regiment identified.  These searches, producing no results, are not in themselves an indication that Conrad Reutler did not serve – although the inability to get a positive result is a strong indication that he did not serve in the war.  It is possible that he did participate in one of the many emergency militia regiments and was not recorded as a soldier.  Given his advanced age at the time of the start of the war – he was 46 – it was less likely that he would have been in regular service.
In turning to the 1860 census, it can be seen that the Reutler's had a 16 year old son – Jacob Reutler.  Jacob, whose name is most often found spelled "Reidler," would have been of a more appropriate age for Civil War service that his father.  The index card from the Pennsylvania Archives, shown below, identifies a 21-year old Jacob Ridler, enrolling at Carbon County, 9 August 1962, as a Private in the 132nd Pennsylvania Infantry, Company F.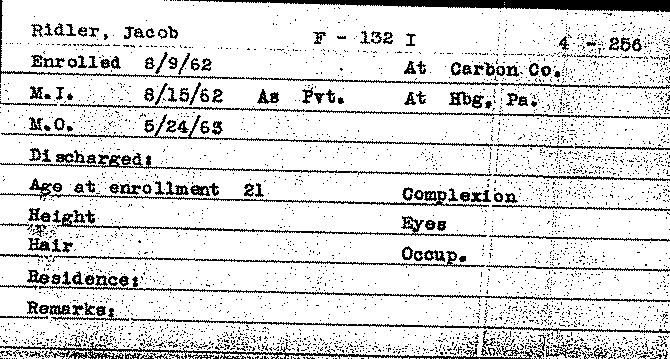 Was this the son of Conrad Reutler?
One possibility, not fully explored, is that a son of Conrad Reutler is buried in the family the plot at Tumbling Run Cemetery – and that his grave is unmarked, except for the G.A.R. star and flag holder.
Readers are invited to comment on this post and add any information which would help to answer the posed questions: (1) Was Conrad Reutler a Civil War veteran?  (2) Was Jacob Ridler, who served in the 132nd Pennsylvania Infantry, a son of Conrad Reutler?  (3) Is Jacob Ridler buried at Tumbling Run Cemetery and, if so, is the G.A.R. star and flag holder for his service?