Posted By Jake Wynn on July 9, 2013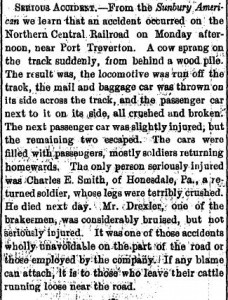 -Evening Telegraph, July 11, 1863

Serious Accident.—From the Sunbury American we learn that an accident occurred on the Northern Central Railroad on Monday afternoon, near Port Trevorton.

A cow sprang on the track suddenly, from behind a wood pile. The result was, the locomotive was run off the track, the mail and baggage car was thrown on its side across the track, and the passenger car next to it on its side, all crushed and broken.

The next passenger car was slightly injured, but the remaining two escaped. The cars were filled with passengers, mostly soldiers returning homewards. The only person seriously injured was Charles E. Smith, of Honesdale, PA, a returned soldier, whose legs were terribly crushed. He died the next day.

Mr. Drexler, one of the brakesmen, was considerable bruised, but not seriously injured. It was one of those accidents wholly unavoidable on the part of the road or those employed by the company. If any blame can attach, it is to those who leave their cattle running loose near the road. 
The accident appears to have occurred on Monday, July 6, 1863.