Posted By Jake Wynn on July 11, 2013
The estimated 51,000 casualties at Gettysburg came in many different forms. Most were the wounded; tens of thousands of men injured by bullets, shells, or any number of other potentially fatal encounters faced in battle. Some were captured over the battle's three day span. However, Gettysburg's saddest cases involved those who were killed on the field of battle.
From the many tales told of the struggle at Gettysburg, it is known that these were some of the hottest days of 1863. Those fighting faced temperatures that reached easily into the 90s. The bodies of those killed would sit on the field for several days, exposed to the vicious sun and heat of early July.
Areas around the first day's battlefield, west of Gettysburg, were the first to be greeted by the stench of decaying flesh. Over the course of the battle, manpower was not present enough in most areas to begin the task of burying the dead. In other cases, the dead lay between the lines, meaning they were unreachable until the fighting ceased.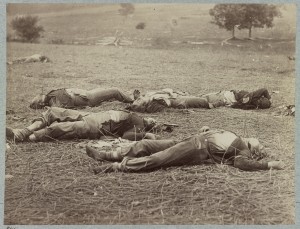 The unenviable task of burying the Union and Confederate dead fell to townspeople, militia men, and those who stayed behind with the army of wounded soldiers surrounding Gettysburg. This was a tall task, even in good conditions.
Instead, an estimated 8,000 decaying corpses lay scattered across many square miles of territory. They had already been exposed to the sun, and the intense rainstorms following the battle did little to mend the situation.
As "Description of the Battlefield of Gettysburg" described, it took days and days to finally be able to bury the dead from both sides. Unfortunately, Union men took precedent over those of the Confederates, and many a Southern soldier was left in the open air for more than a week.
Temporary graves dotted the landscape of Gettysburg, with their basic wooden head boards and their freshly tilled earth. Those were the lucky ones. Many of the bodies would never be positively identified.
In the weeks and months following the battle, graves were dug up and moved to new homes in either the newly formed National Cemetery at Gettysburg, or to places back home for those who could be identified. Sadly, Confederate graves were left untouched in this process, as at the time, it was felt to be improper to give such an honor to the enemy. In the years following the war, Confederate graves were unearthed and many were taken to Hollywood Cemetery in Richmond, Virginia.
It is gruesome to think about such tragedies. However, it is necessary to examine these stories to convey the horrors of this war. Too many times today, the Civil War is glorified for its heroes and its battles, but the true cost of war needs to be shared as well.