Posted By Norman Gasbarro on July 26, 2013
Jacob B. Lehman was born in Mifflin Township, Dauphin County, Pennsyvlania, 15 November 1822 and died in Lykens, Dauphin County, on 9 September 1892.  He is buried in the I.O.O.F. Cemetery in Lykens.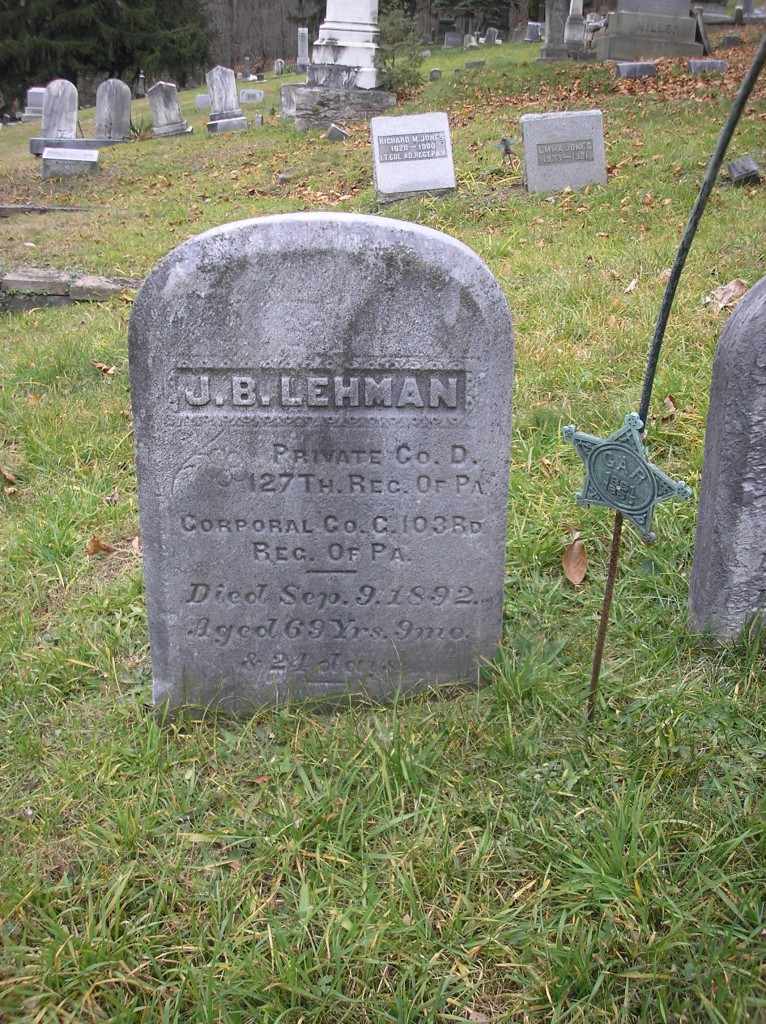 A "Memorial" to him was located in the records of the Evangelical United Brethren Church of Lykens.  In the "Memorial" it is stated that "when the Church was in need he was willing to give his soldier overcoat as purchase price for building materials."  It is also stated that "when his country was in need he responded to the call of duty."  The text of the ?Memorial," which was written in a volume kept at the church also states:
Brother Jacob B. Lehman was converted about forty-seven years ago and united with the Church of the United Brethren in Christ to which he remained a faithful and active member until his death. He served the Church in various offices being at one time Class Leader, Church Trustee, and Steward.  He was faithful in the discharge of the duties of his office and was a very earnest exhorter in the German language.  He was serving as Trustee and Steward when death came.  As a Christian he was ever ready to give a helping hand and sought to win others to Christ.

His funeral services were held in the Church, 11 September, in charge of the Pastor, the Rev. J. A. Keiper.  The sermon was preached in the German language by Rev. J. Runk from the words as recorded in John 11:11, 'Our friend Lazarus speepeth, but I go that I may awake him out of sleep.'  In speaking of the deceased, he said, 'that he was faithful to his God, his Church, and his Country.  Rev. J. A. Keiper preached in the English language from John 16:22….

A large throng of people followed his body to its lasting resting place, preceded with the band.

He was a veteran of the Civil War and was given a military burial.

He was the father of Brother N. G. Lehman and of Clara, Mrs. Daniel Hawk.
During the Civil War, Jacob B. Lehman served in the 127th Pennsylvania Infantry, Company D, as a Private.  He was mustered into service on 9 August 1862 and mustered out with his company on 29 May 1863.  Later he joined the 103rd Pennsylvania Infantry, Company C, as a Corporal, where he served from 9 March 1865 though discharge on 25 June 1865 at New Bern, North Carolina.
In addition to being recognized by his church, Jacob is also named on the Lykens G.A.R. Monument as a Corporal and a member who joined the Heilner Post after its organization.

Of all Jacob B. Lehman's accomplishments, including serving in the war and serving his church in various offices, it is significant to note that the only anecdotal remark made in the church "Memorial" was that he gave his soldier coat to pay for building materials for the church.