Posted By Norman Gasbarro on May 9, 2013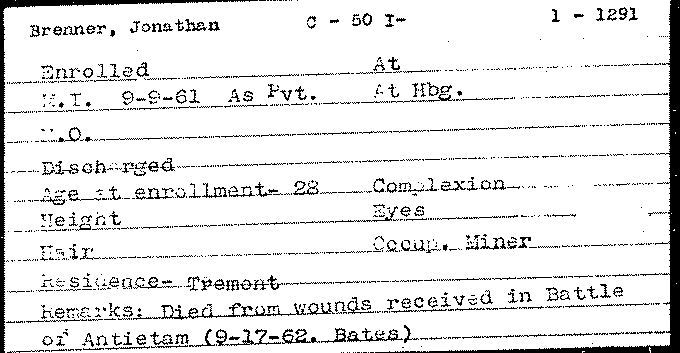 Jonathan Brenner, who was mustered into service as a Private in the 50th Pennsylvania Infantry, Company C, on 9 September 1861, died from wounds received at the Battle of Antietam,  17 September 1862.  He was a coal miner from Tremont, Schuylkill County, Pennsylvania, who was 28 years old at the time of his enrollment.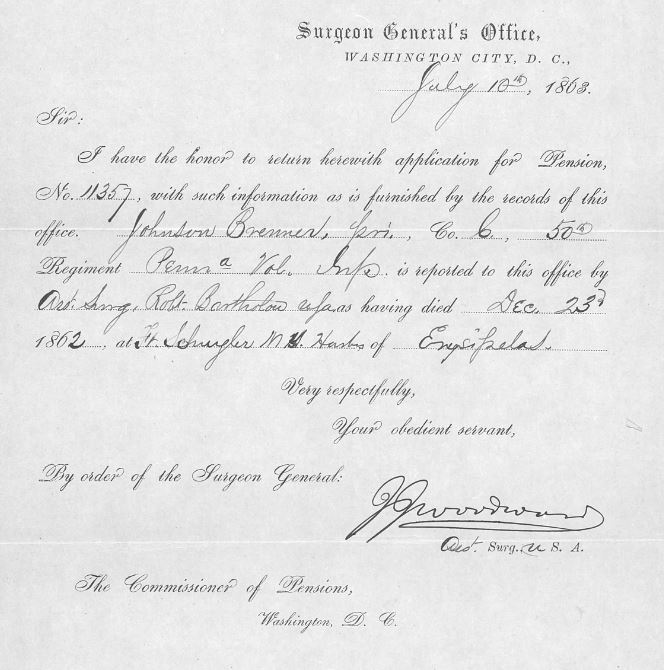 As the above letter from the Surgeon General's Office shows, the date and place of death of the soldier, as well as the actual cause of death, were reported to the Pension Bureau, when Sarah [Shuger] Brenner, Jonathan's widow applied for survivor's benefits.  Death occurred at Fort Schuyler, New York, on 23 December 1862, from ersyipelas, infectious skin lesions which usually occur on the extremities.  The letter is dated 10 July 1863.
After the report of his death, Sarah made contact with W. Ramsey Potts, an attorney from Pottsville, Schuylkill County, who compiled her Widow's Pension Application, which, according to the record, was submitted in January 1863.  Potts' signature (below) appeared on the cover page of the filed documents.  Sarah was applying for benefits for herself and for her young son, John Wesley Brenner, who was born 21 January 1860.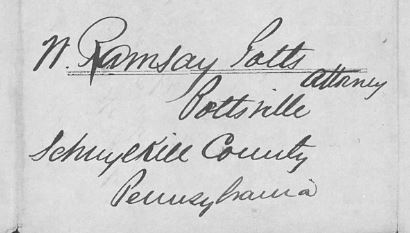 However, the Pension Index Card (shown below) only indicates that she applied for widow's benefits – not benefits for a minor.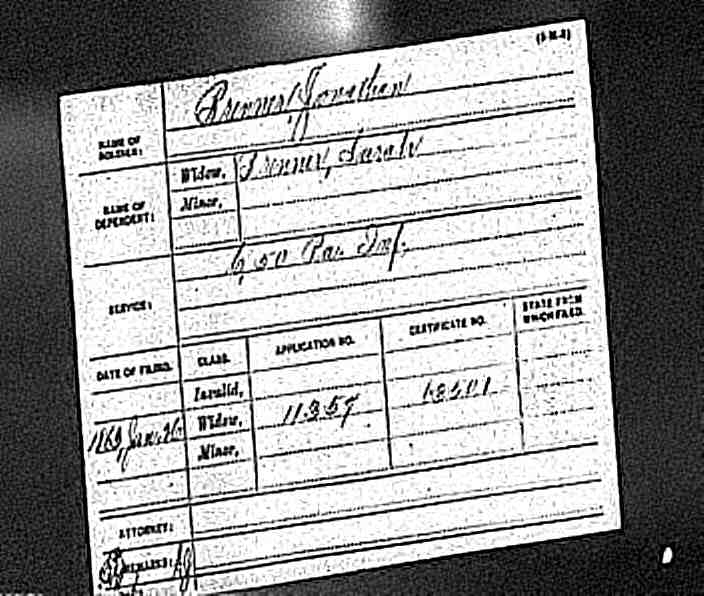 During the application process, Sarah became impatient with the government and with its requirements of her.  In July 1869, she sent the following letter to the Pension Bureau: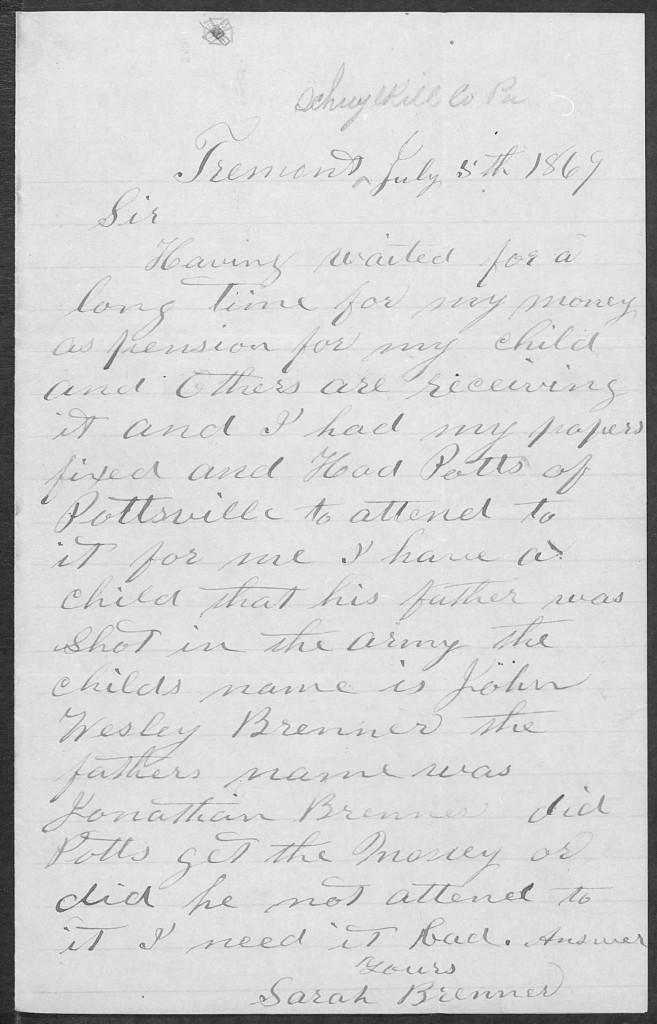 Schuylkill County, Pennsylvania

Tremont, 5 July 1869. 

Sir,

Having waited a long time for my money as pension for my child and others are receiving it and I had my papers fixed and had Potts of Pottsville to attend to it for me.  I have a child that his father was shot in the army.  The child's name is John Wesley Brenner.  The father's name was Johathan Brenner.  Did Potts get the money or did he not attend to it.  I need it bad.  Answer. 

Yours,

Sarah Brenner
It is not known who wrote the letter for Sarah (she could not read or write as evidenced by the mark of "X" that she made on the pension application), but her assumption that her attorney, Potts,  may have received the money and not given it to her may have been a common one among those who had losses and the workings of government were too slow to meet their needs.  Did Sarah supply everything that was needed in order for her pension to be approved?

Included in the pension application was a copy of the required certification of marriage between Sarah Shugar and Jonathan Brenner, such marriage performed by Adam Wolf, Justice of the Peace, at Tremont, 10 October 1858.  There was also a statement proving that Adam Wolf was a Justice of the Peace at the time and was authorized to perform marriages.
To prove that John Wesley Brenner was her son (and the son of Jonathan Brenner), Sarah had to produce a witness, which she did on 5 March 1869.  In a sworn statement, Elizabeth Barr, indicated that she was present in the same room where Sarah delivered the child, John Wesley Brenner.  She also named the "professional midwife," Catherine Batenstein, "of skill and reputation."  The late date (1869) on this affidavit is a possible indication that the application, as initially filed by Attorney Potts, may not have been complete – and because this required paperwork was not submitted with the original application in January 1863, Sarah had to wait more than six and half years before receiving any benefits for her child.
When she eventually did receive the pension, it was paid back to the day of death of her husband.  The standard rate at the time was $8 per month for the widow, and $2 per month per child (to the age of 16).
At this time, it is not known what happened to Sarah [Shugar] Brenner, or to her child John Wesley Brenner.  They have not yet been located in later censuses.
Perhaps a reader of this blog can fill in the missing details.  Comments are welcome via e-mail or can be attached to this post.
——————————
The pension application file of Sarah Brenner (30 pages) is available on Fold3 and the portions of documents pictured above are from that file.  It is also available at the National Archives in Washington, D.C.   Pennsylvania Veterans' Index Cards are available from the Pennsylvania Archives.  The Pension Index Card is from Ancestry.com.