Posted By Norman Gasbarro on May 5, 2013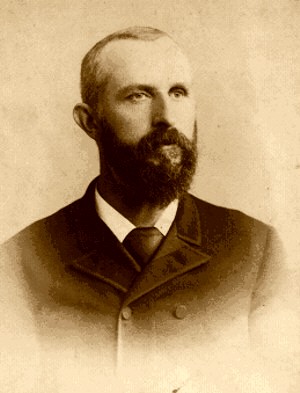 Jonas Swab of the 210th Pennsylvania Infantry carried on a regular correspondence with his father during the Civil War.  Several of the letters he sent to his father were preserved by a family member and transcribed and published in The Johannes Schwab Family: 240 Years in America. a copy of which is available at the Gratz Historical Society.
On New Year's Day, 1865, Jonas noted that he believed the campaign was over for the winter… and he thanked his father for the gloves he sent him:
"I'm glad for them cloves. I got a pair from Uncle Sam, but these pair suit me much better….

"I expect the campaign is over for this winter.  The army is laying still in winterguaters now and the canons are pretty quite…. Two days pricket duty to do and live with small rations if it wouldn't be for my little money which I have yet, I would starve.  But we can buy as much bread as we want…."
On 21 January 1865, Jonas asked his father to send a box:
"I'll take a box if it ain't to much trouble.  Send me one for all the boys in my tent.  Each of them get a box….

"About the articles, you may put in whatever you want though I will mention some.  I would like to have some writing paper, envelopes, black thread, and a needle to patch my old slacks… but don't put in anything that will spoin in two weeks.  It takes two weeks for a box to come out here.

"You have wrote me that you have so many snows up there.  The most snow we had, I was out on picket…  but rain plenty…. You have wrote me that there are many children sick and dieing in our valley.  It's about the same with soldiers out here.  There are a great many sick in the army…."
From "Camp Skear," Jonas wrote on 10 February 1865:
"We are trilling pretty hard….  About fighting is no use to tell much because they fight almost every day.  But our regiment don't fight yet.  They take old sodiers in first and they whift them off always so that no chance to fight.  Last Thursday I have seen a little fight.  The rebs stand only to valleys of firing and then they fall back.  We had only few wounded….  On Saturday we had another fight about a mile from out camp.  There was a big white house and a reb fort…. They fired two canons on the white house and threw shells in it and it burnt down….

'"Please send my tax receipt.  I can't vote without my tax receipt…. Send it to me as soon as you can because we must all stick to getter to get in Mac.  About half the soldiers are for Mac.  I have seen reb prisoners.  They said of we get Maccledlon in the war, it will be over in three months…."
The last sentences of the February 1865 letter are curious since the election of Lincoln (vs. McClellan) had taken place in November 1864.
Jonas Swab was a staunch Democrat throughout his life.  When he returned to Elizabethville, Dauphin County, he learned the trade of blacksmithing and later established the Swab Wagon Company.  The story of Jonas Swab was previously told in the post entitled:  Pvt. Jonas Swab – Wagon Manufacturer.
——–
The biography of Jonas Swab appears on pages 97-100 of the aforementioned, The Johannes Schwab Family: 240 Years in America, where complete transcriptions of the letters to his father can be found.