Posted By Norman Gasbarro on May 12, 2013
Daniel Bonawitz, who died in the Civil War, was born on 11 April 1831 in the Tremont and Pine Grove area of Schuylkill County, Pennsylvania, and was the son of George Bonawitz (1805-1860) and Mary [Koons] Bonawitz (1810-1871).  He was baptized at St. Peter's Lutheran Church in Pine Grove on 22 May 1831.  In 1850, at the age of 19, he was recorded as living in Pine Grove in the household of Henry Suckenganst, a carpenter, perhaps where he was learning the trade as an apprentice.  He was also recorded, in the same census, in the household of his parents where he was listed as a laborer, an occupation also held by his father George.
In 1851, Daniel Bonawitz married Sarah Ann Greager, and to the couple, four children were known to have been born prior to Daniel's Civil War service.  These children were:  Sarah Ann Elizabeth Bonawitz, born about 1852; Arthur Peter Bonawitz, born about 1857; George Bonawitz, born about 1859; and Lucy Ann Bonawitz, born about 1861.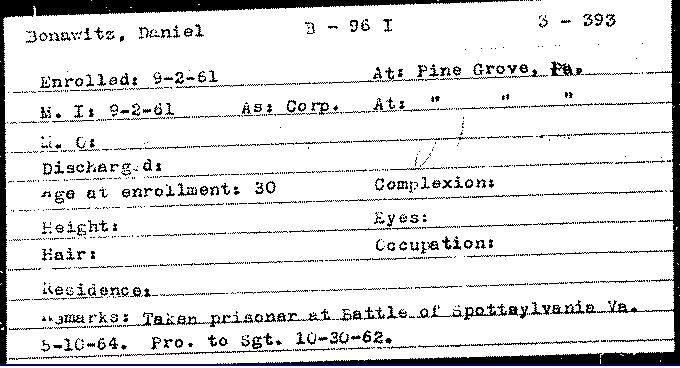 On 2 September 1861, Daniel Bonawitz enrolled in Company B of the 96th Pennsylvania Infantry, at Pine Grove, and on the same day he was mustered into service as a Corporal.  He was 30 years old at the time.  Records of the regiment show that he was promoted to the rank of Sergeant on 30 October 1862.  At this time, not much is known about his service, except that the Pennsylvania Veterans' Index Card from the Pennsylvania Archives (shown above) notes that on 10 May 1864, he was taken prisoner at the Battle of Spotsylvania.  He never returned from the war and it is presumed that he died while a prisoner.
The Gratz Historical Society has a copy of a Civil War diary kept by Henry Keiser of Gratz and Lykens Borough which he kept throughout his entire service in the 96th Pennsylvania Infantry.   Most entries in the diary were brief, except where major incidents or battles took place, and then Henry Keiser usually gave a detailed accounting which included names of casualties and those taken prisoner.
Henry Keiser described the Battle of Spotsylvania in his diary entry for 10 May 1864.  The "961" at the beginning of the diary entry indicates that this was his 961st day of service in the regiment, which would have been very consistent with the record of Daniel Bonawitz, who also joined the regiment at the time it was being recruited.  However, Henry Keiser's muster date into Company G was approximately a month later than Bonawitz's, making Bonawith's service closer to 1000 days at the time of Spotsylvania.
From Henry Keiser's diary:
961.  Tuesday, May 10, 1864.  The enemy charged our lines twice last night but were repulsed each time.  The rebels shelled us considerably this forenoon.  One shell struck a stack of Company K wounding seven men.  This afternoon our Regiment was moved behind the brow of a hill to protect us from the enemies shells.  Our batteries succeeded in silencing their guns in our immediate front.  There has been hard and heavy fighting on our right all day.  At 5 o'clock this evening we had orders to pile our knapsacks and placed William Buck to guard the —-.  We were then marched a short distance from camp in light marching orders to form a charging line and were also one of the first Regiments to get into line.  We then had orders to lie down the Rebels peppering away at us while the balance of the troops were getting into line.  The Rebs were about two hundred yards away, with strong Rifle Pits with head bags for protection at 6 o'clock p.m. all being in readiness the command to charge was given with instructions to reserve our fire until we jumped the rifle pits, which proved lucky for us as most of the Rebels' guns were loaded and they were at our mercy, although nearly half of our line was shot down before we reached the pit.  With started on the full run with cheers (a brush pulling my cap off in the start and I went in bare headed). Many a poor fellow fell pierced with rebel bullets before we reached the rifle pits.  When those who were left reached the pits we left them have it.  They were very stubborn and the bayonet and clubbed muskets were used freely before the pit was fully in our possession.  We captured, killed or wounded the big majority of the first pit.  We sent the prisoners to the rear and went for the second pit, about 75 yards away.  Carried that and some of our troops were closing in on the third pit where they had artillery in position, where our support, not giving us the aid expected of them, we were flanked and had to get back losing all we had gained, and having our dead and wounded in the enemies hands, all owing to the supporting Regiments not attending to their duty.  It was dark by the time we got back to our old position where we had our knapsacks.  Just after getting back to the first pit taken.  Henry Romberger of our Company, jumped clear over the rifle pit, as pale as a sheet.  He was shot a little to the left of the navel.  I told him to lean on me and I would take him out, but he said he must rest first.  Just then an officer directed lot of us to the left, and I had to leave him.  Shortly after than Lewis Romick seen him and washed his wound, but could not move him.  Those known to have been killed of our Company (G) are Sergeant B. B. Wagner of Hamburg, Berks County, Sergeant James M. Ferree of Lykens, Dauphin County, Corporal Joshua Workman of Wiconisco, Privates James Betz of Hamburg and Frank Workman, Wiconisco.  Those wounded and got back to camp are 1st Sergeant John Williams, Hamburg, wounded in right shoulder, Sergeant Joe Alvord, Lykens, left arm and side, John Beard, Hamburg, right shoulder, George C. Bear, Hamburg, top of left hand; Phil Baddorf of Lykens, left arm broken; Josiah Balliet, Hamburg, left leg; Lewis Fritz, Hamburg, through cheek; John Luke, Minersville, in head; Jno. Shollenberger, Hamburg, both legs; Daniel Stahl, Lykens, left leg; Harry Wagr?, Hamburg, not known how wounded; H. Romberger, Wiconisco, left breast.  The following are missing and not known what became of them, Edwin Mayer, Wiconisco, Daniel Betz, Hamburg and Elias Hardinger, Hamburg.  We took about fifteen hundred prisoners.  This is called Spottsylvania [sic].  The Regiment lost 130 men.  Company G, 22 killed wounded and missing.  At the time of re-writing of this (October 24, 1912) and long before, the following is known.  Henry Romberger was never heard from after we left him at the Rebel breast works and certainly died there.  Of those who were wounded and got into our lines, Philip Batdorf died in hospital.  Of those wounded and prisoners, Joseph Workman had left leg amputated at thigh and died in Rebel hands.  David Machamer left leg amputated at thigh and came home some time after.  Henry Wagner not known what became of him, but no doubt was killed or died in Rebel hands.  Of those missing it is now known that Edwin Mayer and D. Betz were killed and Elias Hardinger was exchanged and died in hospital in Annapolis, Maryland.
It is hard to believe that Henry Keiser did not know Daniel Bonawitz, although they were in different companies, and the regiment consisted of nearly 1000 men. Keiser was serving at the rank of Corporal and near the end of the war was promoted to Sergeant.  Bonawitz began as a Corporal and was promoted to Sergeant early in the war.  Nevertheless, he did not mention Bonawitz in the diary.
After receiving news that her husband was missing, Sarah Ann [Greager] Bonawitz applied for a widow's pension.  The Pension Index Card (below) shows that she applied on 14 November 1865 for herself and on 3 August 1872 for her minor children.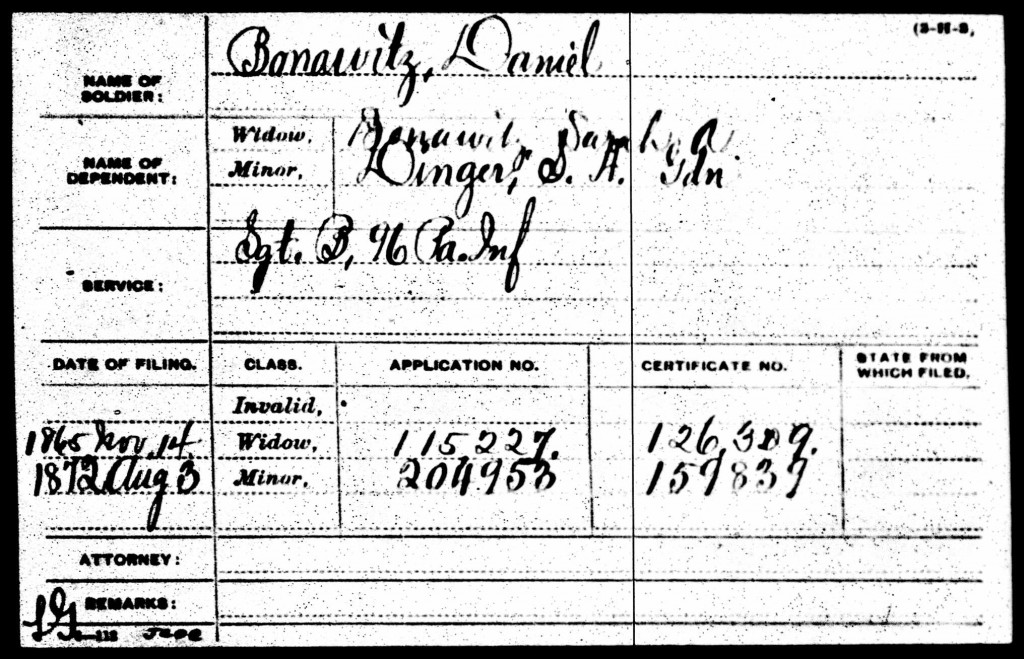 The card notes that "S. A. Dinger" was the designated guardian for the children, the guardian being appointed most likely because Sarah could not read or write.  Sarah did receive a pension as a result of her deceased husband's service, and she could continue to do so as long as she did not re-marry.  But, the record shows that she did re-marry – to Nathan S. Dinger, also a Civil War veteran.  At this time it is not known how and if Nathan was related to the the "S. A. Dinger" who served as guardian for Sarah and Daniel Bonawitz's children, or if it was the same person.  Nathan S. Dinger had served in the 107th Pennsylvania Infantry, Company D, as a Private and during his war experience, was wounded at Bull Run and Gettysburg.  The extent of his wounds were described in the 1890 Census when he reported that he had been shot in the left leg and that he also lost his left eye.  Nathan S. Dinger, applied for his pension on 28 July 1865 – a pension which he received and continued to collect until his death on 1 July 1916.  Sarah and Nathan had children together, and from the Census of 1870, it appears that Nathan adopted some of Sarah's children with Bonawitz, since in the census they appear with the Dinger surname.
Research is on-going into the military service of Daniel Bonawitz and the circumstances of his death.  The pension application file of Sarah Ann [Greager] Bonawitz has not yet been posted to Fold3, put should be posted soon as the files are being scanned and uploaded in the order of application.  Those researchers impatient with the Fold3 process can visit the National Archives in Washington, D.C., and view the files and make copies of them by referencing the numbers on the Pension Index Card shown above.
—————————–
The Pension Index Card is from Ancestry.com.