Posted By Norman Gasbarro on May 1, 2013
The last post discussing the commemorative stamps of the United States that honored Abraham Lincoln featured the 1959 stamp set issued in recognition of the Sesquicentennial of his birth.  See: Abraham Lincoln on Stamps – The Sesquicentennial Issues of 1959.
In 1960, a special stamp was issued to meet the international air mail postage rate for a letter to Asia and other distant points.  The First Day Ceremonies were on 10 June 1960, at San Francisco, California, where 211,235 First Day Covers were canceled.  A portrait of Abraham Lincoln was surrounded by the words he spoke at Gettysburg. "Of the people, by the people, for the people."   The stamp was part of a set of three, with the 10 cent stamp portraying the Liberty Bell ("Let Freedom Ring") and the 15 cent stamp portraying the Statue of Liberty ("Liberty for All").
——————————-
Also in 1960 and continuing into 1961, the "American Credo" set of six stamps was issued.  The series began in January with a quotation from George Washington's Farewell Address which was followed by stamps with quotes from Benjamin Franklin, Thomas Jefferson, and Francis Scott Key.  The fifth stamp in the set recognized Abraham Lincoln with the quote, "Those who deny freedom to others deserve it not for themselves."
The Lincoln Credo stamp was issued 19 November 1960, at New York, New York  where 467,780 First day Covers were canceled.  The sixth and final stamp in the Credo series was issued in January 1961 and recognized Patrick Henry's "Give me liberty or give me death."  Among the common design elements of the American Credo Issue were the frame and the facsimile signature.
——————————
The fifth stamp in the Civil War Centennial Series, issued on 9 April 1865, at Appamattox, Virginia, showed Abraham Lincoln in silhouette with the words from his Second Inaugural Address, "With Malice Toward None…."  Leonard Fellman designed the Appomattox stamp and 653,121 First Day Covers were canceled.
—————————–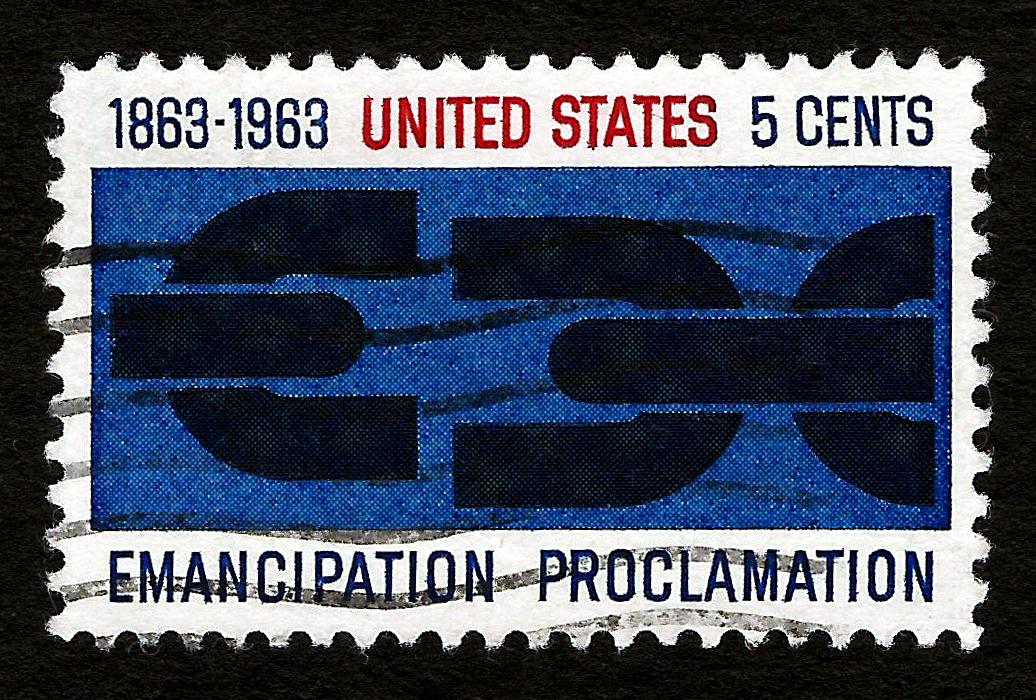 Though not featuring a portrait of Abraham Lincoln or any of his words, the Centennial of the Emancipation Proclamation, issued 16 August 1963, is nevertheless considered a Lincoln stamp.  Designed by Georg Olden.  At Chicago, 494,886 First Day Covers were canceled.  The stamp design, a broken chain, avoided the controversial, patronizing features of the 75th Anniversary stamp for the 13th Amendment – issued in 1940 at the World's Fair.
—————————-
More than 20 years passed before Lincoln was again recognized on a commemorative stamp.  In 1984, in recognition of the 50th Anniversary of the National Archives, Michael David Brown designed a stamp with the likeness of Lincoln (in a stovepipe hat) and the outline of the face of George Washington.  It was issued at Washington, D.C. on 16 April 1984, where 414,415 covers were canceled.
The 11 October 1984 stamp with Abraham Lincoln reading to son Tad, was designed by Bradbury Thompson and was based on a daguerreotype from Anthony Berger.  At Washington, D.C., 437,559 First Day Covers were canceled.
——————————-
Then in 1986, at a major international philatelic event in Chicago, Illinois, a set of four souvenir sheets was sold to honor all 35 deceased presidents.  Nine stamps were on each souvenir sheet, the presidents were presented in the order in which they served, and the White House completed the count of 36 (9 x 4).  Lincoln, as the 16th President, was on the second souvenir sheet (shown below, bottom left).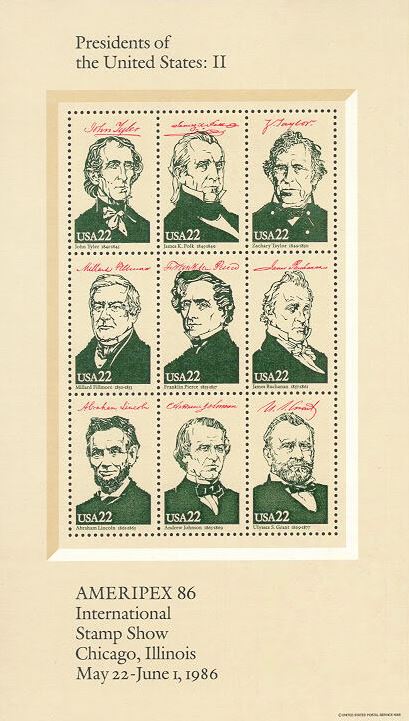 Issued 22 May 1986 at AMERIPEX '86, International Philatelic Exhibition, Chicago, Illinois.  The sheets were designed by Jerry Dadds.
First Day Cancellation was applied to 9,009,599 covers with one or more of the 4 miniature sheets or individual stamps from the sheets.  No individual records were kept that give any indication as to how many cancels were applied to the individual Lincoln stamp or to the sheet number 2 with the Lincoln stamp.
—————————–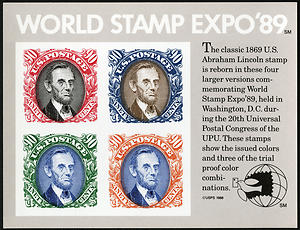 World Stamp Expo was held in Washington, D.C. in 1989.  A souvenir sheet was issued 17 November 1989,  It was designed by Richard Sheaff.  281,725 First Day Cancellations applied to souvenir sheet or to individual stamp from souvenir sheet.  The 90 cent stamp was of the same design as one of the first Lincoln stamps (see:  Early Postage Stamps Honoring Abraham Lincoln).
In New York, prior to World Stamp Expo, the post office issued a 25 cent stamp to publicize the event.  It was also designed by Richard Sheaff and featured the same 90 cent Lincoln replica stamp – although in this case, the postage value was only 25 cents – the rate for a letter of up to one ounce. First Day of Issue: 16 March 1989.  296,310 First Day Cancellations were applied to this stamp.
—————————
The final Lincoln stamp to be mentioned (and pictured) in this blog post is from the Civil War sheetlet of 20 different designs issued in 1995.
The Civil War sheetlet was designed by Mark Hess.   There were 20 different designs (4 rows of 5 stamps), and Abraham Lincoln is stamp number 5 in row number 2.  The sheetlet was released on 29 June 1995 at Gettysburg, Pennsylvania. There were 1,950,134 First day Cancels applied to the full sheetlet of 20 or to individual or combinations from the sheetlet.  There is no way to tell how many First Day Cancels were applied only to the Lincoln stamp, since the post office didn't keep those records.  A future blog post will discuss this sheetlet of 20 designs.
———————————
There are other United States postage stamps that have pictured Abraham Lincoln or could be included in a "Lincoln on Stamps" collection.   There is one in particular (issued prior to 2009) that has not been included in this series of posts – a commemorative stamp that, although not specifically mentioned, a feature of the stamp design was pictured in a prior post.  Can anyone identify the missing stamp?  Readers are also invited to identify other Lincoln stamps (issued prior to 2009) that could also be included.
——————————–
Information on issue dates is from the Scott Specialized Catalog of U.S. Stamps and Covers, 2005.  Basic information on stamp issues from Abraham Lincoln on Postage Stamps, the catalog for a special exhibit prepared for a county historical society in Pennsylvania in 2000.
For other blog posts about United States Postage Stamps and the Civil War see:
Early Postage Stamps Honoring Abraham Lincoln
Postage Stamps Honoring Abraham Lincoln – Bureau of Engraving and Printing to 1909
Abraham Lincoln on Stamps – Regular Issues of the 1920s to the Early 1950s
Former Presidents Who Were Alive During the Civil War
Abraham Lincoln on Stamps – Regular Issues of the 1950s through the 1960s
Abraham Lincoln on Stamps – Commemorative Issues, 1909-1958
Abraham Lincoln on Stamps – The Sesquicentennial Issues of 195
Commemorative Postage Stamps for the Civil War Centennial, 1861-1865 to 1961-1965