Posted By Brian Tomlin on April 15, 2013
The front room of every house in the Victorian era. referred to as the parlor, was by far the most important room in the house. The most money was spent on its furnishing and decorating, the most consideration given to decorating and design. This was the room visitors would see, after all, and was a most important reflection of who the family was. The Civil War in the U.S. took place int he 1860s, when several historical revival styles of decorating were taking place. The popular furnishings were reproductions and influences of earlier styles; some of the most popular styles at that time were American Empire (massively large and heavy dark wood furniture in a relatively plain style), Gothic Revival (arches on furniture, spool turnings, carvings and other embellishments that resembled highly stylized leaf patterns), Rococo Revival looking back at 18th century France with ornate carvings of fruits, flowers, birds (along with heavily gilt mirrors and marble table tops). Cast-iron furniture had also become popular by the 1860s. Beginning during the Civil War, Renaissance Revival style became fashionable (with large furniture with lots of ornamentation).
We speak of popular styles because the industrialization of manufacturing had made machine-made, mass-produced furniture and household furnishings made available to the middle class the latest fashions. this was also the era when many women's magazines began to appear, explaining the latest styles.
And whatever style one gravitated toward, during the Civil War era, one only stuck with one style. The wild eclecticism of the late 1870s and 1880s had not yet come about.  This was no more true than in the parlor, when it was considered important to have every piece pf furniture match, preferably in the same pattern from the same manufacturer.
Walls. The parlor was to be painted in light shades to avoid being dreary in the low light of the evening, when the room was most likely to be used. Shades of gray, pink and green were used, with woodwork painted a darker tint of the same color. Machine-made wallpapers had been introduced in the 1840s and had become something of an obsession by the Civil War, especially for the parlor and bedrooms. Scenic wallpapers which depicted scenes of nature or historical scenes or exotic faraway places were as popular as wallpapers which created the illusion of other materials such as velvet, stone, wood grain or architectural features.
Flooring. Floors were wood and either painted or covered with floorcloth, although by the Civil War carpeting had become popular for the parlor.
Windows. Elaborate window treatments were the rule during the Civil War. Layers of different kinds of window treatments would be piled on top of one another. Most typically, sheer lace curtains were place against the window itself and were often called "glass curtains" for that reason. On op of that floor length draperies made of velvet, brocade, or other heavy fabrics would be added with tie backs.  Patterned and ornately decorated valances would go on top of the whole thing, along with tassels and ropes and heavy rods. Even more modest homes would likely do some form of all this in the parlor if nowhere else.
Furniture. Parlor sets typically included a sofa, a love seat, a lady's chair without arms (to accommodate the large dresses women wore), and an armchair for the man of the house. Other seating options might be a corner chair, ottomans, cushions. The room had many tables, often including a center table called a tea-table which was higher than a modern coffee table and either circular or square. Sofa tables, lamp tables, fire screens, and a  curio cabinet to display treasured objects were often found. Most parlors had a fireplace, often as ornate and impressive as anything else in the house.
Decorations. Shawls, photographs, prints, flowers (fresh and dried), porcelain objects, homemade crafts, collections of exotic objects like seashells or stones. Because men's hairstyles contained oily styling aids, crocheted bits of fabric were placed around at the headrest spot of furniture to protect them (antimacassars as the oil men used was Macassar oil).
Lighting. Candles were certainly used, the fireplace added somewhat to light, but kerosene lamps were the most high-tech form of lighting in most homes.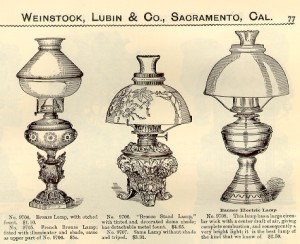 Function. The parlor was used for many different purposes. In homes where a dedicated room could be reserved as a formal parlor, the everyday lives of the family would be lived in a back parlor, often called a sitting room. More modest families used their parlors for almost everything.
accept visitors. Before the days of telephones, calling meant physically visiting someone. When you called on a friend,neighbor or family member, you were shown in to the parlor. You would most likely be offered some light food or drink. 

before dinner. The family and any invited guests would gather in the parlor before dinner, and go into the dining room together when it was time to eat. Often the group, or sometimes just he ladies, would return back to the parlor after dinner for coffee. If it was ladies only, the men stayed in the dining room to drink and talk. Even in homes where this sort of formality was wildly out-of-place in everyday life, some version of this happened when entertaining.
weddings. During the mid-nineteenth century, weddings and wedding receptions were often conducted in people's homes.
lying in state. Many families would have the dead bodies of relatives brought into their own homes in the casket for viewing and would be placed in the parlor.
entertainment centers. Games would be played here, music played and sung, books read aloud, and various conversations and games would be played.