Posted By Norman Gasbarro on April 16, 2013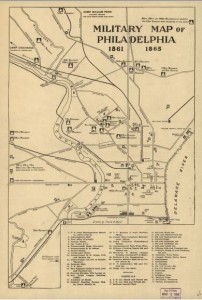 A Military Map of Philadelphia, 1861-1865, is available from the Library of Congress web site, and shows the locations of all Civil War hospitals within the city and the locations of forts and the regiments that supported them.  The map is shown above in low resolution.  The actual map can be downloaded directly from the Library of Congress (click here and follow instructions on the web page) or viewed through the viewer.  The map is also available through the map resources of Ancestry.com (U.S. Map Collection, 1513-1990) and print copies which are suitable for framing (17″ x 11″ or 24″ x 18″) can be ordered through that site.
The map was drawn by Frank H. Taylor and important buildings and sites are keyed by number to the map. Hospitals are identified by letters.
The hospitals included on the map are as follows:
A. Southeast Corner of Broad and Cherry Streets.   B. Southeast Corner of 10th and Filbert Streets.  C. National Guard's Hall.  D. 22nd and Wood Streets.  E. 12th and Buttonwood Streets.  F. 5th and Buttonwood Streets.  G. Pennsylvania Hospital.   H. 8th and Catharine Streets.  I. 9th and Christian Streets.  J. 24th and South Streets.  K. Officers Hospital at 24th and Chestnut Streets.  L. Citizen's Hospital at Broad Street and Washington Avenue.  M. Sutterlee Hospital, West Philadelphia.  N. Summit House, Darby Road.  O. Haddington Hospital.  P. Hentonville Hospital.  Q. St. Josephs Hospital.  R. 5th and George Streets.  S. 6th and Master Streets.  T. Episcopal Hospital.  U. Camac Hospital.  V. Istington Lane Hospital.  W. Turner's Lane Hospital.  X. McClellan Hospital, Nicetown.  Y. Cuyler Hospital, Germantown.
The other buildings noted in the map legend are as follows:
1. U.S. Army Headquarters, Girard Street, above 11th Street.  2. Independence Hall.  3. Post Office (Provost).  4. Custom House.  5. Jay Cooke and Company.  6. Pennsylvania Bank (Provost).  7. Pennsylvania Railroad Offices.  8. Girard House.  9. Continental Hotel.  10. Pennsylvania Railroad Depot, 11th and Market Streets.  11. Union League (on site of Keith's Theatre).  12. National Hall.  13. U.S. Mint.  14. New England Soldiers' Rest, 13th and Chestnut Streets.  15. Provost Marshal, 1314 Locust Street.  16. New Union League Building (1865).  17. Academy of Music.  18. Soldiers' Reading Rooms, 20th Street, below Market Street.  19. J. V. Merrick and Sons' Machine Shops.  20. Cooper Shop Volunteer Refreshment Saloon.  21. Union Volunteer Refreshment Saloon.  22. Commissioners' Hall, West Philadephia.  23. Military Clothing Depot, 23rd and Filbert Streets.  24. Matthews and Moore, Cannon Foundry (on site of U.S. Mint).  25. Baldwin and Company, Locomotives.  26. Ladner's Military Hall, 3rd Street below Green Street.  27. U.S. Laboratory, 6th and Oxford Streets.  28. Ridge Avenue, Car Barn.
Military regiments encamped at various locations throughout the city are noted on the map as is Camp William Penn, which was Pennsylvania's official training location for U.S. Colored Troops.
All railroad depots, landmark buildings, cemeteries, arsenals, the Navy Yard, etc., are easily located on the map, but not included in the map legend.