Posted By Norman Gasbarro on April 22, 2013
While working as track foreman on the Rattlling Run Division of the Philadelphia and Reading Railroad, Leonard Craig was stabbed by another employee when he tried to stop a work-place quarrel.  The following article appeared in the Harrisburg Patriot, 18 June 1889: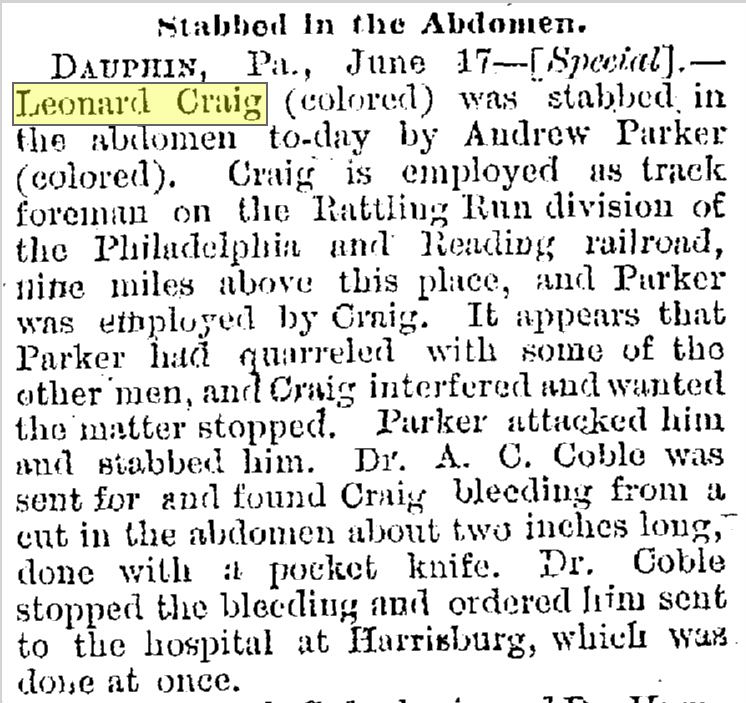 Stabbed in the Abdomen

Dauphin, Pennsylvania – 17 June 1889 – [Special] – Leonard Craig (colored) was stabbed in the abdomen today by Andrew Parker (colored).  Craig is employed as track foreman on the Rattling Run Division of the Philadelphia and Reading Railroad, nine miles above this place, and Parker was employed by Craig.  It appears that Parker had quarreled with some of the other men, and Craig interfered and wanted the matter stopped.  Parker attacked him and stabbed him.  Dr. A. C. Coble was sent for and found Craig bleeding from a cut in the abdomen about two inches long, done with a pocket knife.  Dr. Coble stopped the bleeding and ordered him send to the hospital at Harrisburg, which was done at once.
From the Commemorative Biographical Encyclopedia of Dauphin County, pages 854-855, we learn the following about Leonard Craig:
L. P.Craig, section foreman, Philadelphia and Reading Railroad, was born in Middle Paxton Township, Dauphin County, Pennsylvania, 22 August 1844.  He is a son of Andrew Craig and Rachel [Enty] Craig.  Andrew Craig was born near Fort Hunter, Susquehanna Township, Dauphin County, 21 September 1895.  He died 21 August 1861.  His wife, Rachel Enty, was a native of Schuylkill County.  She died 7 January 1887.  They had eleven children:  Esther Craig; John Craig; Cyrus Craig; Hannah Craig; L. P. Craig; Richard H. Craig; Mary R. Craig, wife of William R. Hopkins; and four who are deceased.

L. P. Craig attended the public schools during the winter.  From ten to twelve years of age he attended the public schools of Dauphin, and afterwards in Stony Creek Valley.  He left school at the age of sixteen and worked at farming in the summer; he also sawed wood with Elijah Stout for the Pennsylvania Railroad company.  He afterwards succeeded Mr. Stout and furnished the company with wood for locomotive use until 1865, when coal took the place of wood as fuel.

At Harrisburg, 19 February 1865, he enlisted for one year in Company M, Second United States Cavalry [2nd U.S. Colored Troops], Captain Edwin Hughes.  He was sent with his company to Camp William Penn, Philadelphia; thence to Norfolk, Virginia; thence to Brazos, Santiago, Texas; and thence to Clarksville.  He was returned to City Point, Virginia, where he was mustered out of service 11 February 1866.  He then returned home, and was for three employed by the Pennsylvania Railroad Company in sawing wood, and afterwards as track repairer.  In 1872 he was sent from Dauphin to Rattling Run and placed in charge of a section of railroad, controlled by the Philadelphia and Reading Company, as foreman, which position he has held to the present time.

Mr. Craig was married 3 February 1876 to Amelia Surls, daughter of William Surls and Mary Ann [Care] Surls.  Of their two children one died in infancy, not yet named; the other, Andrew Edward L. Craig, was born 17 August 1879 and died 24 November 1891.  Mr. Craig is a Republican.  He belongs to G.A.R. Post No. 520, Harrisburg, Pennsylvania.  He and his family are members of the Methodist Episcopal Church.

Mr. Surls, Mrs. Craig's father, was an iron worker.  Mrs. Surls died at the age of fifty-nine; eleven months later Mrs. Surls died aged sixty-two years.  Both were natives of Berks County, where they spent their lives, except the last twelve years during which they lived in Lebanon County.  They had sixteen children of whom five are living: Amelia Surls, Mrs. Craig; Jacob Surls; Susanna Surls, wife of James Underhill; Nelson Surls; and Marry Emma Surls, wife of William Jones.

Mrs. Jones has four children, two of whom are living with their uncle, Mr. Craig: Naomi Nora Jones, whom Mr. and Mrs. Craig have adopted, and Joshua Birch Jones.
The mother of Leonard Craig, was Rachel Enty – who was the granddaughter of Tobias Enty, previously discussed on this blog.  See:  Enty Family in the Civil War (4 parts).  Rachel died in 1887 and as a later census indicates, Leonard re-married.
Leonard Craig was located in the 1860 Census in the household of his parents in Middle Paxton Township, Dauphin County.  He, and his older brothers, as well as his father Andrew Craig, were working as day laborers.
In 1880, Leonard Craig was working as a repairer on the railroad and was living in East Hanover Township, Dauphin County.  A son, Andrew, was born in the year before the census was taken, and there was a boarder also in the household.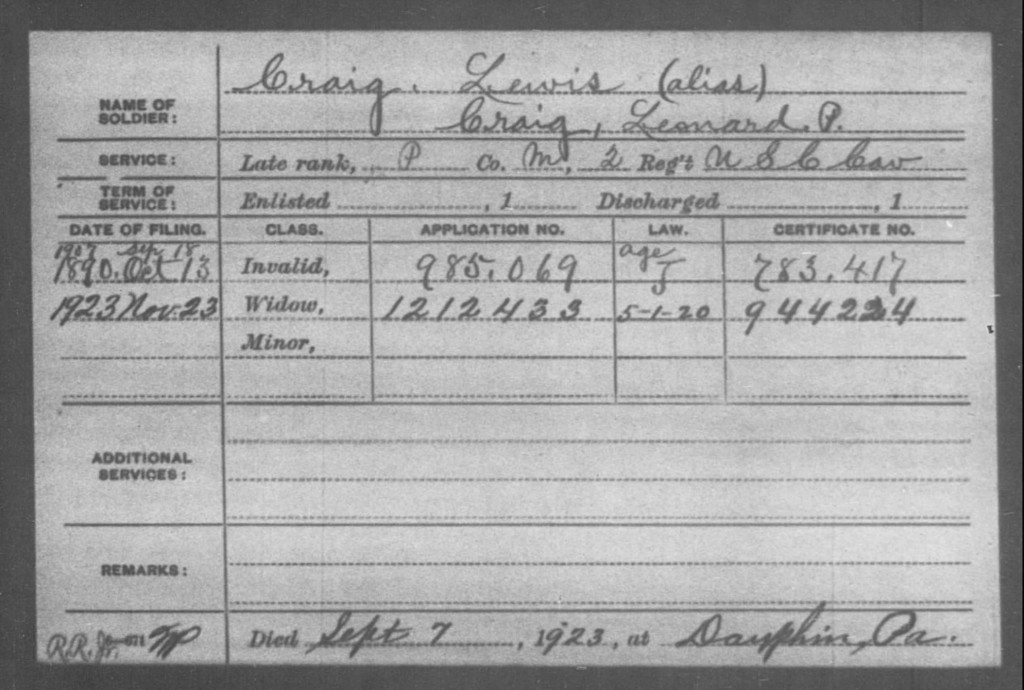 As the above Pension Index Card states, Leonard Craig applied for an invalid pension in 1890, and indicated that he sometimes used the alias Lewis Craig,  The card, from Fold3 notes that a widow survived him – but does not give the widow's name.  The date of death of Leonard is noted at the bottom of the card – 7 September 1923, in Dauphin, Pennsylvania.
The census of 1910 gives the name of Leonard's second wife as "Annie E." and notes that they had been married for 5 years:

 In 1910, Leonard's residence was East Hanover Township, Dauphin County, and his occupation was given as "section man on railroad."
The Pension Index Card shown below is from Ancestry.com and gives the name of the surviving widow as Annie E. Craig: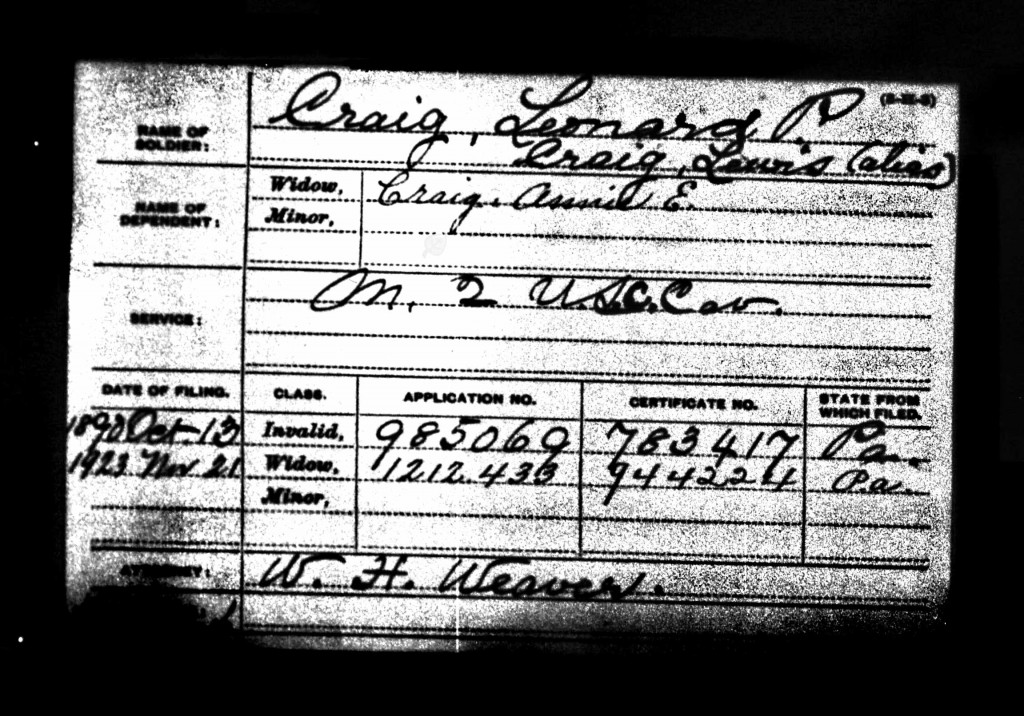 Not much more is known about Leonard P. Craig at this time.  Research is on-going into this family (he was a descendant of Tobias Enty who lived in Schuylkill County, within the geographic area of study for the Civil War Research Project).  Readers are invited to contribute additional information, if available.