Posted By Norman Gasbarro on March 2, 2013
The discovery of veterans who have previously not been included in the Civil War Research Project is now happening on an almost daily basis.  To the list of veterans must now be added Solomon Eyster of Barry Township, Schuylkill County, Pennsylvania, whose name was discovered in a book honoring veterans of the area around Valley View, Schuylkill County.
In the Valley View area veterans' book, it is stated that Solomon Eyster was believed to be the son of Rev. George Eyster, who was the first minister of St. John's (Kimmel's) Lutheran Church, Barry Township, serving from 1816-1826.  However, no documentation was given for this information.
Solomon Eyster has also been found in records as Solomon Oyster and Solomon Eister.
At Pottsville, Solomon Eyster enrolled in the 48th Pennsylvania Infantry as a Private in Company D, on 23 August 1861 and was mustered into service at Harrisburg on 16 September 1861.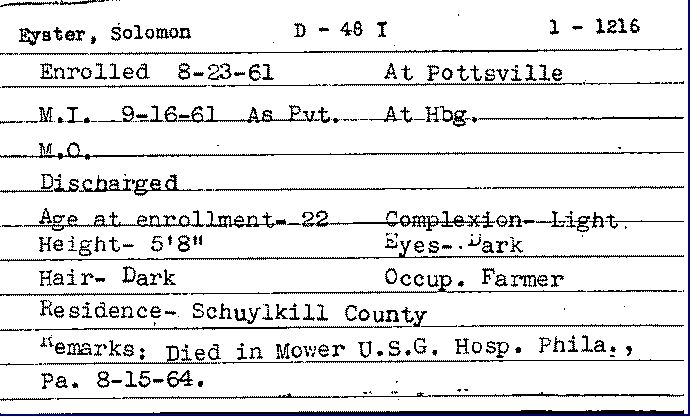 The Pennsylvania Veterans' Index Card from the Pennsylvania Archives (shown above) indicates that he was 22 years old, had a light complexion, stood 5 foot 8 inches tall, and was a farmer who was residing in Schuylkill County.
Solomon Eyster was wounded twice while serving in the 48th Pennsylvania Infantry.  He was first wounded at Antietam in 1862 and after recovering, he returned to his regiment.  The second time he was wounded was at Petersburg in June 1864, after which he was sent to Mower General Hospital in Philadelphia.
The death record (below) notes that Solomon Eyster died of exhaustion from a gunshot wound in his left shoulder.  The record was obtained through Ancestry.com.
The historical marker (below) describes Mower General Hospital, which was razed following the Civil War.
The web site of the Library Company of Philadelphia has a photographic exhibit of Mower General Hospital.  Eighteen photographs of the hospital, which were taken by John Moran are found in the on-line exhibit.
Designed as a pavilion hospital by Philadelphia architect John McArthur Jr., the large facility was composed of a central enclosed complex of administrative and utility buildings. The complex was surrounded by a central corridor from which forty-seven patient wards radiated to theoretically better control the spread of infection. Strategically located opposite the Chestnut Hill Depot of the Reading Railroad, Mower received and treated over 17,000 injured soldiers transported directly from the battlefield between January 1863 – May 1865. Patients were received at the entrance, assigned to a bed in the hospital, and treated by a staff of nearly 200 surgeons, nurses, and ward masters whose work was facilitated by tramways within the wards and specially designed carts to provide medical supplies and food.
The print shown below is from Wikipedia and shows the physical arrangement of the hospital, with the administrative buildings in the center and the central corridor, from which the 47 patient wards radiated.
After his death on 20 August 1864, the remains of Solomon Eyster were returned to his family in Barry Township, Schuylkill County, for burial.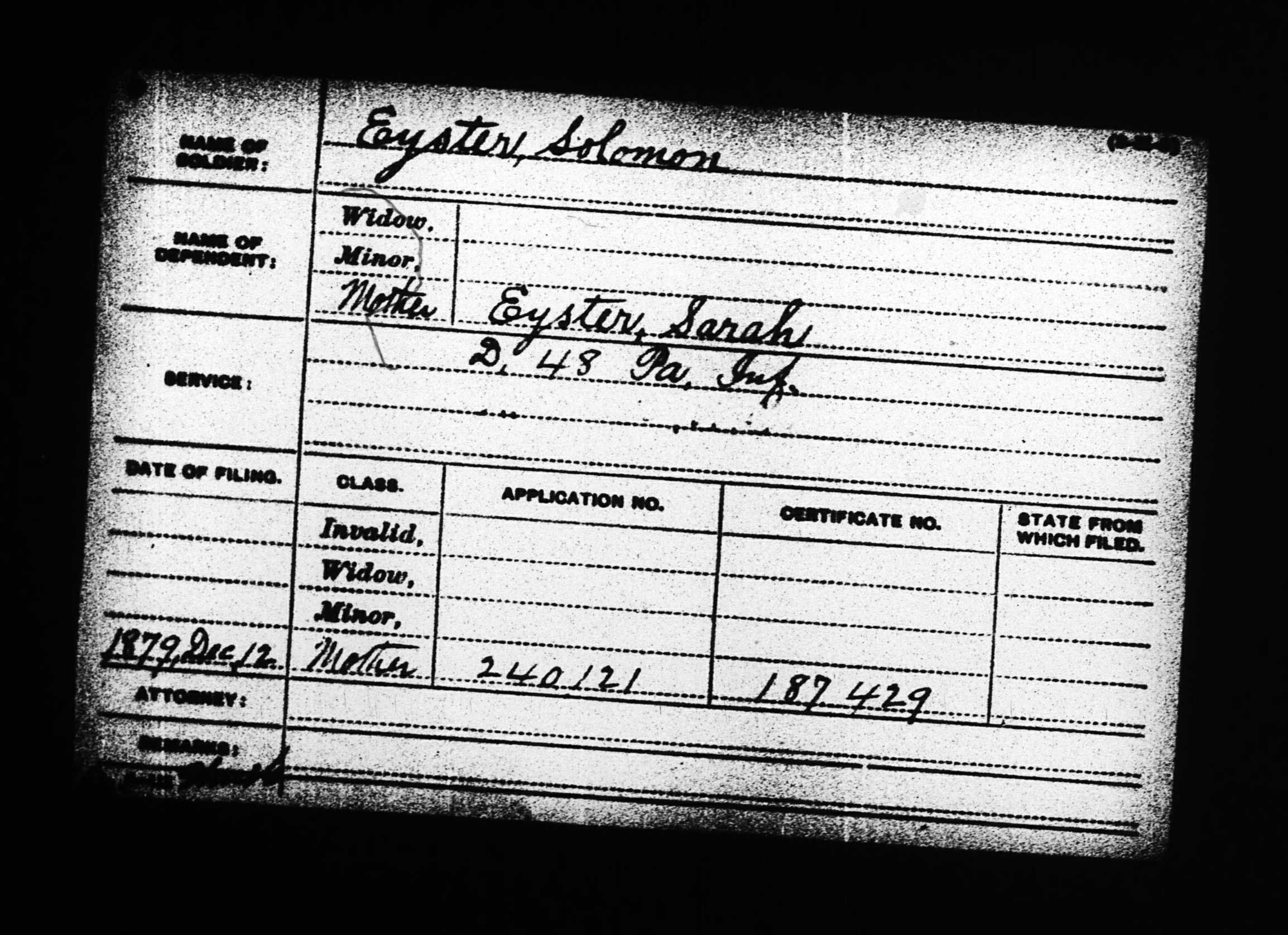 The mother of Solomon Eyster, Sarah [Merkel] Eyster, applied for pension benefits in 1879, about the same time as her husband George Eyster died (Solomon's father).  She was able to receive a pension based on her son's service (Pension Index Card shown above from Ancestry.com).
Solomon's place of burial is noted on a Pennsylvania Archives Burial Record Card (below) which are available through Ancestry.com.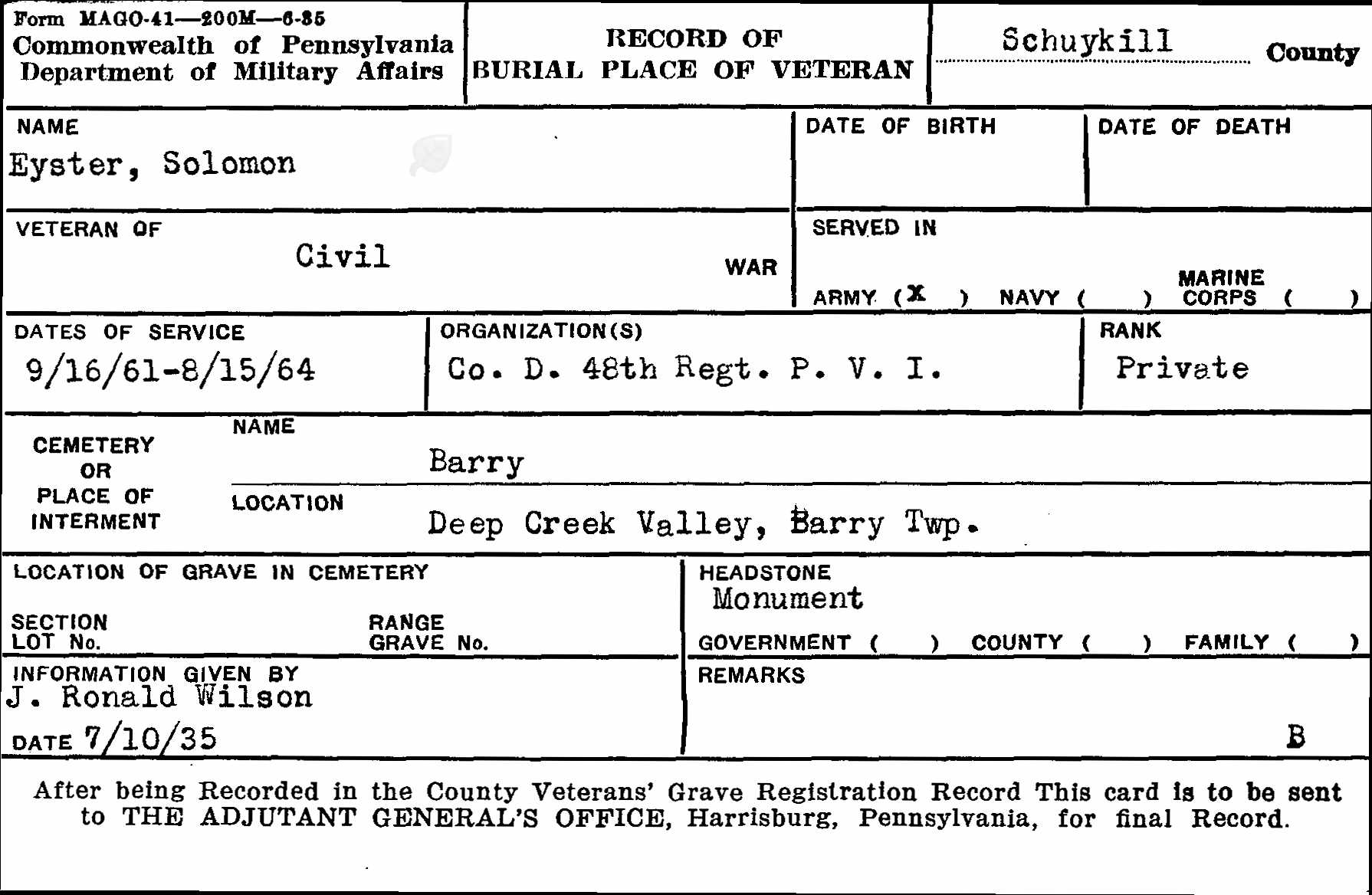 The grave marker of Solomon Eyster is located in a small, private cemetery in Deep Creek Valley, Barry Township, Schuylkill County, and is shown above (from Findagrave).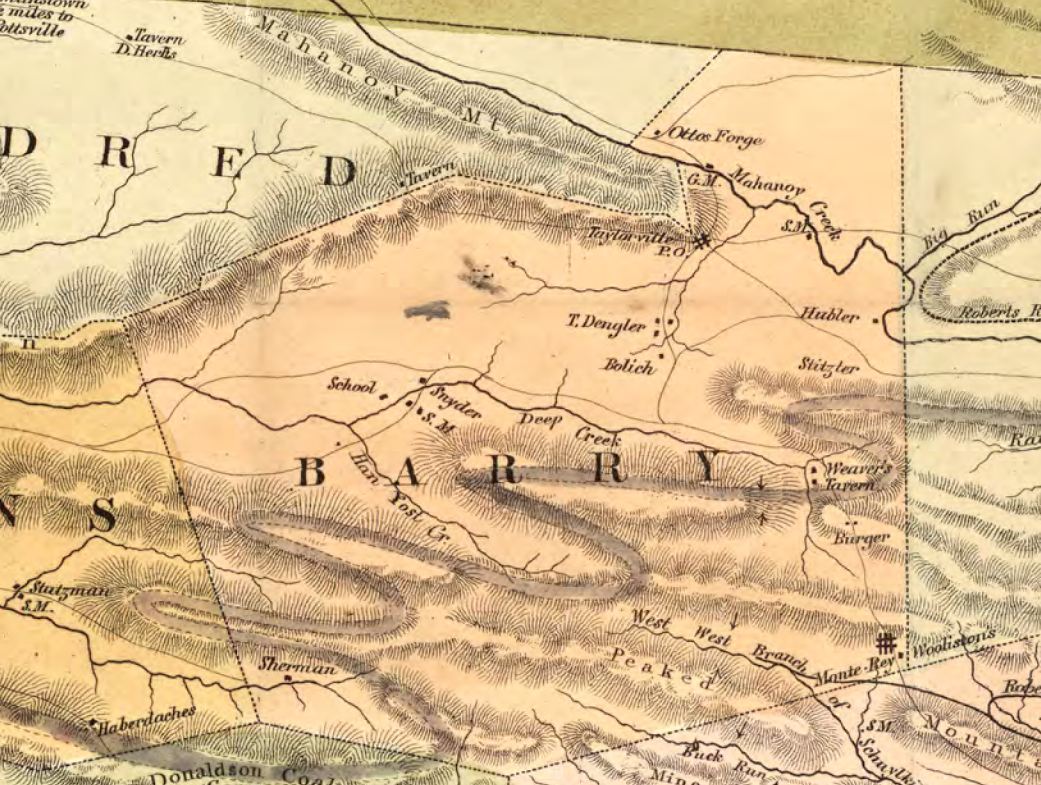 Deep Creek Valley, the part of Barry Township where Solomon Eyster lived and is buried, crosses the township from east to west and can be seen on the 1855 map above (the words "Deep Creek" appear just above the "RR" in the word "Barry).  To the left (or west) is Hegins Township, a part of which touches Dauphin County.
If any readers have additional information about Solomon Eyster, his family or his military service – particularly stories and pictures – the submissions would be gratefully received.  Contact:  e-mail.
——————————-
Pennsylvania Veterans' Index Cards are from the Pennsylvania Archives.  The map of Barry Township from 1855 is also from the Pennsylvania Archives and is cropped from a larger map of Schuylkill County.  The initial information about Solomon Eyster was obtained from Our Veterans, Our Local Heroes.