Posted By Norman Gasbarro on March 9, 2013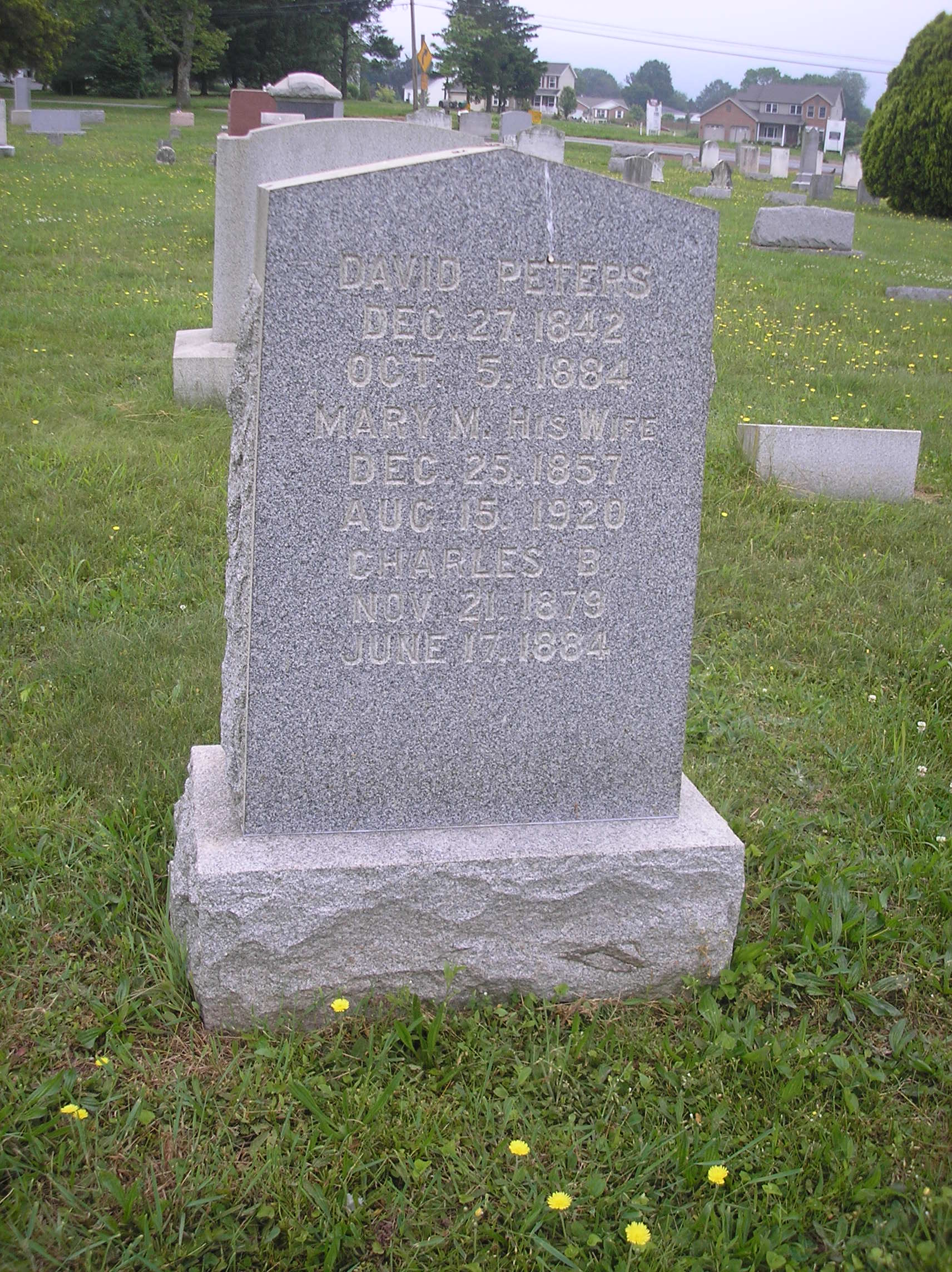 Davis Peters (1842-1894) is buried at Long's Cemetery, Halifax, Dauphin County, Pennsylvania.  At the time the above photograph was taken, there was no indication at his grave site that he was a Civil War veteran, although there are records to confirm that this is the same Davis Peters who was a member of the 208th Pennsylvania Infantry, Company D, who served as a Private from 7 September 1864 through his discharge on 1 June 1865.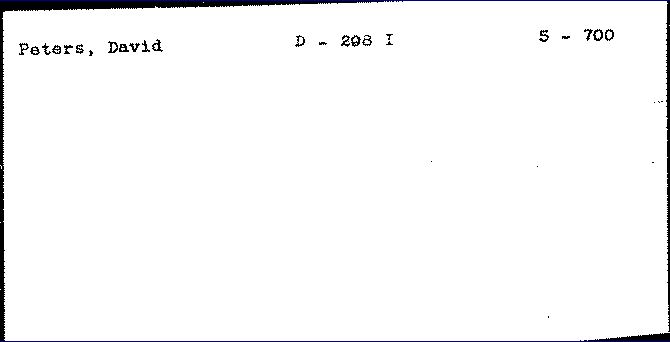 The Pennsylvania Veterans' Index Card (above), from the Pennsylvania Archives, provides little information on Davis Peters – except the Bates reference of Volume 5, page 700.  Even the Bates reference (shown below) provides little more insight into who he was.
Fortunately, a biographical sketch of Davis Peters can be found in Captain Enders Legion, a book which was reviewed here on this blog on 20 November 2010.  See:  Enders Family Civil War Veterans.  The summary given below was modified from pages 172-173 of that book:
Davis Peters was born 27 December 1842 in Halifax Township, Dauphin County, Pennsylvania, and was the son of Philip Peters and Elizabeth [Fackler] Peters.  David's paternal grandmother was Susannah Enders (1791-1864) who in turn was the granddaughter of Capt. Johann Philip Christian Enders, the pioneer settler in the area of Jackson Township and Halifax Township.

David enlisted on 7 September 1864 at Camp Curtin, Harrisburg, Pennsylvania, in the 208th Pennsylvania Infantry, Company D. They left camp on 13 September 1864 and were assigned to duty on the Bermuda Hundred Front.  They were engaged in picket duty, fatigue duty, building roads, and drill until 27 Nov when ordered to report to the Army of the Potomac.  They marched to the Weldon Railroad and returned without meeting the enemy.  Their winter encampment was without incident, including a movement to Hatcher's Run in February 1865.  On 25 March, when the Union lines were broken at Fort Stedman, they moved hastily towards the scene of the disaster.  Near Fort Haskell they were pressed into action and fought gallantly.  After the re-capture of Fort Stedman, the regiment was returned to quarters.  On 2 April 1865 they joined in the attack upon the Confederate works in front of Fort Sedgwick.  On the morning of 3 April 1865, the 208th Pennsylvania Infantry advanced and found the works abandoned.  The regiment was speedily put in motion and on entering Petersburg, it was found that the enemy had escaped across the Appomattox River and fled southward.  The regiment moved with the First Division via the South Side Railroad to Nottoway Court House, which they reached on 9 April and received the news of Lee's surrender.  On 20 April they returned via Petersburg to City Point and proceeded to Alexandria, Virginia, where they encamped near the seminary south of town.  On 1 June 1865, David was mustered out with the company at the rank of Private.

After the war, he resumed his carpenter trade.  In 1873 he married Minerva Wilbert who was born in Enders, Pennsylvania on 25 December 1857, the daughter of George Wilbert and Sarah Tyson Wilbert of Halifax Township, Dauphin Co., Pennsylvania.  David and Minerva had four children:  Sarah Peters, born 1 November 1876; Charles Peters, born 21 November 1879; Caroline Peters, born 2 September 1882; and Mary Peters, born 8 September 1884.

Davis Peters died 5 October 1884 leaving four young children and a young wife.  He is buried in Long's Cemetery, Halifax, Dauphin County Pennsylvania.  Minerva [Wilbert] Peters died 5 August 1920 and is also buried in Long's Cemetery.
At David's death, his widow, Mary [Wilbert] Peters, applied for pension benefits which she received and collected until her death in 1920 – about 36 years after her husband's passing!  At this time it is not known whether David had sustained any serious injuries during the Civil War or whether his war service contributed to his early death.  In 1890, a "Mary M. Peter," living in Harrisburg, reported that she was the widow of Civil War soldier "David Peter" who had served in Company D, 8th Pennsylvania Infantry, 1864-1864.  This is probably the same "David Peters" who is the subject of this blog post, the regiment being incorrectly given to the census in 1890.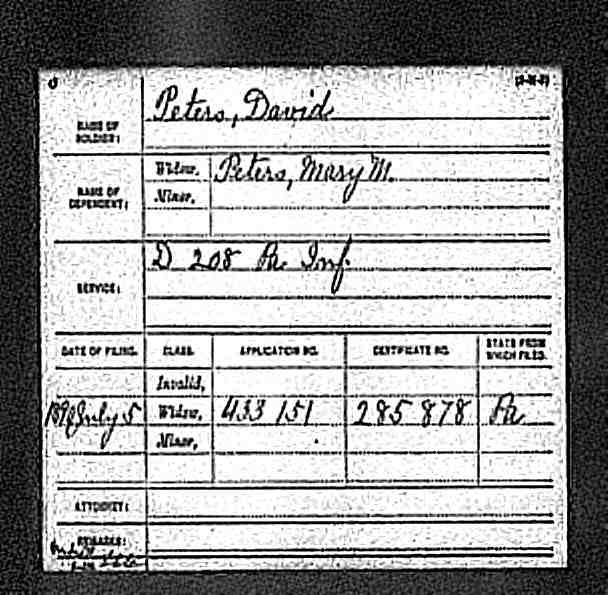 The Pension Index Card is from Ancestry.com.
Additional information is sought on Davis Peters, his military service and his family.  Any pictures of stories which have been passed down in the family would be especially welcome.   At this point in the research, it is not believed that there were any male descendants, since the only known son, Charles Peters, appears to have died before his fifth birthday and is buried with his parents at the family plot in Halifax (see stone picture at the top of this post). Any descendants would therefore be through the daughters.
Comments can be added to this post or sent to the Civil War Research Project via e-mail.