Posted By Norman Gasbarro on March 14, 2013

A one-line item that appeared in the Harrisburg Patriot on 10 March 1893 may be helpful in establishing a genealogical connection between men of the surname Landis from the Lykens Valley area and Captain Alexander C. Landis, a Civil War veteran from Stroudsburg, Cumberland County, Pennsylvania, who, after the war, settled in Steelton, Dauphin County.  The item simply stated that "Andrew Landis, of Lykens, is the guest of his uncle, Captain A. C. Landis."
According to a sketch found in the Commemorative Biographical Encyclopedia of Dauphin County, Alexander C. Landis saw extensive military service during the Civil War:
A. C. Landis, Steelton, was born in Cumberland County, Pennsylvania, 14 February 1837.  He is a son of Henry Landis.  He obtained his education in Cumberland County.  When a young man, he learned the trade of tailor, and followed this occupation until 1861.

At the breaking out of the war of the Rebellion in 1861, he answered the first call for volunteers, and enlisted in the three months' service under Colonel Stumbaugh [Frederick S. Stumbaugh].  At the end of the three months' service he enlisted for three years, in Company K, One Hundred and Seventh Regiment, Pennsylvania Volunteers [107th Pennsylvania Infantry], under Colonel Ziegler [Edwin E. Zeigler], of York, Pennsylvania.  On 28 August 1864, was commissioned as Captain of the Company.  He served on the staff of Gen. John P. Slough, military Governor of Alexandria, Virginia.

He participated in the following battles:  Cedar Mountain, 9 August 1862; Rappahannock, 18 and 25 August 1862; Thorough Gap, 28 August 1862; Bull Run, 30 August 1862; South Mountain, 14 September 1862; Antietam, 16 and 17 September 1862; Sharpsburg, 30 October 1862; Bristow Station, 12 December 1862; Fredericksburg, Virginia, 13 to 15 December, 1862; Chancellorsville, 21 January 1861; Fitzhugh's Crossing, 28 to 30 April 1863; Chancellorsville, 1 to 3 May 1863; Gettysburg, 1 to 3 July 1863.

At the close of the war, Captain Landis came to Harrisburg and resumed work at his trade.  He served as cutter for J. B. Croft for five years.  After this time, he came to Steelton and took charge of the dry goods and clothing department of the Company's store, in which capacity he remained for fifteen years,, when he resigned.  He was instrumental in organizing the Steelton Light, Heat, and Power Company, and was elected secretary and treasurer of the company. He filled the office for two years and then resigned.  He has served in the borough council.  He was the candidate of his party for the State Legislature.  He is a Democrat and is active in the movements of his party.  He is a member of the Masonic Order, Lodge No. 351, Shippensburg.  He has been President of the Steelton Board of Trade since its organization in 1888.

In 1849 [sic, probably 1858 or 1859] he married Miss Rebecca Allison, daughter of J. B. Allison of Franklin County, by whom he had eight children.  Mrs. Landis died in 1891.  Their children are:  Alfred M. Landis, born 10 June 1859, married Miss Emma Steel, and lives at Landisburg; Calvin D. Landis, born 30 Jul 1860, married Miss Nellie Galligan, who died in 1895, leaving four children; Annie M. Landis, born 16 October 1861, wife of George Brinser of Steelton; Florence B. Landis, born 4 November 1864, wife of William Greist of Steelton; Harry J. Landis, born 11 February 1867, married Miss Lizzie Franklin of Steelton; E. Maud Landis, born 11 November 1871, wife of James D. Banford of Steelton; William R. Landis, born 25 February 1869 and died 1 February 1870; and Charles A. Landis, born 27 December 1874, married Mary Weisman of Harrisburg.
The biographical sketch on Capt. Landis was weak on specifics regarding all the regiments in which he served.  The Pension Index Card found for him through Fold3 names the specific regiments and companies: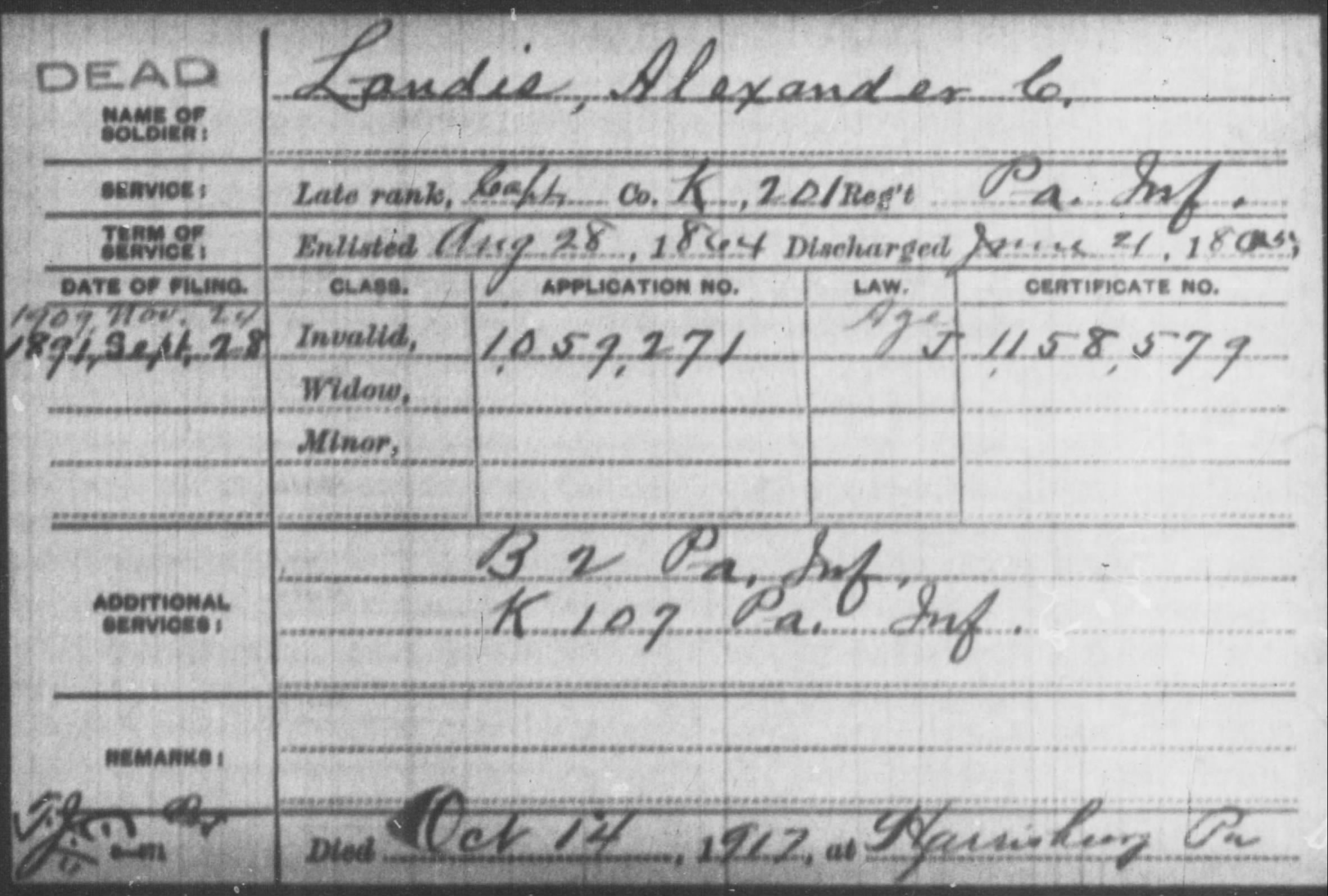 By combining the information found on the Pension Index Card with information on the Pennsylvania Veterans' Index Cards from the Pennsylvania Archives and other available records, a more complete picture of his service can be given.
Alexander C. Landis first enrolled in in the 2nd Pennsylvania Infantry, Company B, as a Sergeant, on 20 April 1861.  Records from that enrollment at Harrisburg indicate that he was born in Shippensburg and was 24 years old at the time.  Alexander C. Landis served for the three months of his term and upon conclusion of service, his regiment was taken to Harpers Ferry and then by rail to Harrisburg, where they were discharged on 26 July 1861.
The second enrollment occurred at Shippensburg, on 30 January 1862, in the 107th Pennsylvania Infantry, Company K, where his service was first at the rank of Sergeant, and then on 31 December 1862, he received a promotion from Sergeant Major to the rank of 2nd Lieutenant.  In January 1862, Alexander said he was 24 years old and employed as a tailor.  His service in this regiment ended on 26 November 1863 with his discharge. The records at the Pennsylvania Archives and in Bates provide slightly different information:  Bates simply indicates that he was discharged on 26 November 1863, while the Archives Index Card notes that he was "dismissed" on 21 November 1863 and to "see S.O. in file #501 and 518, A.G.O.W.D. #520 and 845."
A third and final enrollment, which is not mentioned in the biographical sketch, occurred on 20 August 1864, when Alexander C. Landis joined the 201st Pennsylvania Infantry, Company K, as a Captain.  Bates reports he was mustered out on 21 June 1865.
After the war, A. C. Landis settled in Steelton, where, as reported in the biographical sketch, he worked as a cutter and later in dry goods sales.  His activities with the Democratic Party were frequently reported on by the Harrisburg Patriot, and although he was a candidate for office several times, it does not seem that he was successful.  Early-on, he was elected President of a newly-formed Democratic Club in Steelton, but only held that position for a short time.  Several times while running for office, he received a newspaper endorsement – that a vote for him was a vote against the machine.  Also, several listings of Dauphin County Democratic Party officials appeared in the Patriot, articles which named delegates from every borough and township in the county including those in the Lykens Valley area.
Alexander C. Landis died on 14 October 1917 and is buried in the Baldwin Cemetery, Steelton, Dauphin County.  The last years of his life he spent "retired" as a widower living with his daughter and son-in-law in Harrisburg.
In attempting to connect Alexander C. Landis with the Civil War veterans of the Lykens Valley area, three veterans from the list are good possibilities:
1. Joseph Landis was named in the Halifax Bicentennial Book, and records indicate he served in the 6th Pennsylvania Infantry (Emergency of 1862), Company E, as a Corporal, and in the 36th Pennsylvania Infantry (Emergency of 1863), Company C, as a Sergeant.
2. William M. Landis was found in a list of Civil War veterans buried at Oak Hill Cemetery, Millersburg, but no other information has been found about him at this time.
3. Henry Witman, who served in the 36th Pennsylvania Infantry (7th Pennsylvania Reserves) and died 24 March 1912, was married to Sarah A. Landis.
There is also the possibility that there was a connection through the more than 40 men from the Lykens Valley area who served in the 107th Pennsylvania Infantry and/or the more than 20 men who served in the 201st Pennsylvania Infantry.
Information is still lacking on the possibility of brothers of Alexander C. Landis, and only one name has surfaced in research – Jonas Landis – but nothing more has been located other than the name.
Who was Andrew Landis of Lykens, the nephew of Alexander C. Landis who visited him in Steelton in 1893?  The mystery is still unsolved.  Perhaps a reader of this blog has an answer.
Please add comments to this post or submit information via e-mail.