Posted By Norman Gasbarro on February 23, 2013
The earliest member of the Enty family to settle in the area near the Lykens Valley appears to be Tobias Enty, who according to some researchers on Ancestry.com, was born around 1762 in Haiti and emigrated to the United States some time before 1800.  However, no sources have been found that confirm any of this information.  It is believed that of the eight identified children of Tobias Enty, three of the sons connect to Civil War soldiers.
Two days ago, the post looked at Joshua Enty Sr. (c. 1775-1842), son of Tobias Enty, who married a member of the Simmy family, and had a son and two grandsons who served in the U.S. Colored Troops.  In addition, one of his granddaughters married Benjamin Crabb, whose two brothers, John Peter Crabb and Edward Crabb also served in the military during the Civil War.  Yesterday, the post examined Abraham Enty (c. 1791-c. 1842), another son of Tobias Enty, who had three grandsons who served in the U.S. Colored Troops.
Today, a grandson of Tobias Enty, Peter F. Enty (c. 1824-1865) will be examined further.  Peter F. Enty served in the 6th U.S. Colored Troops.  Following that examination, the final known Enty who served in a "colored" regiment will be discussed, George Enty who served in the 43rd U.S. Colored Troops.
——————————
Peter F. Enty (c. 1824-1865) was the son of Peter Enty (c. 1802-c. 1875) and possibly Mary [Taylor] Enty, or his mother's name could have been Harriet, and the grandson of Tobias Enty.  According to military information, Peter F. Enty was born in Schuylkill County.  On-line family trees (Ancestry.com) connect him with Elizabeth "Betsy" Kaler, who he married on 13 April 1853 in Pine Township, Armstrong County, Pennsylvania.  Comparing available records (census, military and pension), it can be determined that the couple had the following children:  Leonard B. Enty, born about 1853; David T. Enty, born about 1855; Jane Ann Enty, born about 1857; James Alex Enty, born about 1859; Agnes H. Enty, born about 1861; and Fannie Elizabeth Enty, born about 1863.
On 9 September 1863, Peter F. Enty enrolled in the 6th U.S. Colored Troops at Pittsburgh, Allegheny County, Pennsylvania, and was sent to Camp William Penn, Philadelphia for his basic training.  At the time, he said he was employed as a laborer.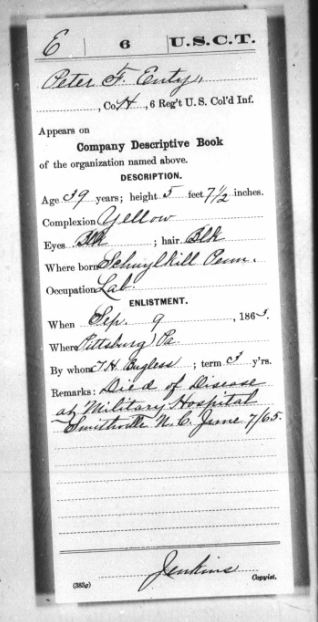 At age 39, Peter F. Enty, became a Private in Company H.  He was 5 foot, 7-1/2 inches tall, and had a "yellow" complexion.  Unfortunately for Peter F. Enty, he did not survive the war, succumbing to disease (chronic diarrhea) on either 7 June 1865 or 7 July 1865 while in a hospital in North Carolina.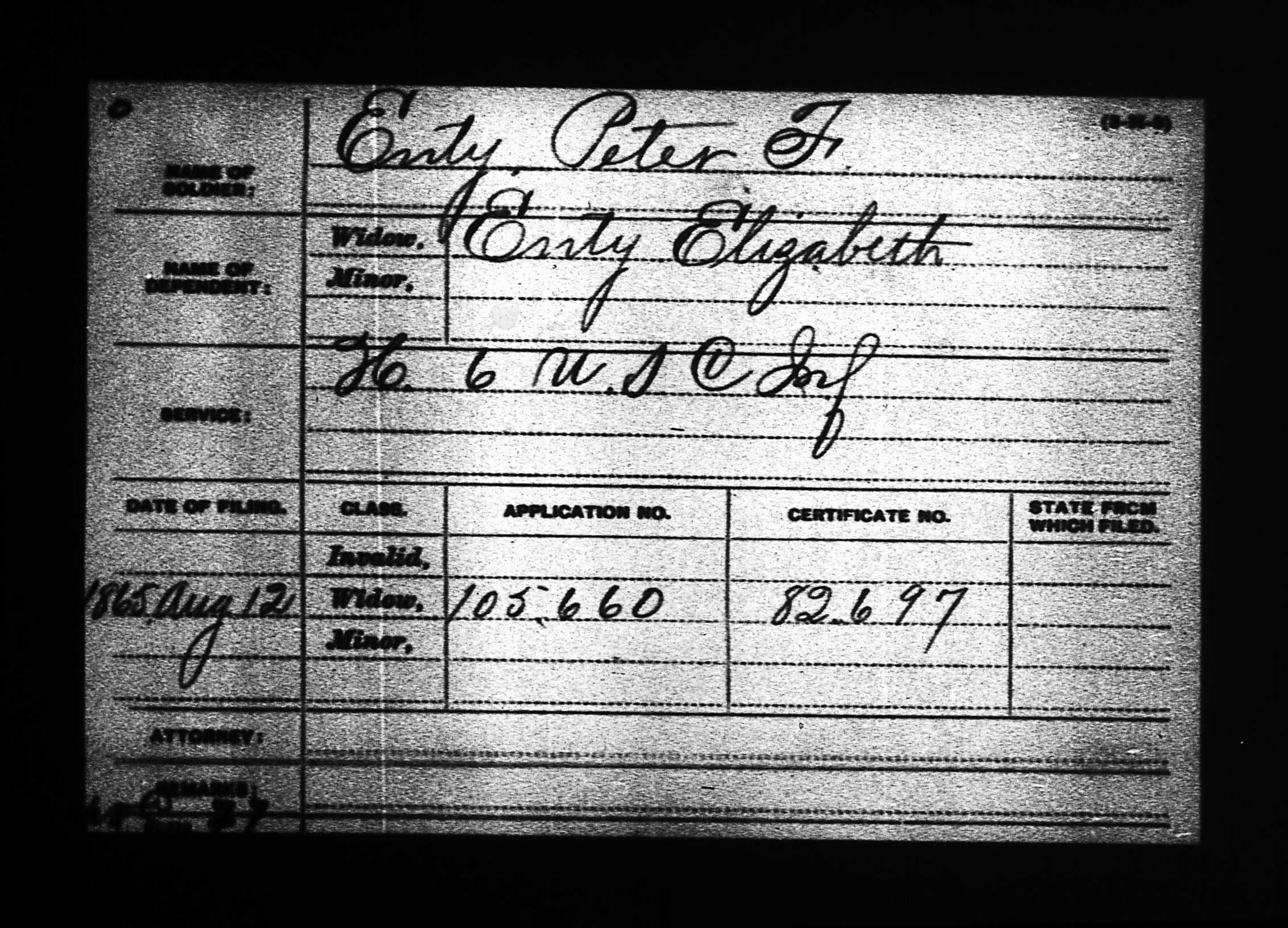 The widow, Elizabeth [Kaler] Enty, applied for a pension which she was able to collect until her death in 1907 (Pension Index Card, above, from Ancestry.com).  Then, strangely, one of her children, applied for support in the 1930s – but the application was rejected because she was not a minor when her mother died.  The pension application records and military records of Peter F. Enty are all available on Fold 3 and tell an interesting story of this family and how it had to manage without the father who died in the war.
—————————–
The Unknown Enty.
The last person from the Enty family who still needs further research as a Civil War soldier is George Enty.  George was born about April 1830 and died 16 October 1911.  The names of his parents have not yet been determined, but his birthplace, according to information given at the time of his military enrollment, was Schuylkill County.  His enrollment was at Brookville, Pennsylvania, making it probable (although not definite) that he was descended from one of the branches of the family of Tobias Enty that moved to western Pennsylvania.
George Enty enrolled in the 43rd U.S. Colored Troops either on 4 April 1864 or 9 April 1864.  He gave his occupation as miner.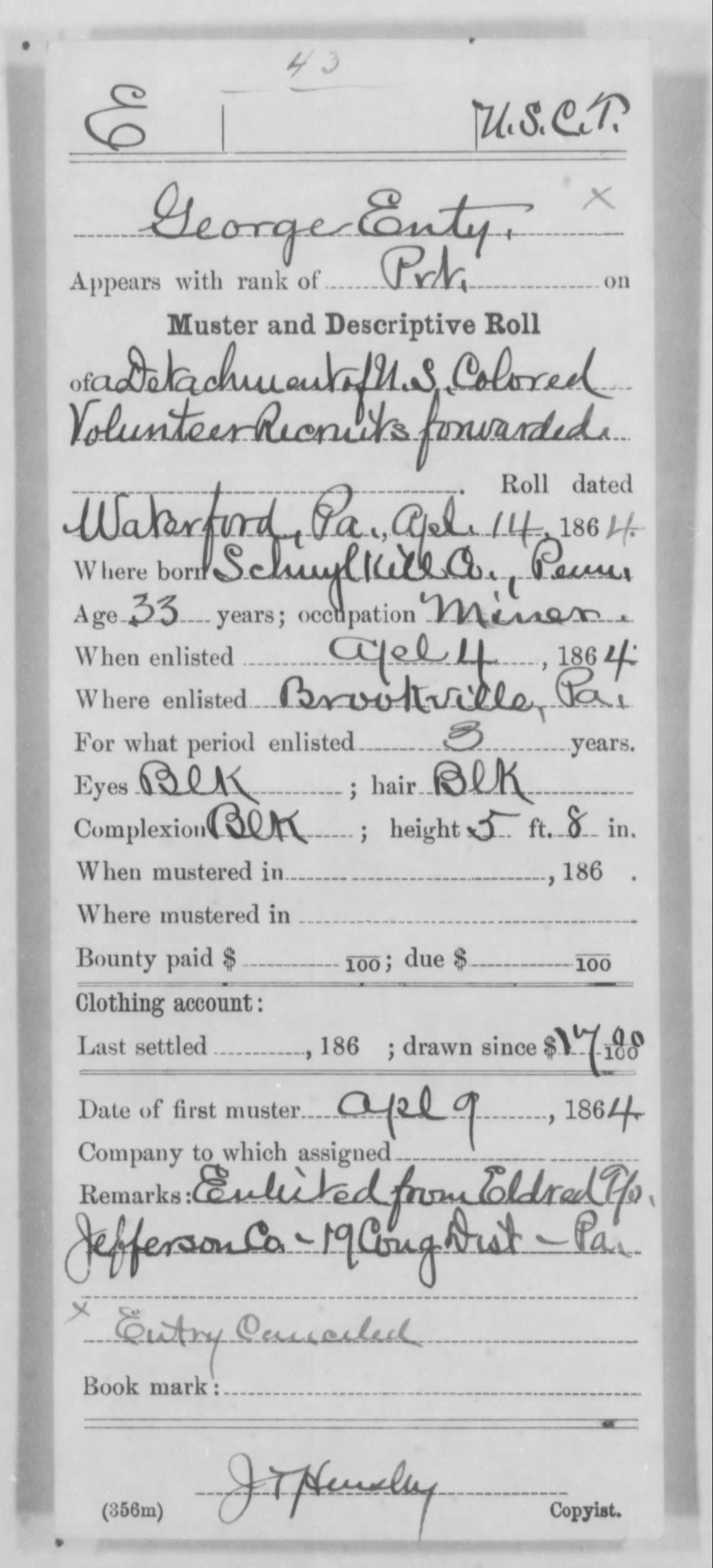 George Enty was 5 foot 8 inches tall and had a black complexion.  Other military index cards indicate that he spent some time in the hospital during his enlistment, which was as a Private in Company H.
After he was discharged from the service, George married a woman named Ellen (possible surname of Southern).  He returned to Jefferson County where he had lived before the war.  In 1880, he was working as a miner and in his household was his mother-in-law, Cynthia Southern, age 57.  In 1890, still in Jefferson County, he reported his military service and declared that his disabilities, "deafness and rupture," were due to his war service.  In 1900, while working as a farmer, he took in two boarders, one named Leonard Enty, possibly with a family connection.  In 1910, George was living on his "own income," most likely his pension.  When he died on 16 October 1911, he was buried in a private, "colored" cemetery near Langville, Jefferson County, Pennsylvania.  His wife Ellen survived him and applied for widow's pension benefits, which she collected until her death.
No record has been seen which indicated that George and Ellen had any children.  No family tree posted on Ancestry.com to date has linked this George Enty with the Tobias Enty, who was a pioneer settler of the area of the Lykens Valley.  However, it is likely that there is a link since the name is not all that common and it seems that all of that name are somehow connected to the area pioneer.
——————————
Much research still needs to be done on the branches of the Enty family.  The genealogical connection to Tobias Enty must be more fully documented.  The complete pension application records must be examined for each veteran who had a surviving wife and/or children.  The complete records are presently available only at the National Archives in Washington, D.C. for some of the Enty family members, but those who died in the war, if widow's applied for pension, the presently available on Fold3 or will soon be available.   When and why two branches of the family left the Lykens Valley area also needs to be further researched.
—————————
Some of the information in this post is based on research in There is Something About Rough and Ready.