Posted By Norman Gasbarro on February 21, 2013
The earliest member of the Enty family to settle in the area near the Lykens Valley appears to be Tobias Enty, who according to some researchers on Ancestry.com, was born around 1762 in Haiti and emigrated to the United States some time before 1800.  However, no sources have been found that confirm any of this information.  It is believed that of the eight identified children of Tobias Enty, three of the sons connect to Civil War soldiers.
The post today looks at one of the sons, Joshua Enty Sr. (c. 1775-1842), who married a member of the Simmy family, and had a son and two grandsons who served in the U.S. Colored Troops.  In addition, one of his granddaughters married Benjamin Crabb, whose two brothers, John Peter Crabb and Edward Crabb also served in the military during the Civil War.
——————————
Elijah S. Enty was a son of Joshua Enty Sr. and Mary Elizabeth [Simmy] Enty.  He was born about 1830 (some sources say 1835), and died 25 February 1907.  At the time of the 1890 Census, he was living in Hegins Township, Schuylkill County, Pennsylvania.  He was married to Louisa (or Lucretia), possible maiden name "Bradley."  During the Civil War he served in the 43rd U.S. Colored Troops, a regiment organized in Pennsylvania, and rose to the rank of Sergeant.  He mustered into service on 31 March 1864 and received his basic training at Camp William Penn in Philadelphia.  Military records state that he was shot through the left hand and was discharged on a Surgeon's Certificate of Disability on 12 June 1865.
One copy of Elijah S. Enty's discharge is shown above.  Other available copies are similar but are in a different handwriting.  The paper states that he was wounded at Petersburg and that he had to have a finger amputated.  These papers, part of the military record of Civil War veterans, are available from the National Archives, but the military record files for most of the soldiers who served in "colored" regiments have been uploaded to the Fold3 site.  The process of uploading all the military records files as well as the pension files is slow and relies heavily on volunteer labor.   The information on the discharge paper includes a physical description and information on the enrollment and reason for discharge.  An interesting way of describing an African American with a light complexion was to use the word "yellow."
From other information about Elijah, it is learned that in 1850, he was living in an inn in Coal Township, Northumberland County.  No occupation was given.  After the Civil War, he took up farming and was living in Hegins Township in 1880 through 1900.  In 1900, he was a widower, but a servant, Rejna Stitzer, was living with him.  He died in Barry Township.  His grave has not yet been located.
——————————
Another son of Joshua Enty Sr. was Joshua Enty Jr.  He was born about 1811 and it is believed that he married Catherine Simmy, possibly a first cousin of his.  Catherine Simmy was a daughter of William Simmy Jr. (c. 1786-  c.1862) who may have been a brother of Mary Elizabeth Simmy (c. 1792-1865), the mother of Joshua Enty Jr.  There were three known children of Joshua Enty Jr. and Catherine [Simmy] Enty:  (1) Mary Ann Enty (c. 1832 – ?), who married Benjamin Crabb, of whom more later;  (2) Jonathan Enty (c. 1844-1864); and (3) Gabriel Enty (c. 1846-1914).  Jonathan Enty and Gabriel Enty were both Civil War soldiers who served in the 43rd U.S. Colored Troops.
Jonathan Enty was a farm laborer who lived in the Fountain area of Schuylkill County.  Also known about him was that he was living in the household of his brother-in-law, Benjamin Crabb of Hegins Township in 1860, and was probably helping him with blacksmith work.  Jonathan Enty enrolled in the 43rd U.S. Colored Troops and was mustered into company D as a Private on 22 March 1864.  As with most all the "colored" soldiers from Pennsylvania, he received his basic training at Camp William Penn, Philadelphia.  At the time he entered the army, he was married (his wife was Mary E. Wilson) and they had one young son, Aaron Enty, born 29 March 1863.  On 30 July 1864, Jonathan Enty went missing in action at Petersburg, and was presumed dead.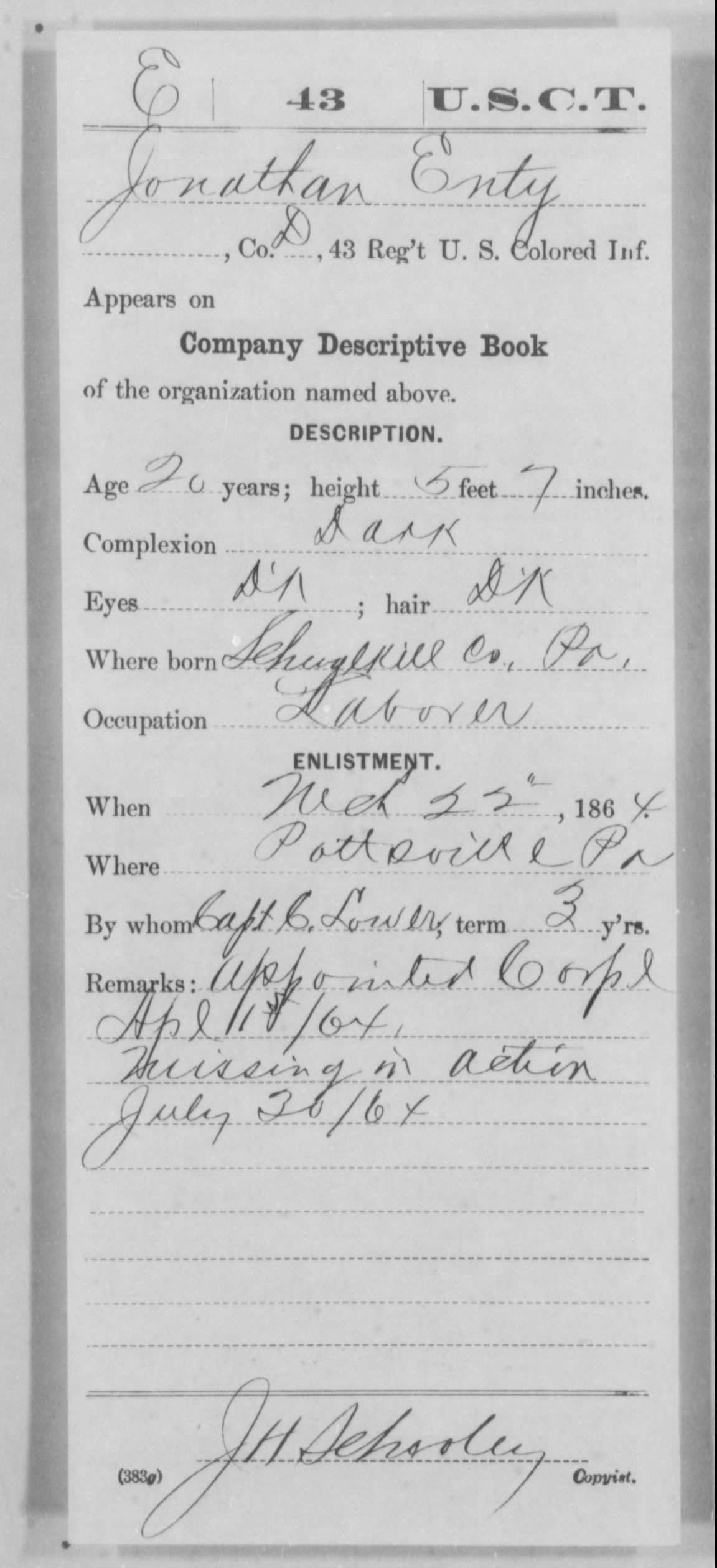 The item shown above is an index card to the descriptive book information for Jonathan Enty.  Note that his complexion was given as "dark".  He was promoted during his time in the service to the rank of Corporal.  But, he went "missing in action on 30 July 1864."  The Casualty Sheet (below) gave more details, in that the incident occurred at Cemetery Hill, Virginia: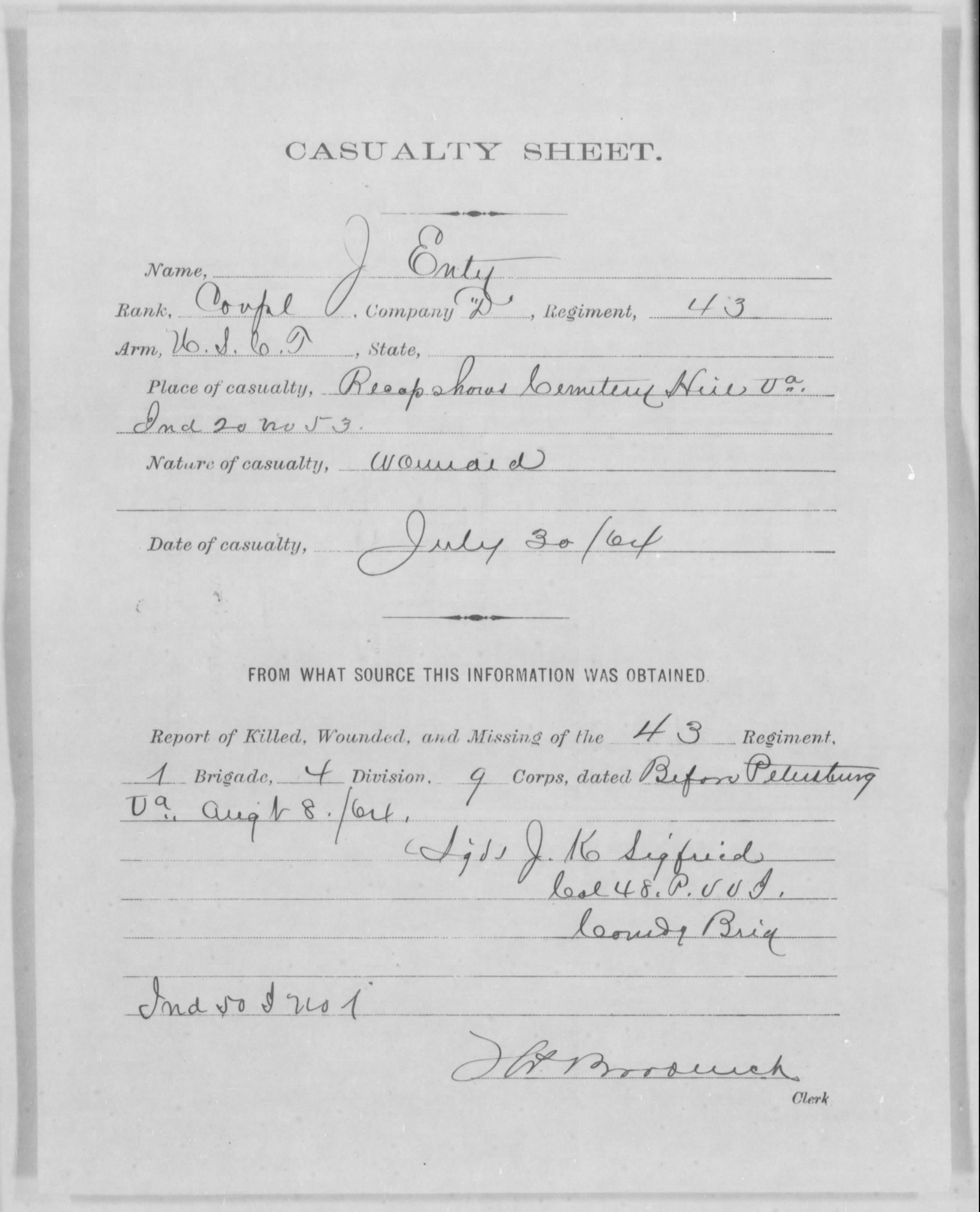 Mary E. [Wilson] Enty applied for a widow's pension in 1865 and in 1870 an additional application was submitted for the support of her son Aaron Enty.  In 1870, she and Aaron were living in Pottsville and in addition to the pension that she received, she was working as a housekeeper.  Aaron was last located in the household of an aunt, Harriet Fisher, in Pottsville in 1910, where he reported that he was single and was working as a hod carrier.  At this time, it is not known whether Harriet Fisher was an aunt on Aaron's mother's or father's side of the family.
There is a great deal of confusion in the military records of Jonathan Enty regarding how and where he died, and this may have caused some difficulty for Mary when she applied for a widow's pension.  The pension applications for 1865 have not yet been uploaded to Fold3, but should be soon.  At present, they are available at the National Archives and most likely give additional information on Jonathan Enty and his family.
——————————-
Gabriel Enty, younger brother of Jonathan Enty, was born about 1846.  He too joined the 43rd U.S. Colored Troops, Company D, and served as a Corporal, mustering into service at Camp William Penn, Philadelphia, on 22 March 1864.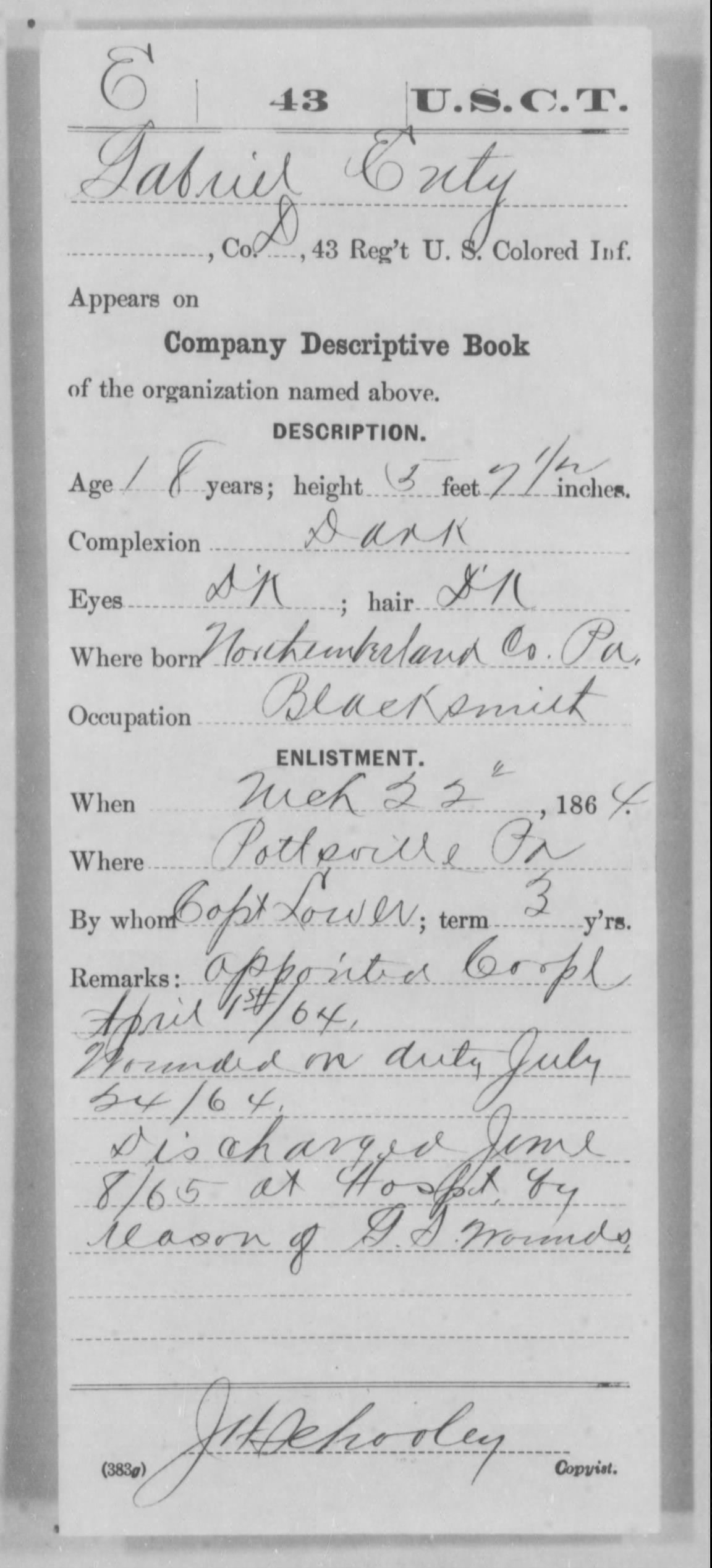 Like his brother, Gabriel Enty had a dark complexion and was about the same height.  At the time of his enrollment he was living in "Heginstown" and working as a blacksmith, a trade he most likely learned from his brother-in-law Benjamin Crabb.  During Gabriel's service, he was wounded in the right hand and was discharged on 8 June 1865 on a Surgeon's certificate of Disability.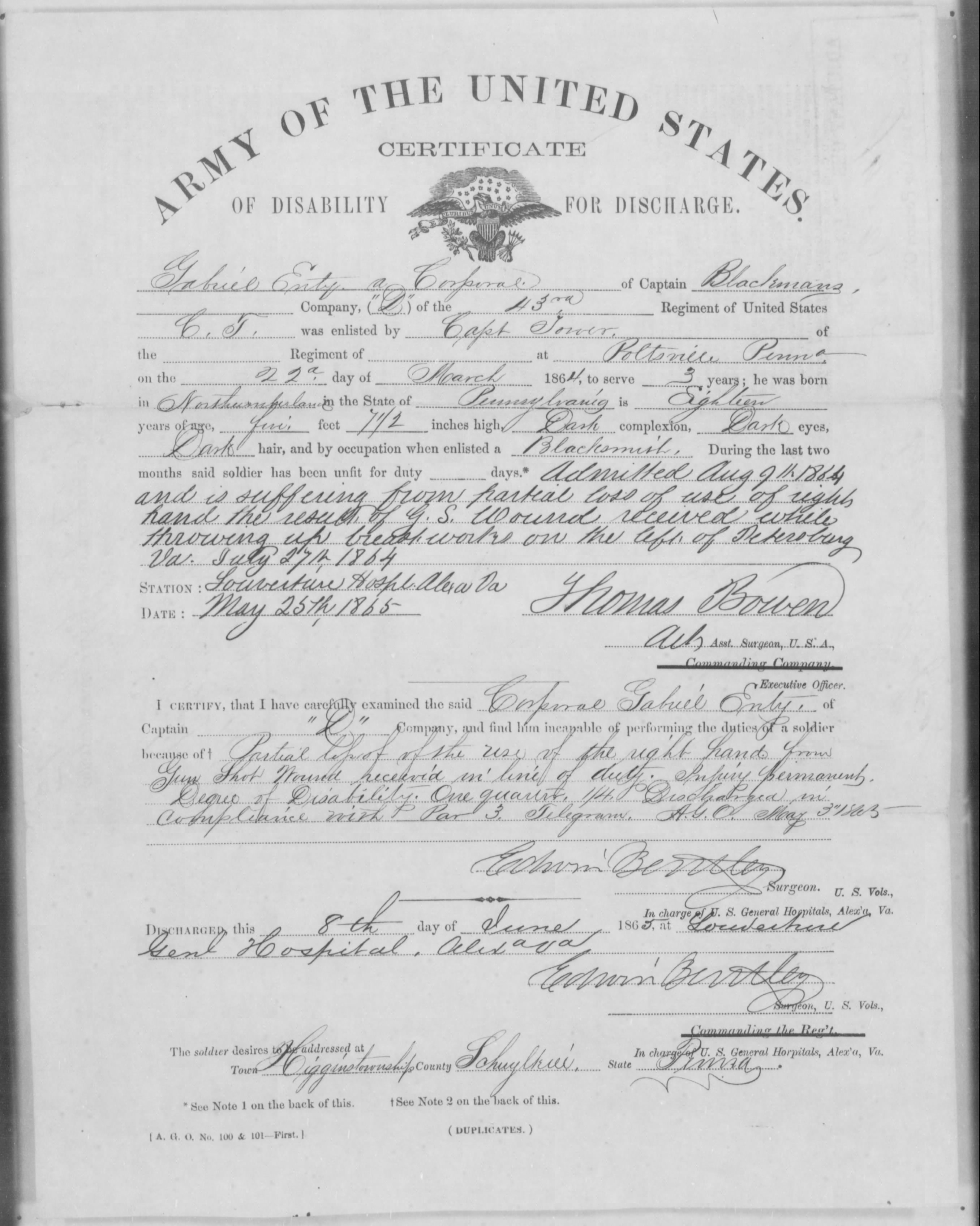 The discharge paper for Gabriel Enty (above) indicates that the wound he received was obtained while he was throwing up breastworks on the left side of Petersburg and it resulted in a partial loss of use of the right hand.  After his discharge from the army, Gabriel worked at various jobs and lived in several different places.  In 1870, he was living in Shamokin, Northumberland County, and was working in the mines.  In 1878, he was in Harrisburg working as a blacksmith but by 1880 he had returned to Shamokin, but there is also another census entry for a Gabriel Enty in Wilkes-Barre, where he was working as a whitewasher, and he continues to appear in the Wilkes-Barre directories through 1904.  Afterward, he is found as an inmate in the State Soldiers' Home in Erie, Pennsylvania.  When living in the Soldiers' Home, he reported that he was divorced, and during his lifetime he had fathered 8 children, 5 of whom were still living.
After his divorce, Julia Ann [Tarr] Enty, who had married Gabriel Enty some time after the Civil War, moved to Ulster County, New York, where she died in 1911.  She is buried there.  It was at the Erie Home that Gabriel died in 1914.  However, his remains were interred in the Wilkes-Barre City Cemetery in Luzerne County, Pennsylvania.
——————————
The older sister of Jonathan Enty and Gabriel Enty was Mary Ann Enty who was married to Benjamin Crabb, a blacksmith who had been born in Gratz in about 1824.  Benjamin was an older brother of John Peter Crabb, a member of the 24th U.S. Colored Troops and the 36th Pennsylvania Infantry (Emergency of 1863) and Edward Crabb, also a member of the Emergency force. Both John Peter Crabb and Edward Crabb were born in Gratz.  After the war, John Peter Crabb, a blacksmith, moved to Harrisburg, where he became Commander of one of the only "colored" G.A.R. posts in Pennsylvania. Edward Crabb remained in the Gratz area, worked as a shoemaker and a miner, and when he died was buried in the Gratz Union Cemetery.  There is strong evidence to suggest that Benjamin Crabb taught both of his brothers-in-law the trade of blacksmithing while they were living in his household in the Hegins area.
——————————
Of the remaining three sons of Tobias Enty, Abraham Enty (c. 1791-c. 1842) had three grandsons who served in the U.S. Colored Troops.  This family will be the subject of the blog post tomorrow.
Peter Enty (c. 1802-c.1875) had a son who served in the U.S. Colored Troops.  This family will be the subject of the blog post on Saturday.
In addition, on Saturday, the one Enty who served, but who has not yet been connected to Tobias Enty will be presented, with the known information about him.
This project is still in its initial stages of research, so any information that anyone can supply would be very welcome.  Comments can be added to this post or the information can be sent to the Civil War Research Project in an e-mail.
—————————
Some of the information in this post is based on research in There is Something About Rough and Ready.