Posted By Norman Gasbarro on February 1, 2013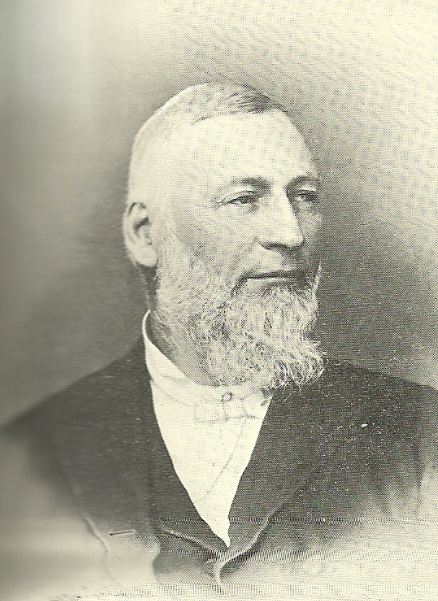 The Rev. Lewis Daniel Steckel (1839-1922) served as the pastor of the Reformed Church in Lykens Borough, Dauphin County, Pennsylvania, at the end of the 19th and early part of the 20th century.  He also had a congregation in Tower City, Schuylkill County.  During the Civil War he was the Quartermaster Sergeant in the 176th Pennsylvania Infantry, serving in that regiment from 7 November 1862 through his honorable discharge on 18 August 1863.
A biographical sketch of Rev. Steckel appeared in the Commemorative Biographical Encyclopedia of Dauphin County, published in 1896 by the J. M. Runk Company of Chambersburg, Pennsylvania:
Rev. L. D. Steckel, pastor of Christ Reformed Church, Lykens, Pennsylvania, was born near Whitehall, Lehigh County, Pennsylvania, 2 January 1839.  The ancestors of Rev. L. D. Steckel came from Zweibrucken, or Zweibruecken, Germany, and were among the early settlers of Pennsylvania.  Daniel Steckel, father of Rev. L. D. Steckel, was also born in Lehigh County, in 1789.  He was a farmer in that county.  He married Elizabeth Frantz, a native of Lehigh County, daughter of Peter Frantz, a farmer.  They had ten children:  Hattie Steckel, wife of Charles Shafer of Whitehall, Lehigh County; Reuben Steckel, resides in Lehigh County; Polly Steckel, wife of Stephen S. Albright, of Allentown, Pennsylvania; Amos Steckel, of Bloomfield, Iowa; William Steckel, merchant, Montpelier, Indiana; Alfred Steckel, doctor, Slatington, Pennsylvania; Rev. L. D. Steckel; Edmond Steckel, doctor, Allentown Pennsylvania; Henry Steckel, professor in the Whitehall schools; and Caroline Steckel, wife of Joseph Miller, of Ohio.  Mr. and Mrs. Steckel both died on the old homestead in Lehigh County, the former in 1877, and the latter in 1879.  Mr. Steckel was originally a Whig, and later identified with the Republican Party.  He was a member of the Reformed church in the United States.  He and his wife were prominent and highly respected people, faithful, just and kind in all the relations of life.

L. D. Steckel attended the public schools of his town until he was ten years of age and when he was seventeen years old was graduated from the high school.  He taught school eight winters and worked at agricultural work during the summers.

He enlisted at Allentown, Pennsylvania, 18 October 1862, in Company G, One Hundred and Seventy-sixth Pennsylvania volunteers [176th Pennsylvania Infantry], Capt. L. P. Hecker, and Col. A. A. Lechler, and spent nine months in the service.  He held the rank of Quartermaster Sergeant.

After his return from the army he spent one year as a student at the Dickinson College, after which he took a three year course in theology in Mercersburg Seminary, and was ordained to the ministry in 1867.  His first charge was Millersville, Lancaster County, where he spent one year.  He was next for three years pastor at Huntingdon, Pennsylvania, then had a charge in Perry County for one year and a half, and was next at Meyersdale, Somerset County, for eight years; there he built a church edifice, remodeled the parsonage, and otherwise improved the church property, to the extent of $5,000.  Mr. Steckel spent two years at Wolmelsdorf, Berks County, three years in Pottsville, and five at Mifflinburg, Union County.

In 1891 Rev. Mr. Steckel received a call from the Reformed Congregation at Lykens to become their pastor, which he accepted and entered upon the pastorate in the same year.  The work at Lykens has greatly prospered under his care.  A church office costing $5,000 has been erected, and every branch of congregational work is in good condition.  Rev. Mr. Steckel has another congregation at Tower City and he is equally faithful and efficient in looking after the spiritual needs of that part of his parish.  Since coming to Lykens he has done a grand work in promoting the religious interests of the community; and the value of his service is currently regarded by all the citizens, regardless of political differences.  He and his family are quick to respond to all appeals for material or spiritual help.

Rev. Mr. Steckel was married at Manheim, Lancaster County, Pennsylvania, in 1869, to Barbara Peters, born at Millersville, Pennsylvania, 16 February 1844, daughter of Hon. Abraham Peters, a native of Millersville, Lancaster County, Pennsyvlania, a farmer and stock raiser.  Mr. and Mrs. Steckel have four children:  Mary Steckel, born at Huntingdon, Pennsylvania, 17 January 1872, graduated from Female College at Allentown, Pennsylvania, and the Conservatory of Music, Philadelphia, is a teacher of music; Martha Steckel, born 8 March 1875, at Meyersdale, Pennsylvania, graduated at the college at Meyerstown, Pennsylvania, and in 1892, at the College of Oratory, Philadelphia; Fannie Steckel, born 7 July 1877, graduated at Lykens High School, 1891, and at Frederick, Maryland, College for Women in 1895, is a music teacher; Abraham Peters Steckel, born 1 April 1879, graduated at the Lykens High School, 1894, and from Mercersburg College, in 1895, now attending Lehigh University.

Mr. Steckel takes interest in public and political affairs.  The family are members of the Reformed Church in the United States.  Rev. Steckel has in his family a competent and devoted staff of church workers.  Mrs. Steckel has for seven years been President of the Ladies' Aid Society.  The daughters have formed a Young People's Society, in which they take an active part.  The Misses Steckel are organists of the church.  All the members of the family are interested in Sunday School work and in the educational and benevolent enterprises of the community.  Their home is a fountain of good influences.
In 1910, Rev. Steckel is found in the census as the minister of a congregation in Greensburg, Westmoreland County, Pennsylvania.  His two daughters, Martha Steckel and Frances "Fannie" Steckel, ages 35 and 33, are living in his household and employed as private music teachers.  By 1920, Rev. Steckel had retired in Greensburg, the two daughters still living with him, Martha, then a public school teacher, and Fannie a private teacher.
The regiment in which Lewis D. Steckel served during the Civil War was a state-drafted group of men that Gov. Andrew Curtin needed to meet the call of President Abraham Lincoln for 300,000 men to serve for a period of nine months.  The 176th Pennsylvania Infantry had a brief and relatively uneventful history, according to the Union Army, Volume I:
This militia regiment, composed of seven companies from Lehigh County and three from Monroe County, was mustered in at Philadelphia in November 1862, for nine months, and left for Suffolk, Virginia, the same month. It joined the force which moved under Gen. Foster, from New Berne, North Carolina, to Charleston, South Carolina, and was employed in guard, picket and other duties in this vicinity during its entire term of service. At Harrisburg, 18 August 1863, it was  mustered out.
Also included in the Union Army information is the fact that one officer died of disease or accident during the service of this regiment and 43 enlisted men died of disease or accident while service.  There were no reported deaths due to combat.  The information from Union Army is available on Ancestry.com.
Bates does not offer much more information about the history of this regiment (see 4-1238):
Seven companies of this regiment were from Lehigh County, and the remaining three from Monroe County.  They rendezvoused at Philadelphia, during the month of November, where a regimental organization was effected, with the following field officers:  Ambrose A. Lechler, Colonel; George Pilkington, Lieutenant Colonel; William Schoonover, Major.  Colonel Lechler had served as Quartermaster of the Fourth Pennsylvania Reserves, and during the Seven Days' Battle of the Peninsula, as ordinance officer to the Second Reserve Brigade.  Soon after its organization, the regiment was sent to Suffolk, Virginia, where, for a month, it was subjected to careful instruction and discipline.  Through the recommendation of Colonel Foster, in command of a provisional brigade, to which the One Hundred and Seventy-sixth had been assigned, this regiment was selected to accompany General Foster in his expedition for the reinforcement of the army operating upon the defenses of Charleston.  Proceeding to Newbern, North Carolina, it was incorporated with Foster's forces, and on the 27 January set sail arriving at Hilton Head on 5 February.  While in the Department of the south, the regiment was not engaged in any hostile operations, but was principally employed in fatigue duty upon the fortifications, in in provost duty.  Soon after the expiration of its terms of service, it returned north, and was sent to Harrisburg, where on the 17 and 18 August, it was mustered out of service.
Bates indicates, in the listing of the Field and Staff Officers (Headquarters), that the original Quartermaster of this regiment was Isaac Wooliver, whose resignation was tendered on 9 December 1862 (see 4-1238).  Steckel, who had been Sergeant in Company G, had been promoted to Quartermaster Sergeant, three days earlier.  Since the record does not indicate that any other individual served in the capacity of Quartermaster, it has to be assumed that Steckel remained at that rank for the duration of his service.
Other persons with a connection to the Lykens Valley area who reportedly served in the 176th Pennsylvania Infantry were:  Tilghman A. Beisel [File: CW#B058], Elias Herber [File: CW#H126], Daniel Keiser [File: CW#K038], George Neitz [File: CW#N013], Solomon Riegle [File: CW#R106.12], and John Summerfield Staples [File: CW#S288].  Note:  File numbers refer to Civil War Research Project digital files available on the named veterans.

Lewis D. Steckel was recognized on the Lykens G.A.R. Monument which is located on North Second Street in Lykens Borough.  He is named as a member of the Heilner Post who joined after the post was organized.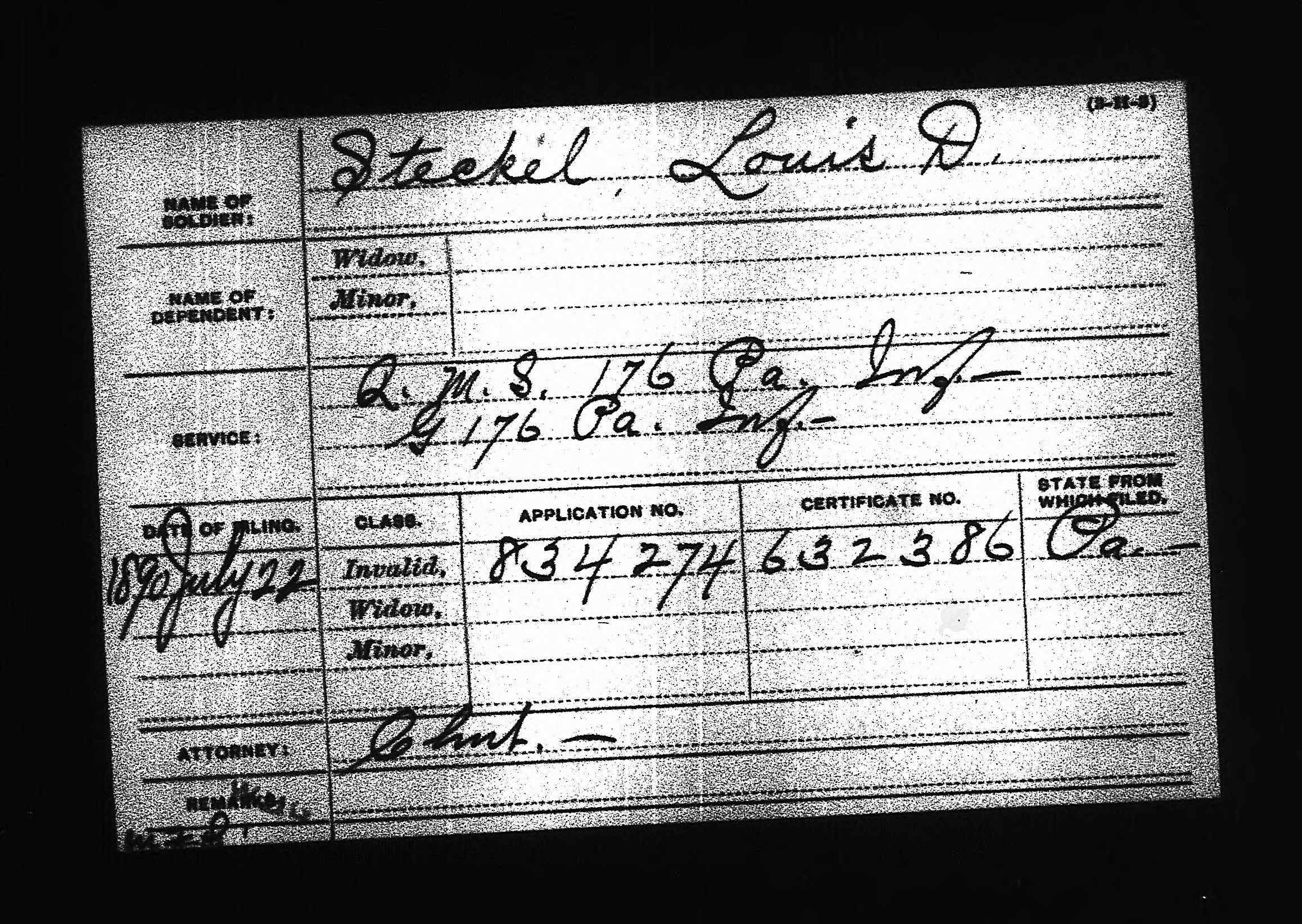 In 1890, Lewis D. Steckel, then living in Mifflinburg, Union County, Pennsylvania, told the census of his Civil War service, but did not indicate that he had any Civil War-related disabilities.  However, in that same year, on 22 July, he applied for an invalid pension, which he received and collected until his death, as shown on the Pension Index Card (above) from Ancestry.com.
The Pension Index Card available from Fold3 (not shown) notes that Lewis D. Steckel died on 19 March 1922 at Greensburg, Westmoreland County.  Other sources indicate that his wife Barbara [Peters] Steckel had died on 25 February 1920.  His grave has not yet been located.
The portrait at the top of this post is from the Commemorative Biographical Encyclopedia of Dauphin County, previously cited.
Additional information is sought on Rev. Lewis D. Steckel, Reformed Minister and Civil War veteran who was a member of the Lykens community at the turn of the century.  Of particular interest are stories and news articles from his time in Lykens.  Comments can be added to this post or send an e-mail to the Civil War Research Project.  [Project File: CW#S299]