Posted By Norman Gasbarro on January 29, 2013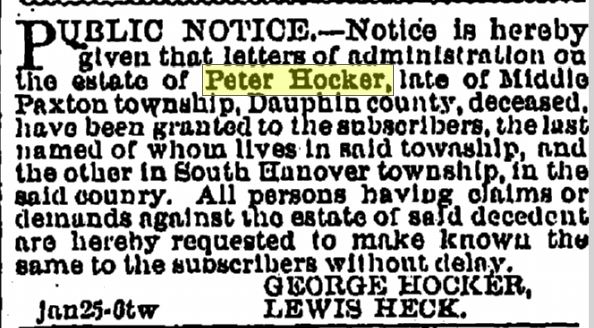 "Public Notice – Notice is hereby given that letters of administration on the estate of Peter Hocker, late of Middle Township, Dauphin County, deceased, have been granted…."   Thus began a legal item that appeared in the Harrisburg Patriot, 18 January 1866.
The story behind the notice was found in the Commemorative Biographical Encyclopedia of Dauphin County, pages 865-866:
John P. Hocker, farmer, was born in Clark's Valley, Middle Paxton Township, Dauphin County, Pennsylvania, 16 March 1837.  He is a son of Peter Hocker and Nancy [Weltmer] Hocker.  Peter Hocker was born 21 February 1801.  He was a prominent and honored citizen; was extensively interested in farming, and also had charge of the Peter's Mountain Inn.  He served several terms as county commissioner of Dauphin County, and a number of terms as school director.  He contributed liberally to the establishment and support of churches of Dauphin and in the vicinity.  He was a Democrat.  He died 17 December 1865; his wife died 20 February 1877, aged sixty-eight years, one month and twenty six days.  They had nine children: Susan Hocker, wife of Jacob Beam; Martin Hocker; Peter Hocker; Margaret A. Hocker, wife of Benjamin Meyers; John P. Hocker; Catherine Hocker, wife of Jonathan Fox; George W. Hocker; Jacob Hocker; and Emeline Hocker, wife of Martin Koons.

John P. Hocker in his early boyhood attended private schools; at twelve years of age he attended the district school.  At seventeen he left school and worked on his father's farm until he was twenty-five.  He enlisted at Camp Simmons, Harrisburg. 16 October 1862, in Company K, One Hundred and Seventy-Third Regiment Pennsylvania Volunteers [173rd Pennsylvania Infantry], under Capt. Cornelius A. Harper and Colonel Nagle.  He was discharged at Harrisburg, 18 August 1863.  He returned home in ill health and cultivated the homestead farm until 1865.  His father having been killed at this time by the running away of a team of horses, Mr. John Hocker succeeded to the management of the farm, which he conducted for one year.  He then removed to the neighborhood of Zion Church, where he lived and was employed for a year and a half.  On 14 January 1869, he bought the homestead where he has since resided.

Mr. Hocker was married 24 March 1861 to Mary Ann Ferree.  Of their fourteen children, four are deceased.  Mary Jane Hocker, born 14 February 1862, died 20 March 1863; George Williams Hocker, born 29 April 1864, died 19 April 1866; Charles Cleveland Hocker, born 26 January 1885, died 20 March 1885; Carrie Emma Hocker, born 12 August 1882, died 29 September 1893.  Their living children are:  John Peter Hocker, born 24 July 1865; Julia Ann Hocker, 6 April 1867, wife of John E. Bickel; Ophelia Hocker, 2 April 1869; Catherine Elizabeth Hocker, 15 August 1871, wife of Theodore McCarty; James Martin Hocker, 23 June 1873; Alexander Harvey Hocker, 16 September 1875; Agnes Gertrude Hocker, 19 August 1877; Sarah Ellen Hocker, 20 August 1879; Martha Washington Hocker, 22 February 1886; and Maud Ethel Hocker, 15 March 1889.  Mr. Hocker is neutral in politics.  He has served two terms as supervisor of Middle Paxton Township.  The family attend the Lutheran Church.

The mother of Mrs. Hocker died in December 1866; her father in August 1878.  They had eight children:  Leah Jane Ferree, wife of George Hocker; Mary Ann Ferree, Mrs John Hocker; Joel Ferree; Jefferson Ferree; Elizabeth Ferree, wife of Zachariah Knapp; Agnes Ferree, wife of James Duncan; and Ellen Ferree, wife of John Arrison.
John Hocker appeared in the Civil War Draft registration for Derry Township in 1863 (below).

In 1863, he was 22 years old, was a farmer, and was married.  During the Civil War, he was drafted into the 173rd Pennsylvania Infantry, Company K, as a Private.  The Pennsylvania Veterans' Index Card, which references the regimental history and his company listing, is shown below.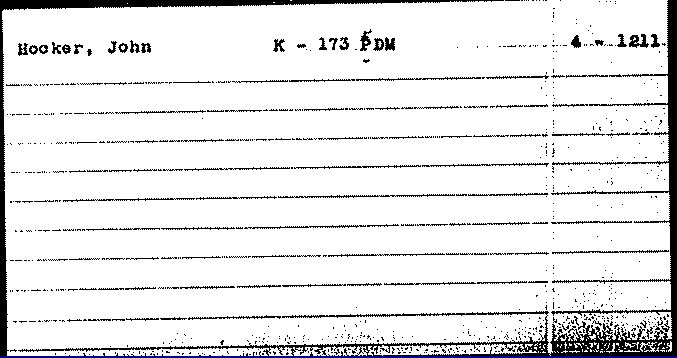 John Hocker applied for a pension on 1 June 1878, as can be seen by the Pension Index Card (below).  He received one of the earlier awarded pensions as can be noted by the relatively low Certificate Number.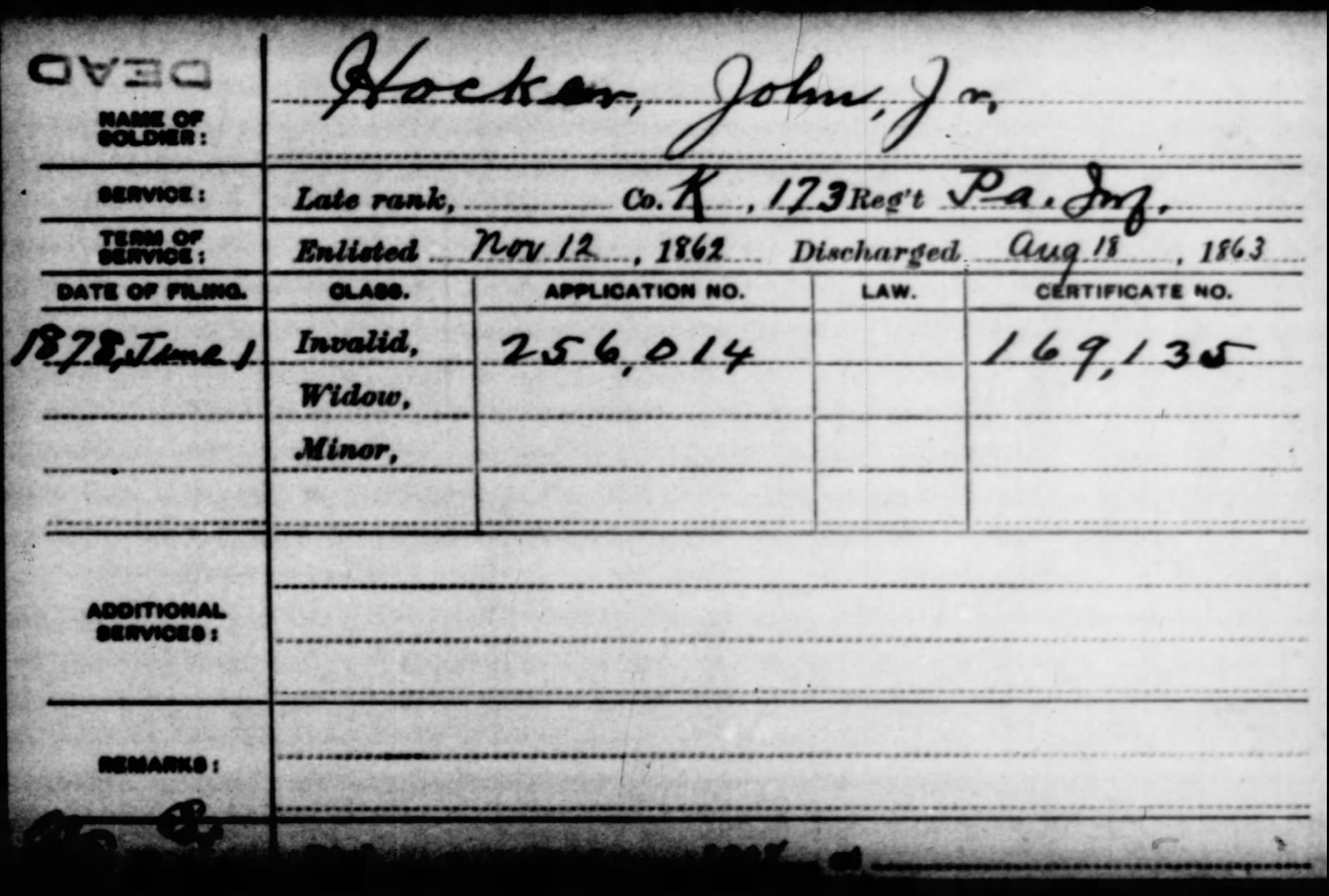 More information is sought on John Hocker, his Civil War service and his family.  Pictures and stories are especially needed!  Readers are invited to comment to this post or to submit the information via e-mail
——————————
U.S. Civil War Draft Registration records are available from Ancestry.com.  The Pension Index Card shown was obtained from Fold3.  The news clipping was obtained through the on-line resources of the Free  Library of Philadelphia.