Posted By Norman Gasbarro on January 4, 2013
John Arnts, or John Arntz, as he was also known, was a Civil War soldier from Lancaster County, Pennsylvania, who had ties to Dauphin County through his son who was a creamery owner in Elizabethville and Gratz.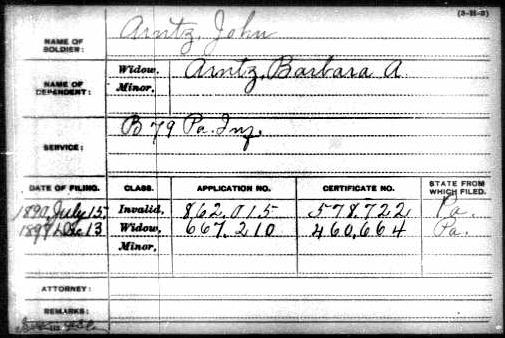 John Arnts was born on 30 September 1828 and died on 7 December 1897.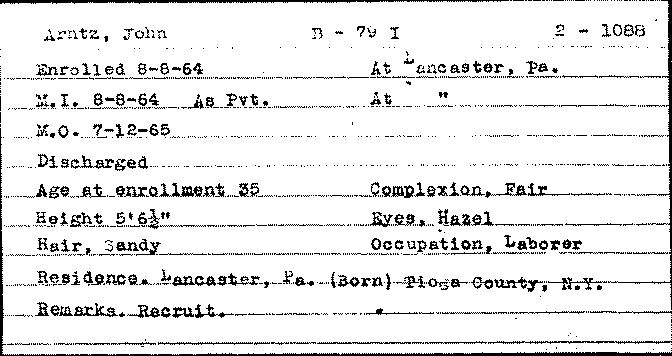 On 8 August 1864, at Lancaster, Lancaster County, John Arnts enrolled in the 79th Pennsylvania Infantry, Company B, as a Private, and was mustered in at that place on the same date.  He then joined his regiment which was involved in the Atlanta Campaign, taking part in the Battle at Jonesboro on 1 September 1864, through the remaining Georgia battles and skirmishes and then the regiment moved into North Carolina.  After Johnston's surrender the regiment moved through Richmond to the vicinity of Washington and was finally mustered out near Alexandria, Virginia, 12 July 1865.
Information from the Pennsylvania Veterans' Index Card notes that John Arnts was 5 foot, 6-1/2 inches tall, had a fair complexion, sandy hair, and hazel eyes.  He was a laborer who was residing in Lancaster County, but noted that he was born in Tioga County, New York,.  His birthplace cannot be confirmed with other records (see below).
After the Civil War, John Arnts lived in Lancaster County (1870) where he worked as a farm laborer.  In 1890, he was living in Harrisburg, where he complained that his suffering from diarrhea was a result of his Civil War service.  On 15 July 1890, he applied for an invalid pension, which he eventually received and collected until his death in 1897, whereupon his widow, Barbara, applied and collected until her death.
A biographical sketch of Jacob Arnts, son of John Arnts, appeared in the Commemorative Biographical Encyclopedia of Dauphin County, which was published by J. M. Runk Company in 1896.  Included in the sketch was information about John Arnts.  [Note: Click on book title for free download].
Jacob Arnts, creameryman, Elizabethville, Pennsylvania, was born in Bainbridge, Lancaster County, Pennsylvania, 13 January 1858, son of John Arnts and Barbara Arnts.  The grandfather, Garret Arnts, was a lumberman and died in the lumber regions.  The father was born in Clearfield County, Pennsylvania, and is a day laborer.  He was reared in Bainbridge, Lancaster County, where he resides at the present time in the enjoyment of good health.  His children are:  Lizzie Arnts, Mrs. Sears of Harrisburg, Pennsylvania;  Mahata Arnts, Mrs. Eners, York Pennsylvania; Jacob Arnts; Garret Arnts, merchant in Lebanon; Harry Arnts, cigar maker, York, Pennsylvania; Samina Arnts, Mrs. Addick, residing near Harrisburg.  In politics, the father is a Republican, and entered the army in 1861 and served until the close of the war.

Jacob received his education in the common schools of his native place.  At the age of twelve he began work as a farm hand and used his earnings for the support of the family.  He was married in Mt. Joy, Lancaster County, 9 October 1881, to Miss Labina Fack, who is a native of Lancaster County, and was born in 1862.  Their children are:  Norman F. Arnts; Elsie Arnts; Clara Arnts; and Howard Arnts.

Mr. Arnts first settled on a farm near Mt. Joy, and worked by the day for two years, when he went to Lancaster and was engaged in a creamery for one year; at the end of which time he returned to Mt. Joy.  He next went to Bird-in-Hand, Lancaster County, and worked in a creamery for five years.  From here he moved to Millerstown, Perry County, where he established a creamery, which he operated for some time, then came to Elizabethville and began business with Messrs. Mitis and Speck.  Firm continued thus for three years when Mr. Speck sold his interest to Arnts and Mittis, under which name the firm now does business.  in 1892, a branch creamery was started at Gratz.  In politics, Mr. Arnts is a Republican and has never sought any office.
No record has been located to show that John Arnts served in the army from 1861 as is stated in the biographical sketch.  The only record of service he claimed was for the 79th Pennsylvania Infantry, which, according to the Pennsylvania Veterans' Index Card, he joined on 8 August 1864.  Further confirmation of the 1864 service date is found in the Register of Pennsylvania Volunteers, available at the Pennsylvania Archives.
Localhistorians have long speculated as to the history and location of the branch creamery in Gratz that was started by Jacob Arnts.  The following items give some clue:

From the Patriot, 20 May 1891:  "At a meeting of dairymen at Pottstown measures were taken to prosecute violators of the oleomargerine law and money was raised by creamery men and farmers to protect their interests."
A national debate was taking place at this time between the dairy industry and the makers of oleomargerine.  Dairymen saw the oleo makers as a threat to their existence and they relied on government regulation and licensing to protect the dairy interests.  Whether this debate had anything to do with the success or failure of the venture at Gratz is not known.  See:  New York Times, 9 December 1886.

From the Patriot, 2 March 1892: "Messrs. Mattis, Arnts, and Speck are starting two branch creameries, one three-quarters of a mile below Gratz on a piece of ground leased from Jonas Hawk, and the other near Killinger."

From the Patriot,  7 April 1892: "Messrs. Mattis, Arndt & Speck will open their branch creamery below Gratz this week.  E. Hartman, a son-in-law of Charles T. Mattis, will have charge of the branch."
According to information in A Comprehensive History of the Town of Gratz Pennsylvania, the creamery apparently failed within a short time of its establishment.