Posted By Norman Gasbarro on January 18, 2013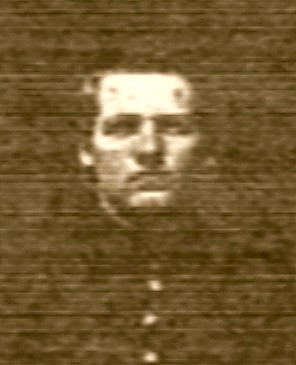 Jacob Scheck of Tremont, Schuylkill County, Pennsylvania, was a German immigrant who arrived in America before the Civil War with his parents.  His father, George Scheck was a master mason and the family appears in the 1860 census for Pine Grove, Schuylkill County.  In 1860, Jacob was working as a boatman on the Schuylkill Canal along with his two brothers, Christian Scheck and Frederick Scheck.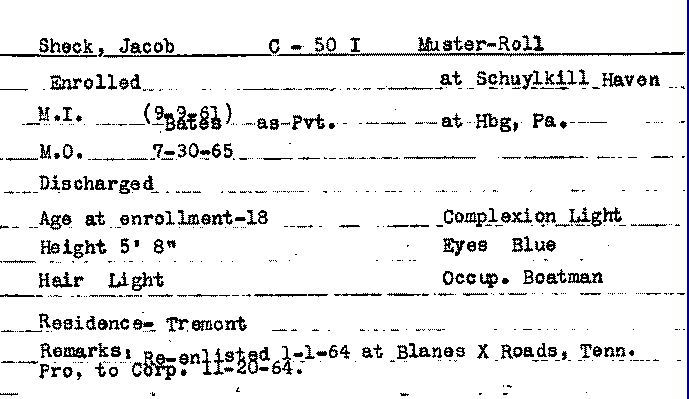 Early in the Civil War, on 9 September 1861, Jacob Scheck enlisted in Company C of the 50th Pennsylvania Infantry as a Private.  His older brother Frederick Scheck also enlisted the same time.   At the time of his enrollment at Schuylkill Haven, Jacob was 18 years old, stood 5 foot, 8 inches tall, had a light complexion, blue eyes and light hair.  He was mustered into service at Harrisburg.
In the upper right had corner of the Pennsylvania Veterans' Index Card at the Pennsylvania Archives (shown above), the notation "Muster-Roll" indicates that the information on the card was taken directly from the muster rolls of the company and not from Bates.  This is due to variations in the spelling of the surname – his name was "Jacob Sheck" in the muster roll.  The Bates page is shown below (Volume 1, page 1290):

Bates gives the enlistment date as 9 September 1861 – the correct date for the initial enlistment.  The Pennsylvania Veterans' Index Card (above) notes that Jacob Scheck re-enlisted at Blaine's Crossroad, Tennessee, on 1 January 1864, but this fact is not given in Bates.  A promotion from Private to Corporal is noted in Bates at 26 November 1864, while the Pennsylvania Veterans' Index Card gives the date as 20 November 1864.
In consulting the Register of Pennsylvania Volunteers for Company C, 50th Pennsylvania Infantry (shown below), the initial enlistment date of 31 December 1863 is given – which is actually the re-enlistment date.  The date of 1 January 1864 is the muster date for the re-enlistment.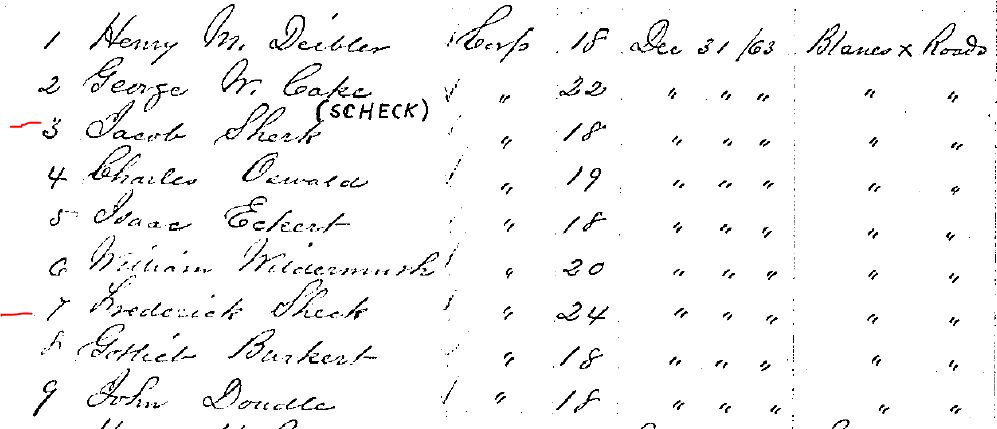 Also, it should be noted that in both Bates and the Register of Pennsylvania Volunteers, the rank of Jacob Scheck is given as "Corporal" at enlistment, a rank he did not achieve until November 1864 (either 20 or 26 November).  Jacob Scheck first enlisted as a Private and then re-enlisted as a Private – and was promoted to Corporal in the eleventh month following his re-enlistment.
The sources illustrated above are secondary sources which have been copied from primary source material.  It is always necessary to consult the original sources (if available).
After the Civil War, Jacob Scheck is found in the 1880 census for Easton, Northampton County, Pennsylvania, where he is working as a railroad engineer.  His family at that time consisted of a wife Ellen Scheck( born about 1845) and four daughters:  Emma Scheck, born about 1870; Ella Scheck, born about 1871; Minnie Scheck, born about 1873; and Jennie Scheck, born about 1875.  In 1890, still residing in Easton, Jacob reported no Civil War-related disabilities.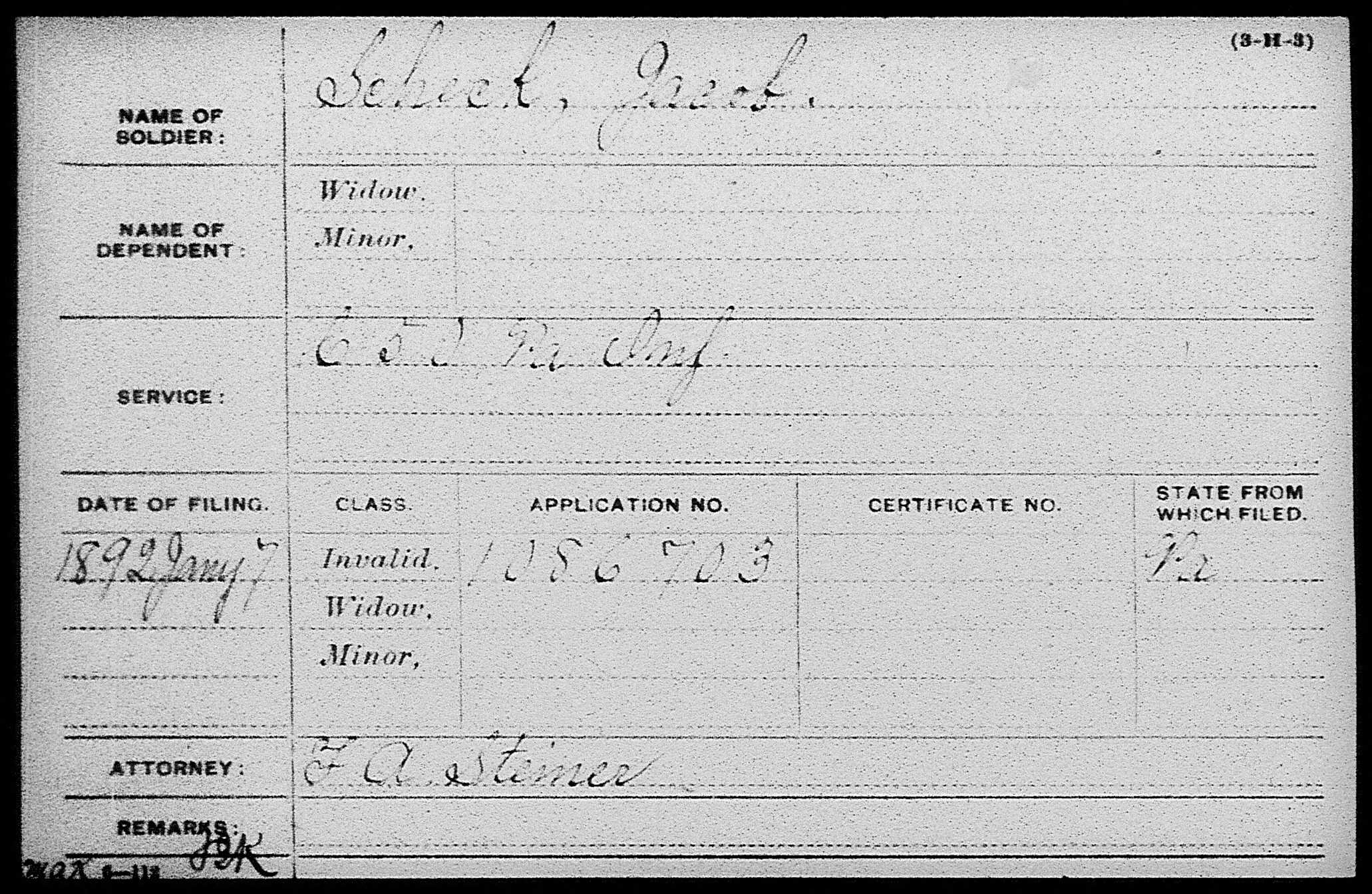 In 1892, Jacob Scheck first applied for an invalid pension based on his Civil War service.  The delay in awarding his a pension may have been due to the spelling variation.  By 27 June 1894, he died, not receiving any benefits from the government.  His wife Ellen may have preceded him in death; no record has been found that a widow pursued a pension claim.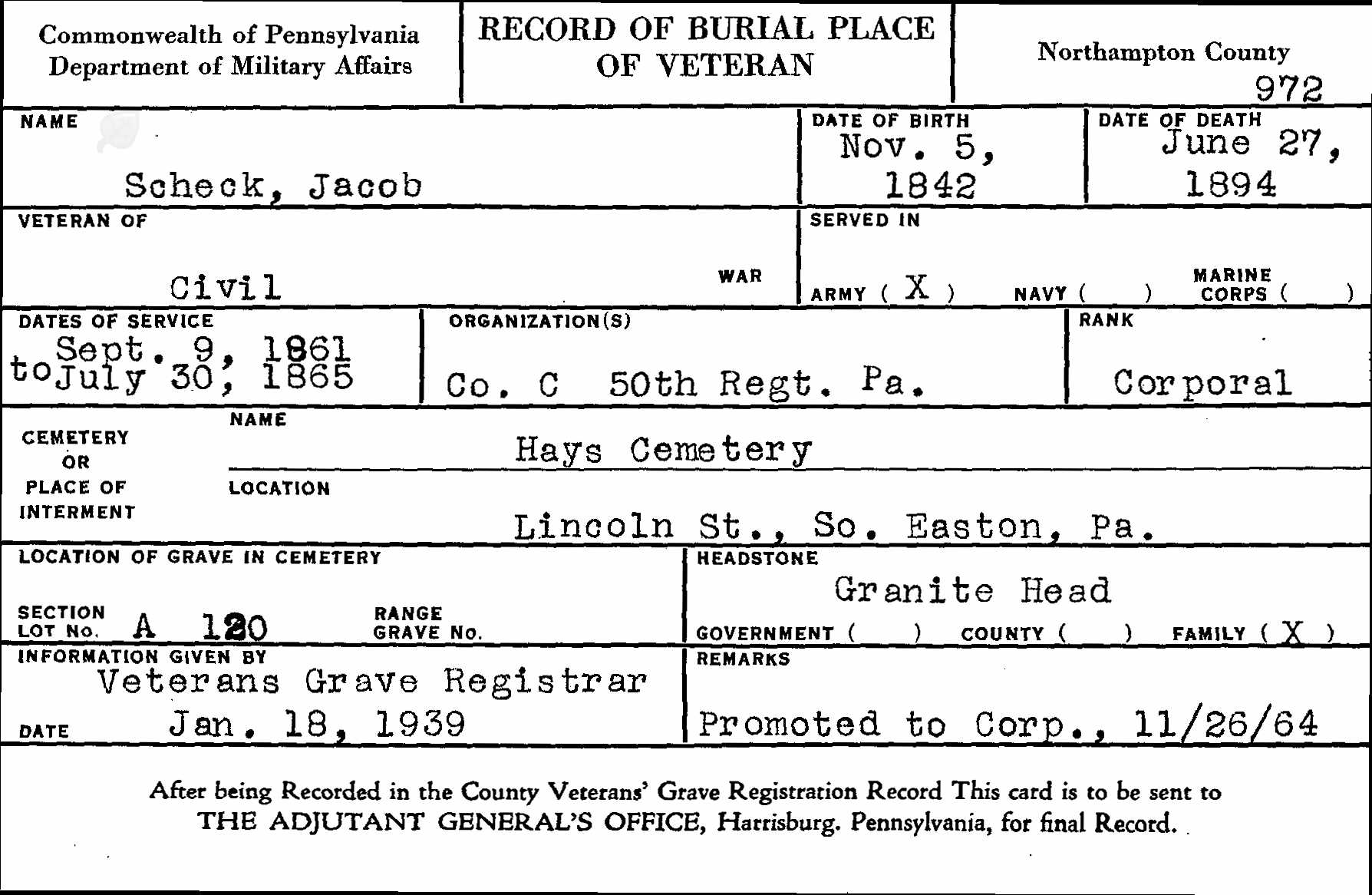 A Pennsylvania Veterans' Burial Record has been located for Jacob Scheck.  According to the record, he is buried in Hays Cemetery, Lincoln Street, Easton, Northampton County, Pennsylvania.
A picture of the grave marker of Jacob Scheck was found on Findagrave and the portrait of him, found at the top of this post was cropped from a photo of him posted on that site.
More information is sought of Jacob Scheck, particularly since it is now known that he had roots within the geographic area of the Civil War Research Project – he lived in Tremont and Pine Grove as confirmed by records at the Pennsylvania Archives and the U.S. Census.  A file has been established for him and he will be added to the updated Veterans' List in April.  Any additional information on him would be greatly appreciated and can be added as comments to this post or sent via e-mail to the Project.
—————————–
Pennsylvania Veterans' Burial Records are available at Ancestry.com.