Posted By Norman Gasbarro on January 8, 2013
Irving W. Tyson (1843-1922) was Postmaster of Schuylkill Haven, Schuylkill County, Pennsylvania, for a time after the Civil War.  He was a Civil War veteran who served in Company C of the 50th Pennsylvania Infantry.  Irving W. Tyson was the son of Henry Tyson (born about 1817) and Hannah "Anna" Heebner (born about 1821).  Irving's younger brother, William H. Tyson (1846-1934), was also a Civil War veteran with service in the same regiment and company.

In 1863, at the time of the Civil War Draft, he was registered as Irvin Tyson, age 20, a boatman who was single and living in North Manheim Township, Schuylkill County.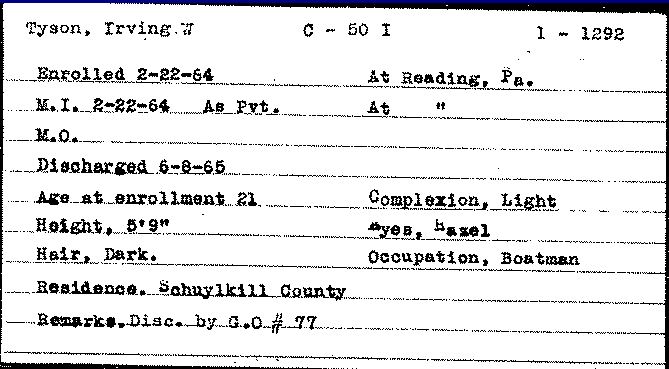 Irving W. Tyson enrolled on 22 February 1864 at Reading, Berks County, Pennsylvania, in the 50th Pennsylvania Infantry, Company C, as a Private, and was mustered into service the same day at the same place.  On 6 May 1864, at the Battle of the Wilderness, he received a gunshot wound of the hand.  Records that confirm this wound are the published list of Civil War Pensions (1883) and 1890 Veterans' Census in which he stated that he was "wounded in the right hand."  He continued to be a member of the 50th Pennsylvania Infantry until he was discharged by General Order on 10 June 1865.
In 1866, he married a woman named Ellen who later preceded him in death.  Together they had children, Bertha C. Tyson (born about 1866); William Tyson (born about 1868); Albert John Tyson (born about 1869, died 1927); Sarah E. "Sadie" Tyson (about 1873-1915); and Emily Tyson (born about 1876).
Two news clipping have been located that note his appointment as postmaster: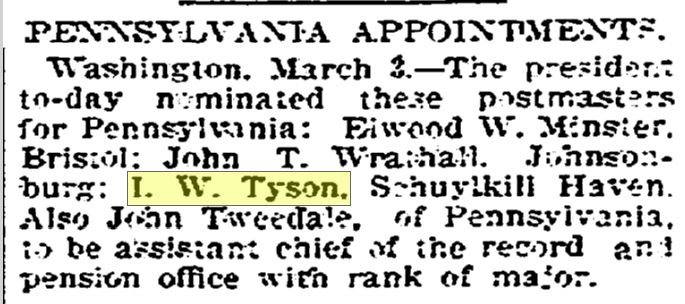 The Harrisburg Patriot, on 3 March 1889 mentioned his nomination as postmaster of Schuylkill Haven (above), and the Philadelphia Inquirer, 30 March 1899 (below) mentioned a re-appointment.

In the 1900 census for Schuylkill Haven, Irving W. Tyson indicated he was postmaster, and his daughter Bertha Tyson, age 33, was living in the household and working as a clerk in the Schuylkill Haven Post Office.  However, by 1910, Irving W. Tyson was retired and living on his "own income," presumably his pension from this military service.  The Pension Index Card (below) notes that his application was made 1n 1875, apparently due to the disabling effects of the gunshot wound to his right hand.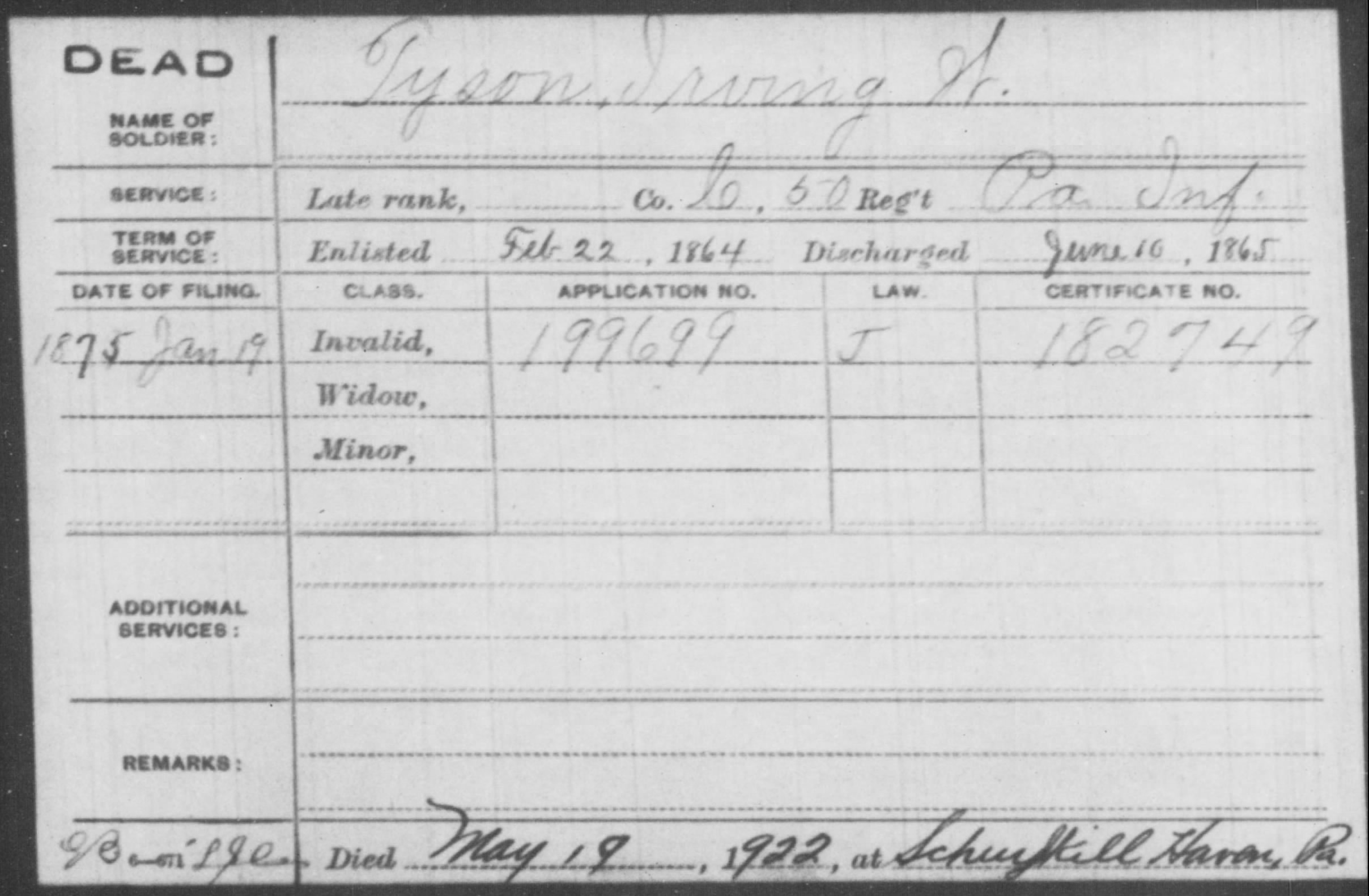 The Pension Index Card, from Fold3, gives his date of death as 1 May 1922 and place of death as Schuylkill Haven.
The obituary of Irving W. Tyson appeared in The Call (Schuylkill Haven) on 19 May 1922 and is reproduced on the Schuylkill Haven Civil War web site:
Irving W. Tyson, one of this town's best known citizens passed away at his home on Centre Avenue at seven o'clock this morning.  Cause of death was congested arteries.  Mr. Tyson some weeks ago had been ill but had almost entirely recovered.  Upon his return to his home on Tuesday evening, after serving as a member of the election board, he appeared cheerful and in good spirits.  Wednesday morning, upon rising, he suffered an attack of illness and fell to the floor.  He became unconscious and remained in this condition most of the period until the hour of death.  Deceased was in his 78th year.  He was one of the most active, both in mind and body, of our oldest residents.  He was never content unless occupied in some way or other.  He was Secretary of the School Board, the Board of Health, and Adjutant of Jere Helms Post Number 26, G. A. R.  All of these positions he held for a number of terms.  He was a faithful member of Saint John's Reformed Church and Sunday School.  For years he was a member of the official church board.  For twenty three years he served as Superintendent of the Sunday School.  Mr. Tyson was a Civil War veteran having served two enlistments with Company C, 50th Regiment, P. V. V.  At the Battle of the Wilderness he was wounded in the hand.  Upon his return from the war he was employed by the P. & R. Navigation Company.  It was at this position, roping cars, that he lost his lower limb.  He later served as postmaster for five years.  His wife preceded him in death nine years ago.  These children survive: William Tyson and Mrs. Oscar Henne of Reading, Albert and Mrs. Bertha Clark at home.  Funeral arrangements have not been made at this writing.
A new piece of information found in this obituary was that not only did Irving W. Tyson have a disabled hand as a result of the war, but he also later sustained the loss of a lower limb from it being crushed while he was working as a boatman.  The position of postmaster was a political appointment, but undoubtedly came about because of his active community service, despite his disabilities – service which included his participation in the local G.A.R. Post.
Irving W. Tyson was laid to rest in the Union Cemetery, Schuylkill Haven, next to his wife Ellen.
According to the article that appeared in The Call on 26 May 1922, the funeral was with full military honors:
Full military honors were paid.  The G. A. R. of which Mr. Tyson was the adjutant for twenty nine years, and whose number is fast diminishing, had charge of the service at the grave.  With tear dimmed eyes and trembling lips the members repeated the Post's burial service, the last earthly rites possible to accord one of their most active members.  The Robert Baker Post of the American Legion furnished a military escort and firing squad.
Further information about Irving W. Tyson can be found on the Schuylkill Haven Civil War Web Site.
——————————-
The portrait of Irving W. Tyson is modified from one that appeared on the Schuylkill Haven Civil War Web Site.