Posted By Norman Gasbarro on January 17, 2013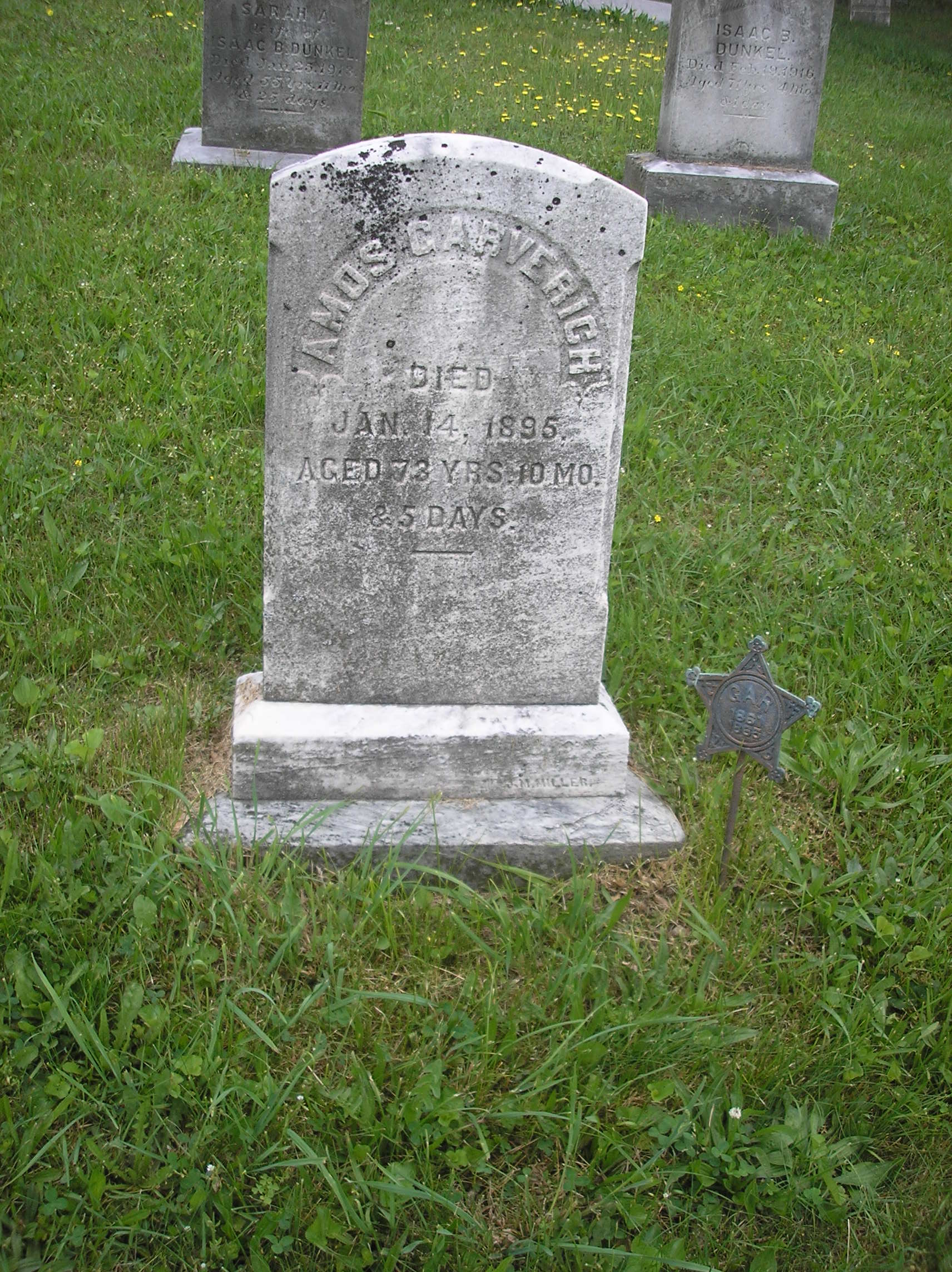 Amos Garverich was born in Middle Paxton Township, Dauphin County, Pennsylvania, on 9 March 1821, the son of Daniel Garverich and Elizabeth [Umberger] Garverich.  Before 1849, he married Juliann Harten and set about raising a family in Jackson Township, Dauphin County, while working as a laborer.  And before the beginning of the war, at least seven known children were born to the couple:  Mary Garverich; Sarah Elmira Garverich; John Adams Garverich; Catherine A. Garverich; Margaret Garverich (twin); Adam Garverich (twin); and Salome E. Garverich.
On 30 September 1862, Amos Garverich was mustered into Company A, 172nd Pennsylvania Infantry, at Harrisburg.  The history of the 172nd Pennsylvania Infantry is recorded in The Union Army, Volume I:
172nd Pennsylvania Infantry.  Col., Charles Kleckner; Lieut.-Cols., Thaddeus G. Bogle, James A. Johnson; Maj. M. T. Heintzelman. The greater portion of this militia regiment came from the counties of Snyder and Northumberland.  It was mustered into the U. S. service at Harrisburg in November 1862, for nine months, and moved to Washington on 2 December. It was ordered to Newport News, thence to Yorktown, and garrisoned the fort at the latter place until July 1863. At that time it was sent to Hagerstown, Maryland, and assigned to the 11th Corps,which it joined in the pursuit of the enemy as far as Williamsport. It then moved to Warrenton Junction and from there to Harrisburg, where it was mustered out on 1 August 1863.
The 172nd Pennsylvania Infantry did not participate in any major battles.  Amos Garverich returned to his family and according to later censuses, continued living in Jackson Township and working as a laborer.  Two children had died during the war:  Catherine in 1861 and Salome in 1863.  Two known children were born into the Garverich family after the war:  Sevila Jane Garverich and Amanda L. Garverich.  In 1880, son John Garverich, then age 25, was living at home and helping to support the family by working as a coal miner.
In the 1890 veterans' census, Amos Garverich was living in Fisherville and complained of a number of disabilities he felt were war-related – including diarrhea.   What afflicted him was serious enough for him to apply for an invalid pension in 1881, which he received and collected until his death – which occurred on 14 January 1895.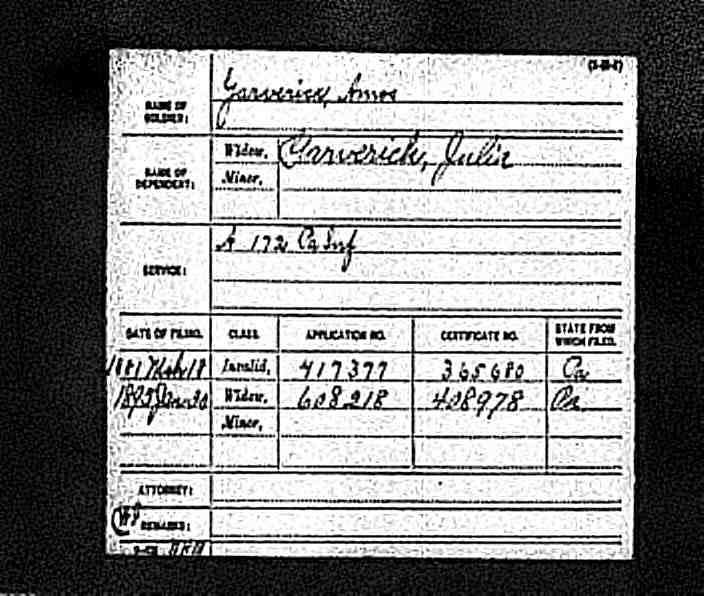 Following his death, Amos Garverich was buried in in the Fetterhoff Church Cemetery, Halifax, Dauphin County.  Julia [Harter] Garverich collected the pension after her husband's death.
Pension Index Cards are from Ancestry.com.
——————————
Not much else is known about Amos Garverich.  Additional information is sought from readers and can be added to this post as comments or sent via e-mail to the Civil War Research Project.