Posted By Norman Gasbarro on December 13, 2012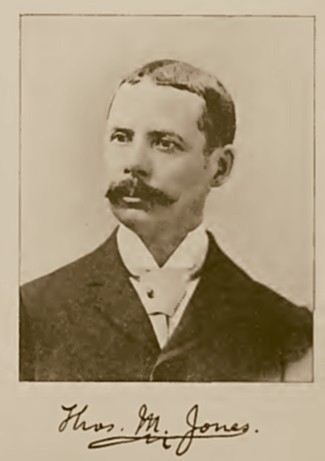 Thomas McDowell Jones (1850-1917), also known as Tom Jones, was well-known newspaperman in Harrisburg in the latter part of the nineteenth century and early twentieth century.  In researching his life, it was discovered, that he claimed service as a Drummer Boy in the Civil War, but it took an Act of Congress to verify that service.  The problem was reported in a sketch that appeared in the Commemorative Biographical Encyclopedia of Dauphin County, published in 1896:
Thomas McDowell Jones, associate editor of the Harrisburg Daily Telegraph, was born in Hollidaysburg, Blair County, Pennsylvania, 31 August 1850.  His father was Uriah James Jones, the historian, author and journalist, who in 1860 removed to Harrisburg.  Mr. Jones was educated in the public schools of Harrisburg, and in 1867 started to learn the trade of printer.  After finishing his trade he secured a situation in the composing room of the Telegraph under the late George Bergner in 1872 and at various times from 1875 to 1877 acted as City Editor.  In July 1877, he succeeded John G. Ingram as the City Editor, and has been on the staff of the paper ever since.  Mr. Jones is a correspondent for Philadelphia, Pittsburgh, Chicago, and New York newspapers, and during the session of the Legislature he is engaged as a reporter in that body.  His acquaintance with public men is very large.

When twelve years old Mr. Jones enlisted in the army, joining the unattached company of Capt. DeWitt C. James, of Warren, which was camped in Harrisburg at the time, serving eighteen months.  Unfortunately, while he was enlisted he was not mustered, and as a consequence his name does not appear on the rolls.  He married, in June 1890, Miss Mabel Cronise, of Toledo, Ohio, and has one daughter, Dorothea. (page 349).
Thomas M. Jones died on 24 November 1917.  The obituary of Jones appeared in the Harrisburg Patriot on26 November 1917:
THOMAS M. JONES, CITY NEWSPAPER DEAN, IS DEAD

Masonic Funeral Services for Most Picturesque Character of Harrisburg Publishing World Will Be Held Tomorrow Afternoon at 2 O'clock

Thomas M. Jones, veteran newspaper man known to practically every State official since Curtin was governor, and superintendent of public printing and binding in the Hastings administration, died at his home, 105 Locust Street, Saturday afternoon from heart failure.

Mr. Jones had been ill since last Monday, when he was seized with an attack of acute indigestion as he was passing the State Library.  He recovered from that attack and wrote several political stories for Philadelphia and Pittsburgh newspapers which he represented, as late as Friday evening.  Later that night he suffered a slight heart attack, but inconvenienced him so little that he arranged to go out for dinner Saturday evening.  He was lying in his bed about 3:30 o'clock resting and reading when he complained of feeling faint.  His wife went to the bedside, but before she could summon aid he was dead.

Funeral Tomorrow

Funeral services will be held tomorrow afternoon at 2 o'clock from the Market Square Presbyterian Church, Dr. George Edward Hawes officiating.  Burial will be made in the Paxtang Cemetery.

"Tom" Jones as he was affectionately known, was born 31 August 1850, at Hollidaysburg, and came to Harrisburg when he was ten years old.  His father, U. L. Jones, of Holidaysburg, was a former editor of the Patriot and was author of The History of the Juniata Valley and other books.  An uncle, O. A. Traugh, was editor of the Holidaysburg Standard, a weekly newspaper of Blair County, for many years.

Mr. Jones father was killed at the market Street grade crossing in Harrisburg and the son began a newspaper educational crusade to eliminate the death trap when he entered the newspaper field.

Drummer Boy in Civil War

During the Civil War, Mr. Jones enlisted as Drummer Boy and was with the troops trained in this district.  His recollections of events in and about Harrisburg during that stirring period of the country's history were vivid and his descriptions which he occasionally wrote for local newspapers, picturesque.

The newspaper profession was entered by Mr. Jones by way of the printers' font, he having begun as an apprentice and worked his way up to an editorship, as was the case with many others of the newspaper men of his time.  Later he became a political writer and it was in this field that he became widely known throughout the State.  He was managing editor of the Telegraph, and later covered Capitol Hill.  For ten years prior to the dismantling of the Star-Independent by the Telegraph, Mr. Jones was political editor of that paper.  He was correspondent of the Philadelphia Record, the Tri-State News Bureau of Pittsburgh, the New York Times, the Reading Eagle and other publications.  The wide knowledge he possessed of State politics and of men and measured made him a valuable asset to any newspaper, while his keen sense of humor and unique form of expression had won him a distinct place in newspaperdom.

During his newspaper career, Mr. Jones was associated with George Wanbaugh, M. W. MacAlarney and Colonel William Rodearmal.  He was several times president of the Muzzle Club, a dinner organization of local newspapermen, and was president of the Legislative Correspondents Association of which he and Walter J. Christy, of Pittsburgh were the only active members living.  He was famed for his brilliancy as an after dinner speaker, as his varied experience and wide knowledge of men and events, coupled with a retentive memory, made his stories well worth hearing.

Mr. Jones was at Gettysburg when Lincoln made his historic address and recalled old Camp Curtin when it was a Civil War encampment.  He was only recently named one of the Camp Curtin Memorial Commissioners by Governor Brumbaugh and took part in the negotiations for the purchase of a suitable site for a memorial to be built later.  He was a thirty-second degree Mason and was a member of Robert Burns, No. 464 since 1878.  This lodge will have charge of the funeral services.

Surviving is his wife, Mrs. Mabel Cronise Jones, an only daughter, Mrs. Warren Jay Vinton, of Detroit, Michigan, two brothers, William Jones and Harry Jones, and one sister.  Mrs. Vinton reached the city last evening, having left the bedside of her husband, who is in a hospital in Detroit.
Jones had a long and illustrious career in journalism and for many years wrote a column, "Now and Then," which regularly appeared in the Patriot.  Many of those columns told of stories of veterans and their regiments and the Civil War engagements in which they participated.  These first-hand accounts form a rich history of the war from a local perspective, as the men he was writing about were members of area G.A.R. posts.  The columns are presently being collected and filed at the Gratz Historical Society, but can easily be found by searches in digital newspaper collections.

Thomas M. Jones's father, Uriah James Jones, supposedly was also a Civil War veteran.  But the only person with that name who has been found in the records, served in the 22nd Illinois Infantry, Company G, as shown by the Military Index Card (from Fold3) which references military records at the National Archives in Washington, D.C.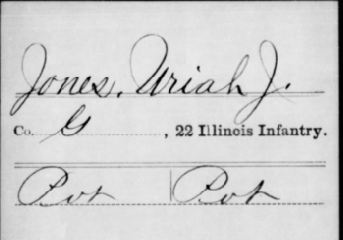 Uriah J. Jones, was mustered into service on 25 June 1861 and then, on 1 November 1861, was reported as "deserted."  No other military record was found.  If there is a story here, it needs further research.  Uriah J. Jones, supposedly appeared in Harrisburg around this same time.  According to the records of the 22nd Illinois Regiment, it fought in its first engagement at Charleston, Missouri, on 19 August 1861, which was followed by a second engagement on 7 November 1861, at Belmont, Missouri.  The death of Uriah J. Jones was reported in the obituary of his son as having occurred at a dangerous railroad crossing in Harrisburg.
What is most interesting though for those who are interested in the Civil War record of Thomas M. Jones, is the struggle he had to get official credit for his military service.  The series of short news articles that appeared in the Patriot relate that story: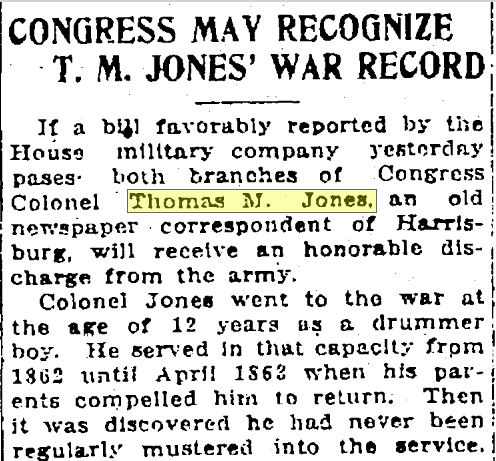 CONGRESS MAY RECOGNIZE T. M. JONES' WAR RECORD

If a bill favorably reported by the House Military Company [sic] yesterday passes both branches of Congress, Colonel Thomas M. Jones, an old newspaper correspondent of Harrisburg, will receive an honorable discharge from the army.

Colonel Jones went to the war at the age of 12 years as a Drummer Boy.  He served in that capacity from 1862 until April 1863 when his parents compelled him to return.  Then it was discovered he had never been regularly mustered into the service.  The bill would correct the error and alow [sic] Colonel Jones to become a member of the G.A.R.  The bill is fathered by Congressman A. Mitchell Palmer and others.  [Patriot, 30 July 1914].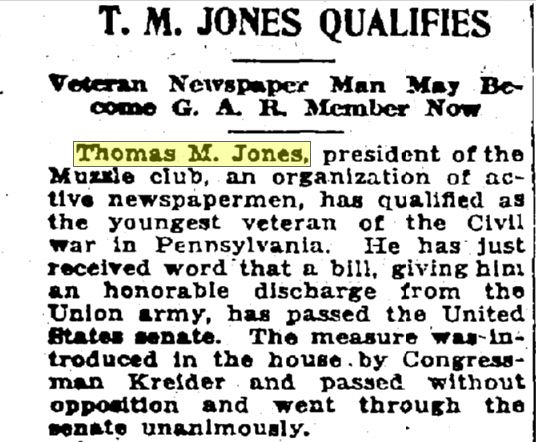 T. M. JONES QUALIFIES

Veteran Newspaper Man May Become G.A.R. Member Now

Thomas M. Jones, president of the Muzzle Club, an organization of active newspapermen, has qualified as the youngest veteran of the Civil War in Pennsylvania.  He has just received word that a bill, giving him an honorable discharge from the Union Army, has passed the United States Senate.  The measure was introduced in the House by Congressman Kreider and passed without opposition and went through the Senate unanimously.  [Patriot, 16 December 1916].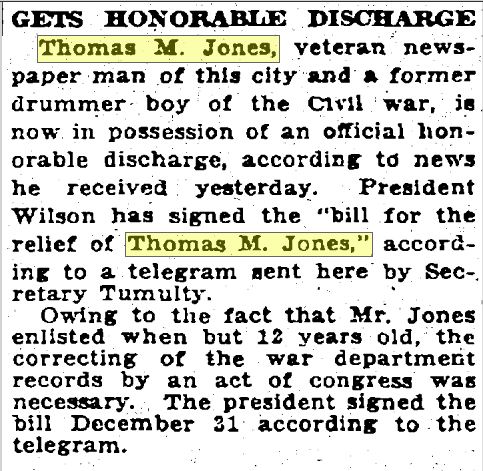 GETS HONORABLE DISCHARGE

Thomas M. Jones, veteran newspaper man of this city and a former Drummer Boy of the Civil War, is now in possession of an official honorable discharge, according to news he received yesterday.  President Wilson has signed the "Bill for the Relief of Thomas M. Jones," according to a telegram sent here by Secretary Tumulty.

Owing to the fact that Mr. Jones enlisted when but 12 years old, the correcting of the War Department records by an act of Congress was necessary.  The President signed the bill 31 December according to the telegram.  [Patriot, 4 January 1917].
Once the honorable discharge was in his hands, Thomas M. Jones wasted little time in applying for an invalid pension.  His application was submitted on 8 August 1917.  Unfortunately, he died about six weeks later, and about seven weeks after his death his widow made application.  The Pension Index Card (below) indicates that neither Thomas M. Jones nor his widow ever received the benefits.  Mabel [Cronise] Jones did not die until 1921.  From the Pension Index Card, it is not known why her application was not approved.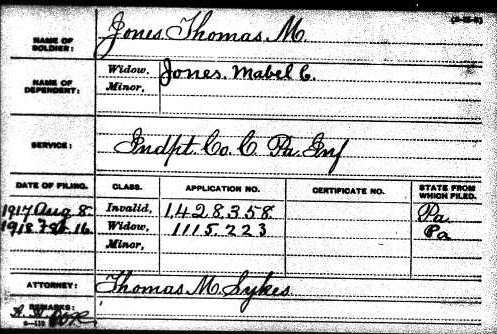 ——————————
The Pension Index Card is from Ancestry.com.  News clippings are from the on-line resources of the Free Library of Philadelphia.