Posted By Norman Gasbarro on December 8, 2012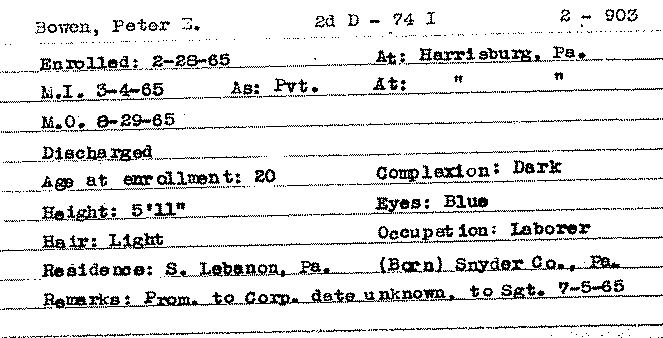 On 28 April 1865 at Harrisburg, Peter E. Bowen enrolled in the 74th Pennsylvania Infantry, Company D, as a Private.  There, he was mustered into service on 4 March 1865.  According to information given at the time of enrollment, he was 20 years old (born about 1844), was 5′ 11″ tall, had light hair, blue eyes and a dark complexion.  By occupation, he was a laborer.  He was a resident of South Lebanon, Pennsylvania, but had been born in Snyder County,  During the course of his service he was promoted to Corporal and then, on 5 July 1865, he was promoted to Sergeant.
The last engagements of the 74th Pennsylvania Infantry had taken place in 1864 near Charleston, South Carolina, and by the time Peter E. Bowen joined the regiment, it had moved to West Virginia where it was guarding the Baltimore and Ohio Railroad.  His term of enlistment coincided with the surrender of Gen. Robert E. Lee, and after some peace-keeping activities, the regiment concluded its service near Clarksburg, West Virginia, and on 29 August 1865, he was mustered out of the army at Pittsburgh, Allegheny County, Pennsylvania.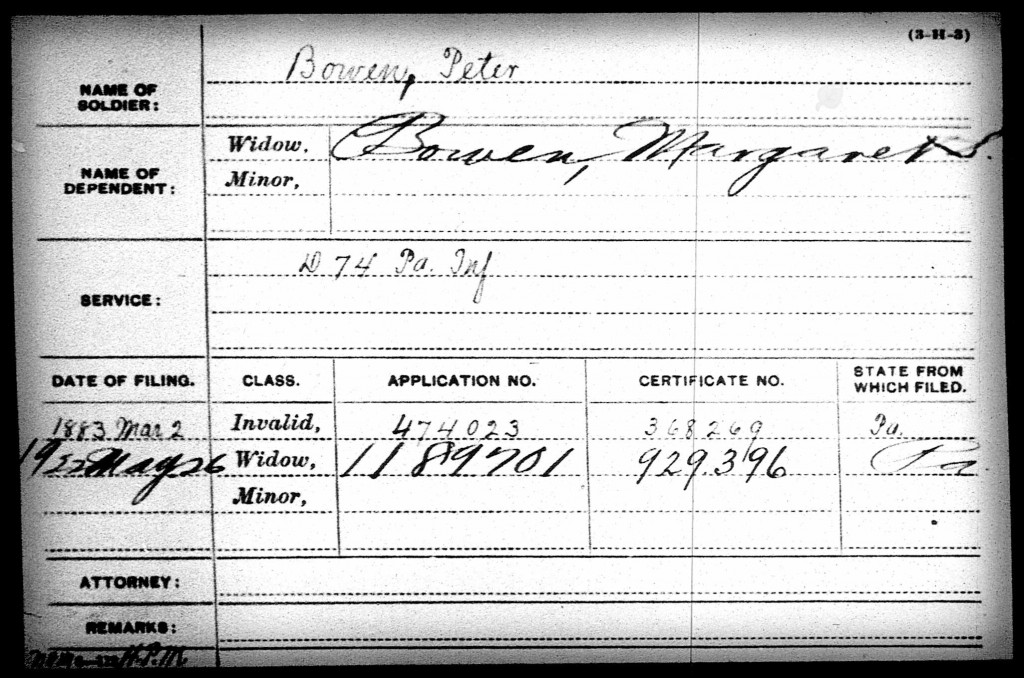 In March 1883, Peter E. Bowen applied for an invalid pension based on his service in the 74th Pennsylvania Infantry, Company D.  In 1890, he reported to the census his service in the same regiment, serving at the rank of sergeant, and giving no Civil War-related disabilities.  The pension application was successful and Peter E. Bowen collected benefits until his death in 1922, and afterward, his wife Margaret S. Bowen collected until her death in 1933.
Peter E. Bowen belongs in the Veterans List of the Civil War Research Project because, for a time – at least in 1870 – he was a resident of Millersburg, as shown by the portion of the census sheet shown above, where he stated that he was employed as a carpenter.  In 1890 and later, he was a resident of Sunbury, Northumberland County.  He worked as a carpenter and as an employee for the railroad.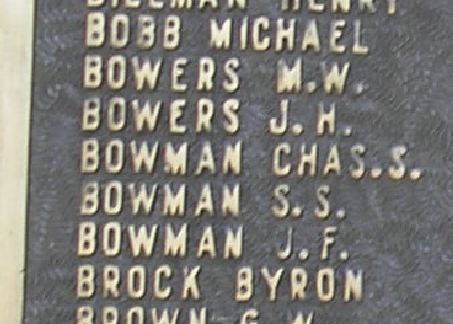 The portion of the Millersburg Soldier Monument which should contain the name of Peter E. Bowen is shown above.  However, his name does not appear on the plaque.
Peter E. Bowen was discovered for possible inclusion in the Civil War Research Project because his name appears in list of Civil War Veterans who are buried in the Oak Hill Cemetery in Millersburg.  The alphabetical cemetery list also references his service in the 74th Pennsylvania Infantry, Company D as a Sergeant.  Peter E. Bowen was buried there in 1922, after the monument was constructed and probably was not known to the Kilpatrick Post because, at the time, he was living in Sunbury.  Therefore, he is one of many Civil War veterans who, because of their brief connection with Millersburg, should be recognized, but aren't.  It is not known why Peter E. Bowen and his wife Margaret are buried in Oak Hill.
Additional information is sought on Peter E. Bowen, his life, and his Civil War service.