Posted By Norman Gasbarro on December 11, 2012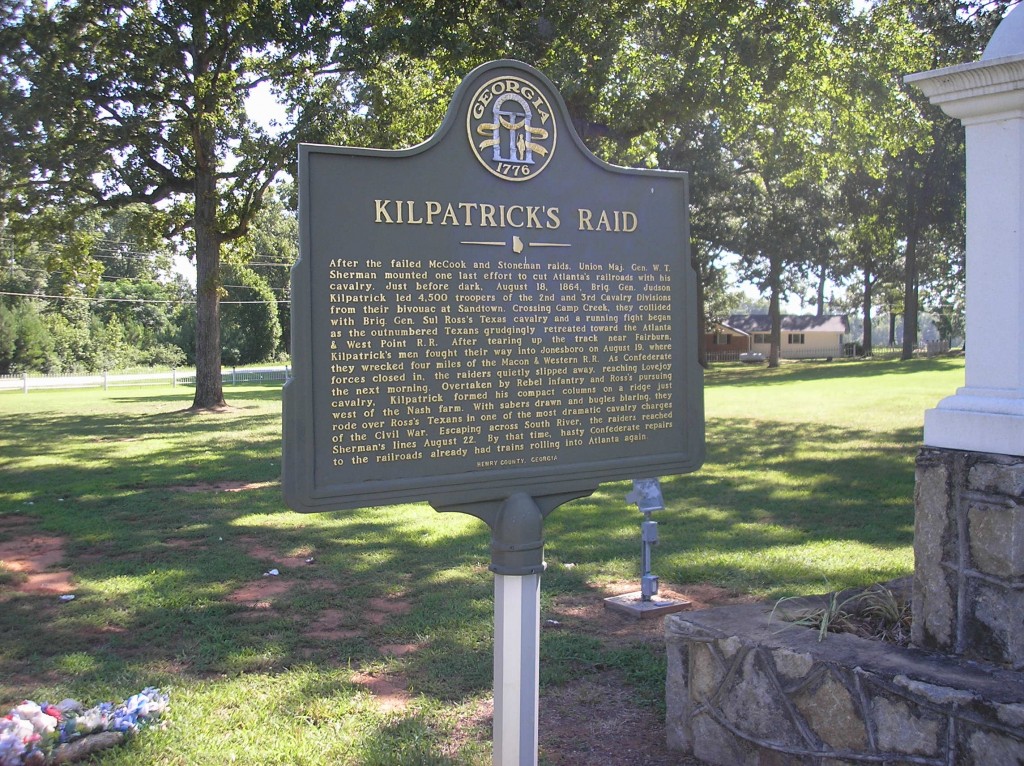 Today's post focuses on the historical markers at Nash Farm that relate to the Kilpatrick Raid, which took place 18 to 20 August 1864.
The Nash Farm is located in the western part of Henry County, Georgia, 21 miles south of Atlanta, at 4361 Jonesboro Road.  It is about five miles west of Exit 221 of I-75.  During the Civil War, it was a Confederate campsite and was the location of the largest cavalry raid the state's history – which was conducted by Union General Hugh Judson Kilpatrick, after whom the G.A.R. Post in Millersburg, Dauphin County, Pennsylvania was named.  Participating in the cavalry corps led by Kilpatrick was the 7th Pennsylvania Cavalry which included many men from  the Lykens Valley area.  According to local (Henry County) information, the Nash Farm site is one of the "few Civil War battlefields that remain intact, meticulously preserved" – which allows visitors to re-visit the final days of Gen. William T. Sherman's Atlanta Campaign – much as it may have appeared at the time to the participants.
Pictured above is the Henry County Historical Marker that is at the entrance to Nash Farm.  The text of the marker is as follows:
Kilpatrick's Raid

After the failed McCook and Stoneman raids, Union Maj. Gen. W. T. Sherman mounted one last effort to cut Atlanta's railroads with his cavalry.  Just before dark, 18 August 1864, Brig. Gen. Judson Kilpatrick led 4,500 troopers of the 2nd and 3rd Cavalry Divisions from their bivouac at Sandtown.  Crossing Camp Creek, they collided with Brig. Gen. Sul Ross's Texas cavalry and a running fight began as the outnumbered Texans grudgingly retreated toward the Atlanta & West Point R. R.  After tearing up the track near Fairburn, Kilpatrick's men fought their way into Jonesboro on 19 August, where they wrecked four miles of the Macon & Western R. R.  As Confederate forces closed in, the raiders quietly slipped away, reaching Lovejoy the next morning.  Overtaken by Rebel Infantry and Ross's pursuing cavalry, Kilpatrick formed his compact columns on a ridge just west of the Nash farm.  With sabers drawn and bugles blaring, they rode over Ross's Texans in one of the most dramatic cavalry charges of the Civil War.  Escaping across South River, the raiders reached Sherman's lines 22 August.  By that time, hasty Confederate repairs to the railroads already had trains rolling into Atlanta again.
On the Nash Farm battlefield, a set of temporary markers in 2010, described the actions that took place related to the Kilpatrick Raid.  The first marker shown below, tells of the failed McCook/Stoneman Raid.  That is followed by two markers telling of Kilpatrick's actions in the vicinity of the Nash Farm.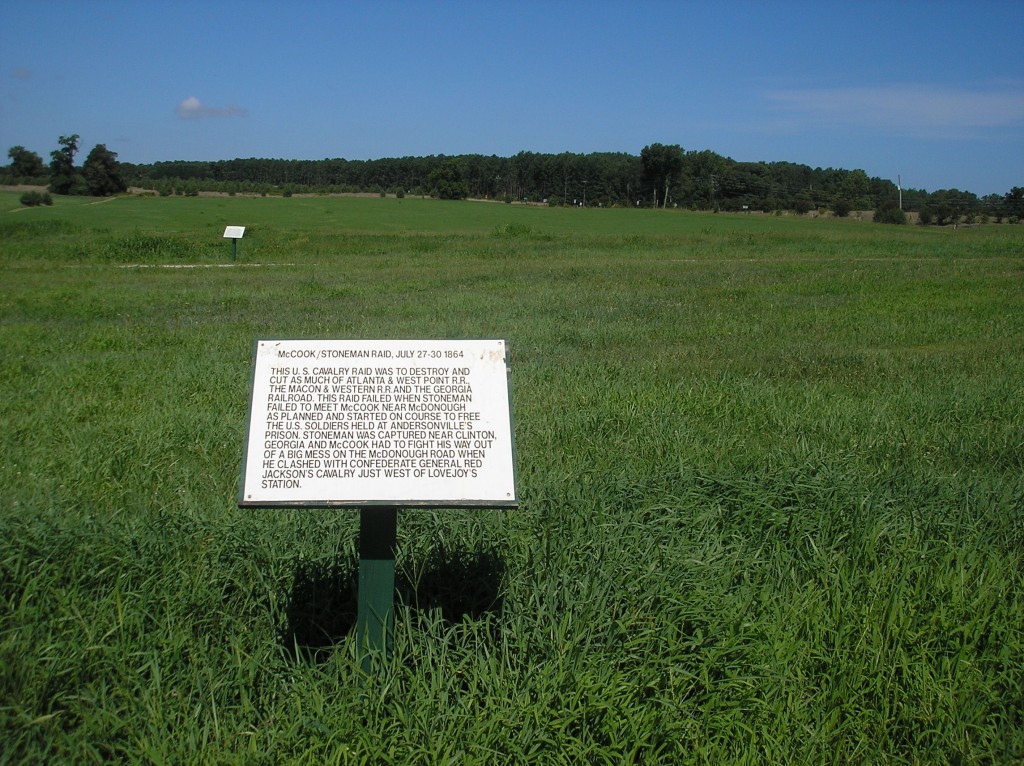 McCook/Stoneman Raid, 27-30 July 1864

This U.S. cavalry raid was to destroy and cut as much of Atlanta & West Point R. R., the Macon & Western R. R. and the Georgia Railroad.  This raid failed when Stoneman failed to meet McCook near McDonough as planned and started on course to free the U.S. soldiers held at Andersonville's Prison.  Stoneman was captured near Clinton, Georgia and McCook had to fight his way out of a big mess on the McDonough Road when he clashed with Confederate General Red Jackson's cavalry just west of Lovejoy station.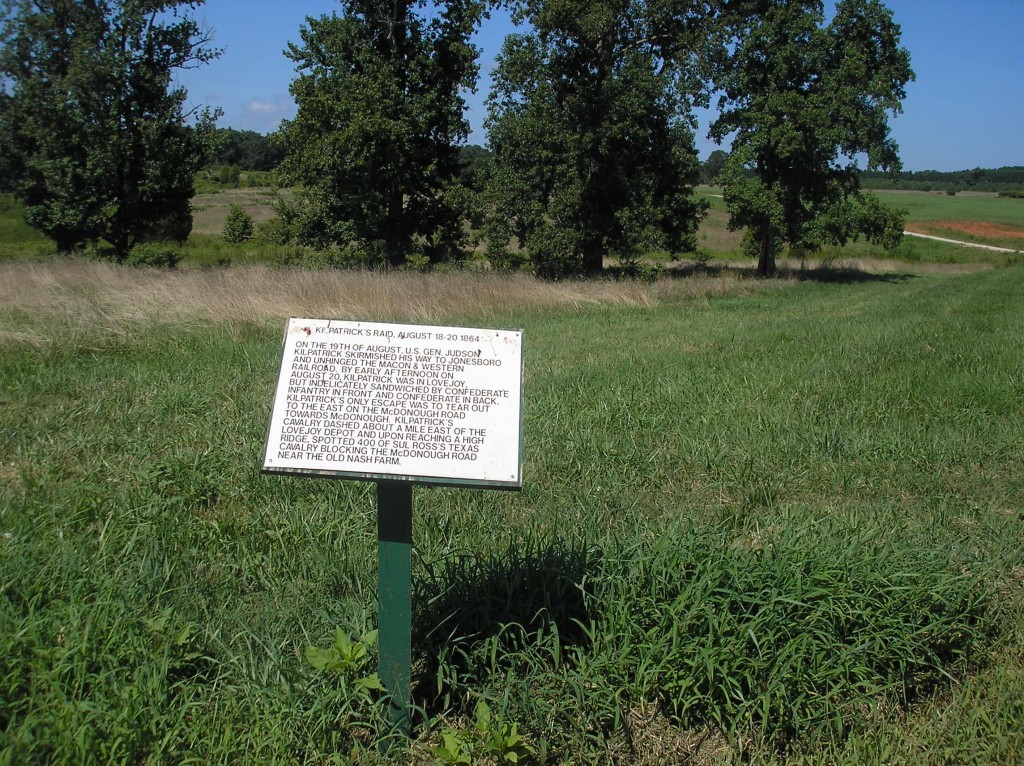 Kilpatrick's Raid, 18-20 August 1864

On the 19th of August, U.S. Gen. Judson Kilpatrick skirmished his way to Jonesboro and unhinged the Macon & Western Railroad.  By early afternoon on 20 August, Kilpatrick was in Lovejoy, but indelicately sandwiched by Confederate infantry in front and Confederate in back.  Kilpatrick's only escape was to tear out to the east on the McDonough Road toward McDonough.  Kilpatrick's cavalry dashed about a mile east of the Lovejoy depot and upon reaching a high ridge, spotted 400 of Sul Ross's Texas cavalry blocking the McDonough Road near the old Nash Farm.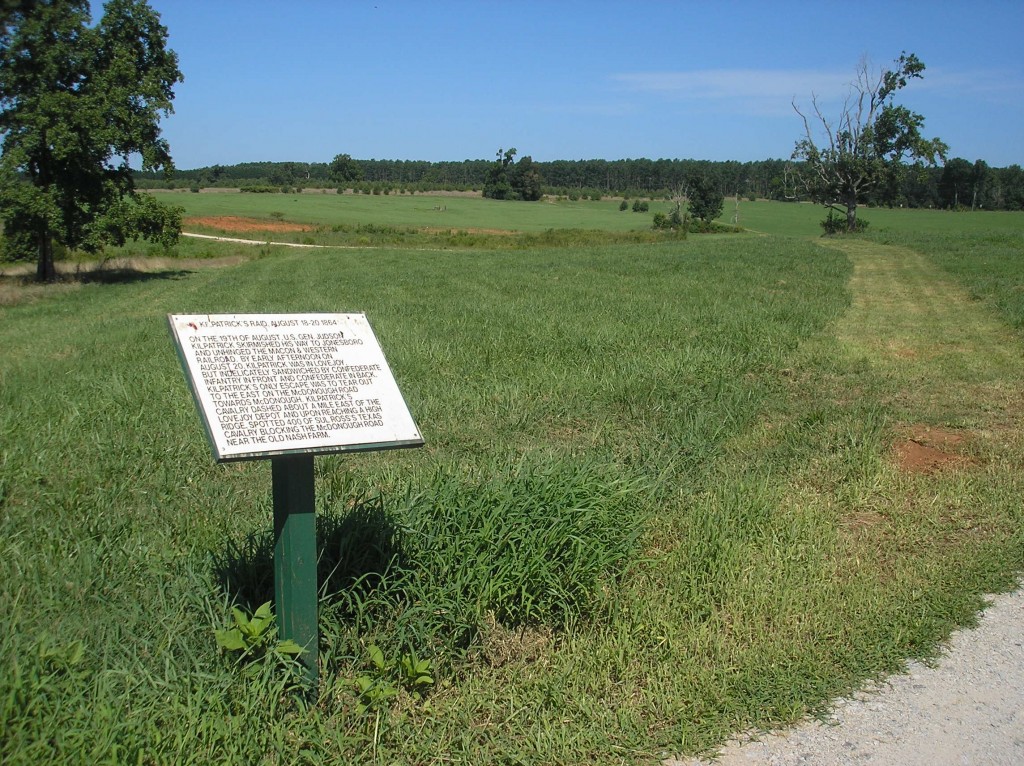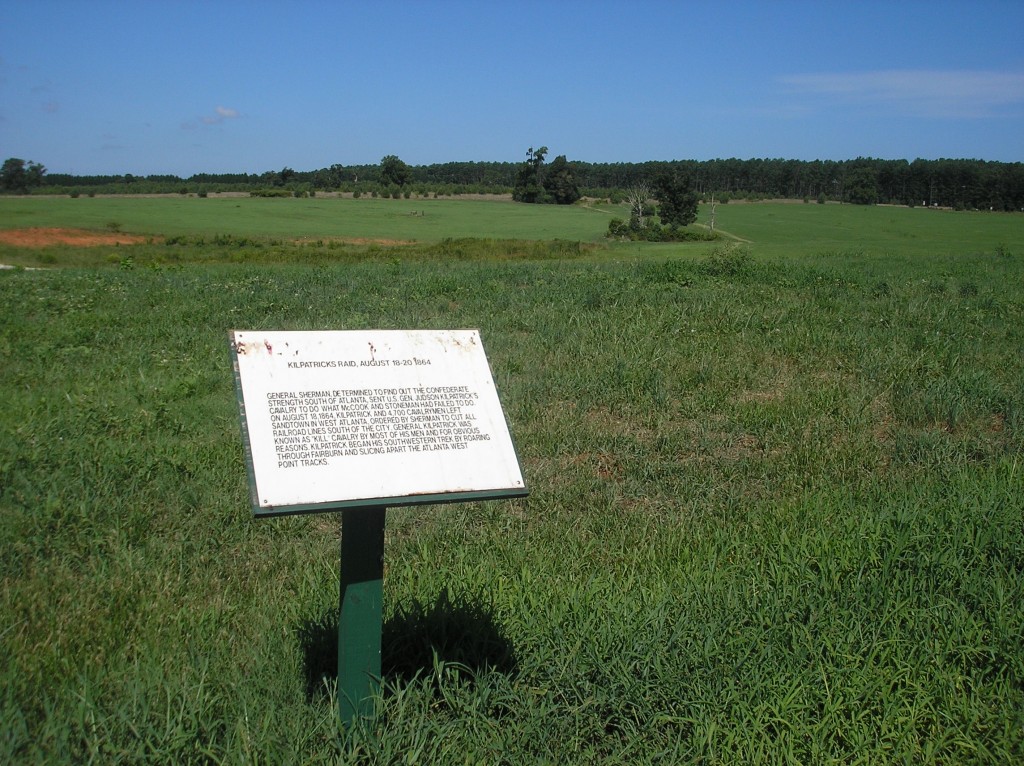 Kilpatrick's Raid, 18-20 August 1864

General Sherman, determined to find out the Confederate strength south of Atlanta, sent U.S. Gen. Judson Kilpatrick's cavalry to do what McCook and Stoneman had failed to do.  On 18 August 1864, Kilpatrick and 4,700 cavalrymen left Sandtown in West Atlanta, ordered by Sherman to cut all railroad lines south of the city.  General Kilpatrick was known as "Kill" cavalry by most of his men and for obvious reasons.  Kilpatrick began his southwestern trek by roaring through Fairburn and slicing apart the Atlanta West Point tracks.
On Friday, the historical marker near Lovejoy's Station will be featured.
Current research records show that the following men from the Lykens Valley area served in the 7th Pennsylvania Cavalry, and may have participated in the cavalry raid at Nash Farm:
Isaac O. Billman ——- David Block ——- William Brennan ——- Henry Breslin ——- John Carl ——- Michael Clary ——- Ezra Cockill Jr. ——- Christian Crous ——- Patrick Cuniff ——- Patrick Eagen ——- Edward Erdman ——- Thomas B. Evans ——- Thomas B. Evans ——- Peter Fetler ——- Adam Fetler ——- Daniel Fitzpatrick ——- Patrick Flynn ——- Joseph Fotheringill ——- William Fuller ——- Huling Galbraith ——- George W. Geesey ——- Henry H. Heim ——- William Hennessey ——- Josiah Hoke ——- Elias Horn ——- Emanuel Kehres ——- John Z. Keim ——- Elias Klinger ——- William R. Klinger ——- Edward Lawler ——- George Lubold ——- John Magnin ——- Daniel McManaman ——- Jonas Miller ——- Henry W. Moore ——- Benjamin Ressler ——- Thomas H. Rickert ——- Henry G. Riegle ——- Jacob Riegle ——- Henry Risinger ——- John M. Robinson ——- Perry H. Snyder ——- Elias G. Starr ——- Isaac D. Steel  ——- Alexander F. Thompson ——- Frederick G. Weaver
Note:  When the battle site was visited in the summer of 2010, it was under construction and the pictures shown above do not reflect how the Nash Farm looks today.  For an update on the current status of the Nash Farm, visit their web site.