Posted By Norman Gasbarro on December 7, 2012
Lloyd F. A. Watts, the great-great-grandfather of Harrisburg's current Mayor Linda D. Thompson, was a Civil War soldier who served in the 24th United States Colored Troops, Company B as a Sergeant.  He was mustered into service at Camp William Penn near Philadelphia as a Corporal on 3 February 1865, promoted to Sergeant on 8 February 1865, and sent to Point Lookout, Maryland, where he and members of his regiment were responsible for guarding Confederate prisoners.  The rank of Sergeant was the highest permitted for African Americans who were only permitted to serve in the Union Army late in the war, and only then in "colored" regiments that were led by white officers.
Lloyd F. A. Watts was born on 6 February 1835 in Carroll County, Maryland, the son of Valentine Watts and Violet Watts.  Watts appears in the 1863 Civil War Draft Registration records for Harmony Township, Beaver County, Pennsylvania, a community in western Pennsylvania on the Ohio River which was founded by abolitionists in 1833 as a haven for escaping slaves.  At age 27, he noted that he was "colored," a laborer, was married, and had been born in Maryland.  All the other registrants on the draft sheet for Harmony Township were white.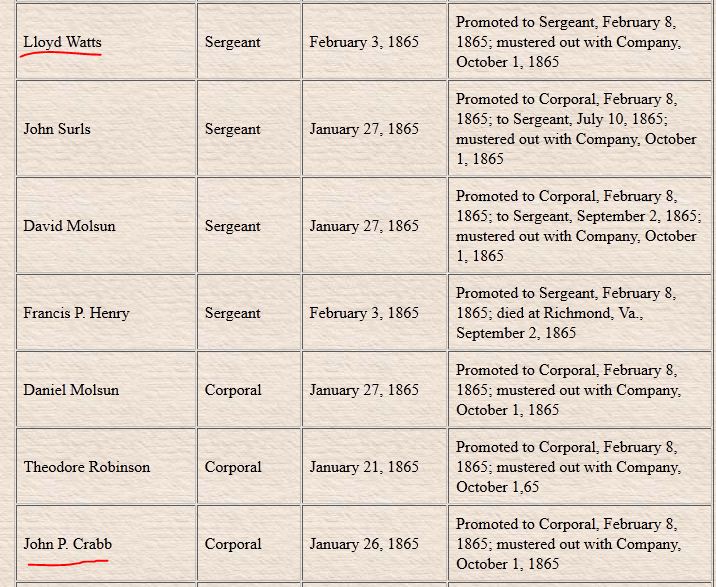 From a web-based compilation of the roster of the 24th United States Colored Troops, Company B, found at pa-roots.com, a partial listing shows Lloyd Watts, his rank, and his dates of service.  In the same list of officers of Company B, there is a John P. Crabb, who was promoted to Corporal on the same day as Watts became Sergeant and served the same length of time as Watts.  This John P. Crabb was born and educated in Gratz, Dauphin County, and worked there as a blacksmith.  After the Civil War he moved to Harrisburg and recent research has shown that he, and other members of "colored" Civil War regiments were instrumental in the formation of the David R. Stevens Post No. 520 of the G.A.R.  This G.A.R. post was one the last formed in Pennsylvania and was exclusively for African Americans who were not permitted to join posts with white veterans.  In 1894, John P. Crabb was elected Commander of the post and in the years from the late 1880s through the late 1890s, his name appears in frequent news articles in the Harrisburg Patriot telling of fights for pension rights, reporting on the honoring of veterans at their passing, marching in patriotic parades, and attending state and national G.A.R. conclaves.  Research is on-going into the life of John P. Crabb and the David R. Stevens Post of the G.A.R. and the information found will be the subject of future posts.
After the Civil War, Lloyd F. A. Watts, returned to Gettysburg, Adams County, where his family had moved before the war.  He became a school teacher and taught at the town's "colored" school and was also active in St. Paul's African Methodist Episcopal Church.
A Google search for Lloyd Watts produced many results including pages at Gettysburg College, Findagrave, and he is prominently featured in Margaret S. Creighton's, The Colors of Courage: Gettysburg's Forgotten History.  A portrait of Watts, painted by his grandson and based on a photograph of Watts, is found at the Gettysburg Center.  Also found on-line is the transcription of a letter that Watts sent to his wife while he was stationed at Point Lookout during the Civil War.  According to family trees found on Ancestry.com, Watts married Philena Cameron, the daughter of a Gettysburg blacksmith in 1861.  However, no references have been found that associate him with the G.A.R.
Lloyd F. A. Watts is buried at Lincoln Cemetery in Gettysburg.  One other member of the 24th United States Colored Troops is buried there:  Emanuel Craig, who served as a Private in Company A.  It is believed that John P. Crabb is buried in Lincoln Cemetery in Harrisburg, but his grave marker has not yet been located and photographed.