Posted By Brian Tomlin on December 3, 2012
Christmas gift giving was popular throughout the nineteenth century. To get an idea of the kinds of Christmas presents commonly given and desired during the Civil War period, simply examine period newspapers for the week before Christmas. It seems that the holiday preparation and shopping period was very brief, with most gift purchases being made on the few days before Christmas, with Christmas Eve being  the major gift shopping day. Do you even know what all of the presents being advertised are?
The following newspaper advertisements were take from the Harrisburg Patriot and Union issue dated December 21, 1860.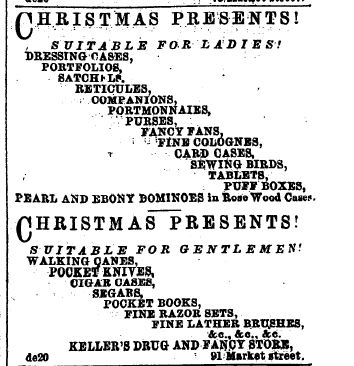 "Christmas Presents!

Suitable for Ladies! Dressing Cases, Portfolios, Satchels, Reticules, Companions, Portmonnaies, Purses, Fancy Fans, Fine Colognes, Card Cases, Sewing Birds, Tablets, Puff Boxes, Pearl and Ivory Dominoes in Rose Wood Case.

Suitable for Gentlemen! Walking Canes, Pocket Knives, Cigar Cases, Segars, Pocket Books, Fine Razor Sets, Fine Leather Brushes, etc. etc. etc.

Keller's Drug and Fancy Sotre, 91 Market Street."
Not all presents were simple, though, as this ad proves:
"Christmas Presents! Children's, Ladie's, and Gent's Chairs and a great variety of Cabinet Furniture suitable for Holidayt Gifts at reduced prices. Also, a new lot of Cottage Furniture in sets or by the single piece at James Boyd and Son, 29 South Second Street."
Celebrating the holidays by toasting to a glass of champagne seems to have been popular then as now:
"Champagne Wines! Duc de Montebello, Heidsieck & Co., Charles Heidsieck, Giesler & Co., Anchor- Sillery Mousseux, Sparkling Muscatel, Mumm & Co's, Verzenay Cabinet. In sotre and for sale by John H. Ziegler, 73 Market Street."
Families could also attend special Christmas shows: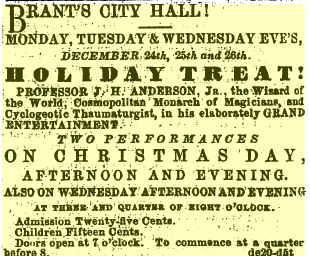 "Brant's City Hall! Monday, Tuesday & Wednesday Evenings, Decembver 24th, 25th, and 26th. Holiday Treat! Professor J.H. Anderson is the Wizard of the World; Cosmopolitan Monarch of Magicians, and Cyclogeotic Thaumaturgist, in his elaborately Grand Entertainment. Two performances on Christmas Day, Afternoon and Evening. Also on Wednesday Afternoon and Evening. At Three and Quarter of Eight O'Clock. Admission Twenty-five cents. Children Fifteen Cents. Doors open at 7 o'clock. To commence at a quarter before eight."