Posted By Norman Gasbarro on November 22, 2012
The third Thursday of the month occurred on 20 November 1862, a date on which Thanksgiving would have been celebrated had it been recognized as a holiday.  The year 1862, was the last year in which a national day of Thanksgiving was not celebrated.  It 1863, during the Civil War, Abraham Lincoln proclaimed the holiday and it has been recognized continuously ever since.
The lead article in the Harrisburg Patriot Union for 20 November 1862 was a letter from former Gov. William Bigler (1852-1855), a Democrat who had also served as a U.S. Senator from 1856-1861, indicated that he did not intend to be a candidate for Senator in the upcoming election.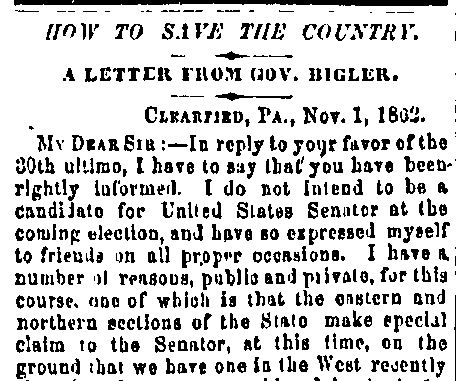 Bigler's reasons for not seeking election seemed to focus on regional Pennsylvania politics – it was the turn of the eastern and northern sections of the state, and he being from the central section would step aside for their "special claim."
Bigler then went on to lament about the war and the various ways that were proposed to bring it to an end.
A good biographical sketch of Gov. William Bigler can be found at the Pennsylvania Historical and Museum Commission web site.
The lead story in the Philadelphia Inquirer was more about the military aspects of the war.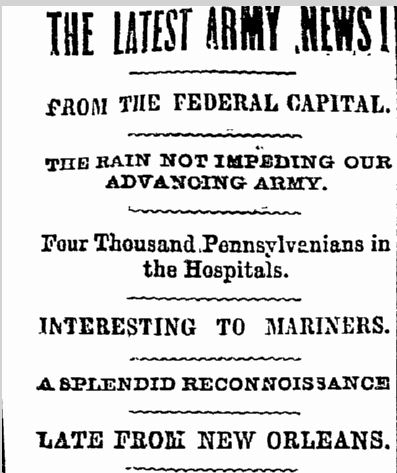 "The Latest Army News" was followed by other stories including the fact that more than 4000 Pennsylvania soldiers were in the Philadelphia hospitals.
Within this edition, a table of the number of inmates at each Philadelphia military hospital was given and is reproduced below.  It obviously includes soldiers from other states as the total exceeds the number of Pennsylvanians given in the headline.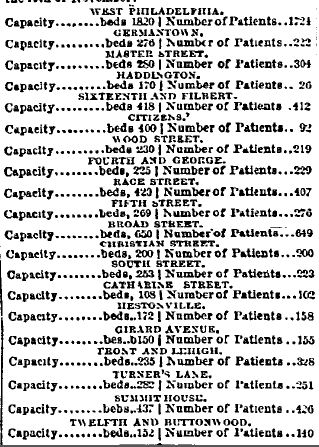 The accompanying article explains the table:
CAPACITY OF AND NUMBER OF INMATES IN THE VARIOUS MILITARY HOSPITALS

The following table exhibits what the City of Philadelphia is doing in the way of taking care of and affording comfortable quarters for the sick and wounded soldiers of the United States Army.  It will be seen that there were, on the 19th of the present month, 6543 disabled volunteers receiving medical treatment and amply provided for in every respect within the city limits.  There are hospital accommodations for 7225 leaving room for but 682 additional patients.  The extent of accommodations will be greatly increased, however, as soon as projected hospitals are completed and additional enlargements now in progress are finished….
——————————
News articles are from the on-line resources of the Free Library of Philadelphia.