Posted By Norman Gasbarro on November 13, 2012

The name of John DeSilva appears on the Lykens G.A.R. Monument as a 2nd Lieutenant of the Civil War who joined the Heilner Post, G.A.R., No. 232, after it was initially organized.   After researching him, it became apparent that he was the same person who was a mine supervisor in the Lykens-Wiconisco area.
The story of John DeSilva begins with the biographical sketch that appeared in Schuylkill County Pennsylvania Genealogy in 1916:
John S. DeSilva, late of Mahanoy City, was one of the most widely known residents of Schuylkill County, maintaining business, social and church connections which drew him into close relation with many of his fellow men.  Possessed of practical ability and unusual intelligence, he combined strong qualities of leadership with personal characteristics that won confidence and friendship in all circles, and his name commanded respect wherever known.

Mr. DeSilva was born at Pottsville, Schuylkill County, 7 December 1838, son of John E. DeSilva.  The father was a native of the city of Lisbon, Portugal, and members of the family are well known in South America.  John E. DeSilva was a gunman for many years, stationed on board the Constitution, and saw service in all parts of the world.  When he settled in America, he lived at Philadelphia for a time, later in Pottsville, Schuylkill County, Pennsylvania, and he died at Ashland, this county.

John S. DeSilva was given a good public education and then learned the trade of machinist, which he followed for a short time.  When yet a young man he became superintendent of coal mines in Schuylkill County, being so engaged in the employ of various independent operators, and when their holdings were bought by the Philadelphia and Reading Coal and Iron Company he was retained in the same capacity. Mr. DeSilva's shrewd judgment and executive ability were recognized factors in the success of the collieries he supervised, and he had a high reputation throughout the anthracite fields.  He continued with the Philadelphia and Reading Company until 1902, after which he served two years as a deputy revenue collector in this district, extending his already wide acquaintance in Schuylkill County.  He was as well known in other connections as in business.  Fraternally, he was a Mason, belonging to Mahanoy City Lodge, No. 357, F. & A. M., and to Mizpah Chapter, No. 252, R. A. M.  He also held membership in the P. O. S. of A. and the G.A.R., taking a very active part in the latter organization as a member of Severn Post, G. A. R., of Mahanoy City, which he served as commander.

During the Civil War he fought on the Union side under three enlistments, the first in the three months' service and the second for nine months in the 129th Pennsylvania Regiment [129th Pennsylvania Infantry].  Mr. DeSilva was also prominent in Church and Sunday School work, a leading member of the First Presbyterian Church of Mahanoy City, which he served as elder and trustee, filling both offices at the time of his death, 11 March 1911.

In 1871, Mr. DeSilva married Ella Richardson, who survives him, residing in their old home at Mahanoy City, where she is highly respected.  Mrs. DeSilva is a daughter of Isaac W. Richardson and Sarah [Black] Richardson, both of whom came form England, Mr. Richardson settling at Mahanoy City, Pennsylvania, soon after his arrival.  Their son, the late Col. W. F. Richardson, became very prominent in military circles in this state, for many years holding the position of keeper at the Harrisburg Arsenal, and at the time of his death he had the rank of colonel in the Pennsylvania National Guard.  He was a thirty-third degree Mason, one of the founders of Zembo Temple, A. A. O. N. M. S. of Harrisburg.
Finding the military records of John DeSilva was not as easy.  The clue given in the biographical sketch was that he had served in the 129th Pennsylvania Infantry – but no such person was found under "DeSilva."   However, a John Silver was found, who served in Company A, as a 1st Sergeant – who was later promoted to 2nd Lieutenant: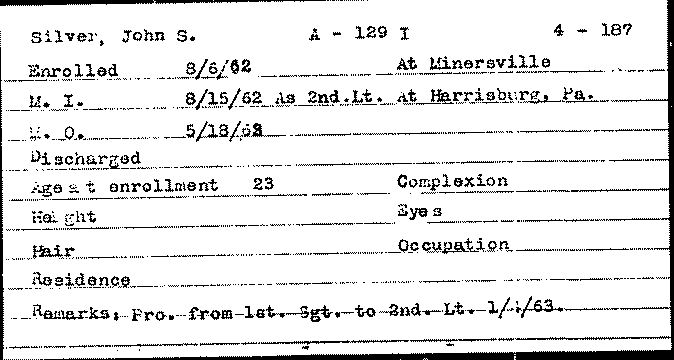 The Pension Index Card (below) show that John Silver was the alias for John DeSilva, and that in addition to the 129thPennsylvania Infantry, he also served in other Pennsylvania regiments which are noted below.  His death date of 20 March 1911 is given on the card.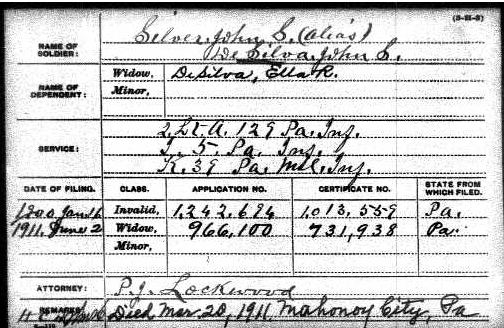 The following information was obtained from census records, draft records, and military records, all available at Ancestry.com.
John S. DeSilva was born in Pottsville, Schuylkill County, Pennsylvania, 7 December 1838.  His mother's name is unknown.  In 1860 he was living in Minersville, Schuylkill County, and working as a machinist.  On 21 April 1861 he was mustered int to the 5th Pennsylvania Infantry, Company I, as a Private, and at the completion of his 3-months service was mustered out on 25 July 1861.  On 13 August 1862, he was mustered into service in the 129th Pennsylvania Infantry, Company A, as a Sergeant and on 19 January 1863, was promoted to 2nd Lieutenant.  He was mustered out on 18 May 1863.  In July 1863, at the time of the Civil War Draft, he was living in Foster Township, Schuylkill County, and working as an engineer.  In response to the Emergency of 1863, he served in the 39th Pennsylvania Infantry (Militia), Company K, as a 1st sergeant, from July 1863 until discharge on 2 August 1863.

In 1870, John S. DeSilva was living in the household of James Hingham, a miner, in Mahanoy City, Schuylkill County; John S. DeSilva was then boss at a colliery.  For a time in the early 1870s when he married Ella R. Richardson, the couple lived in Philadelphia.  In 1880, John S. DeSilva lived in Mahanoy City, and was superintendent at a colliery.  He has not been located in the 1890 veterans' census.  From 1900 to his death on 20 March 1911, he lived in Mahanoy City, and before retirement worked as a machinist.  He is buried at the Charles Baber Cemetery, Pottsville.
Readers are urged to contributed additional information about John S. DeSilva.
—————————–
Pension Index Cards are from Ancestry.com.  Pennsylvania Veterans' Index Card is from the Pennsyvlania Archives.
The biographical sketch is from Schuylkill County Pennsylvania Genealogy – Family History & Biography in Two Volumes (Chicago, J.H. Beers & Company, 1916), Vol. I, p. 380-381.  It is presently not available as a free digital download, although Volume II is available at the Internet Archives.