Posted By Norman Gasbarro on November 2, 2012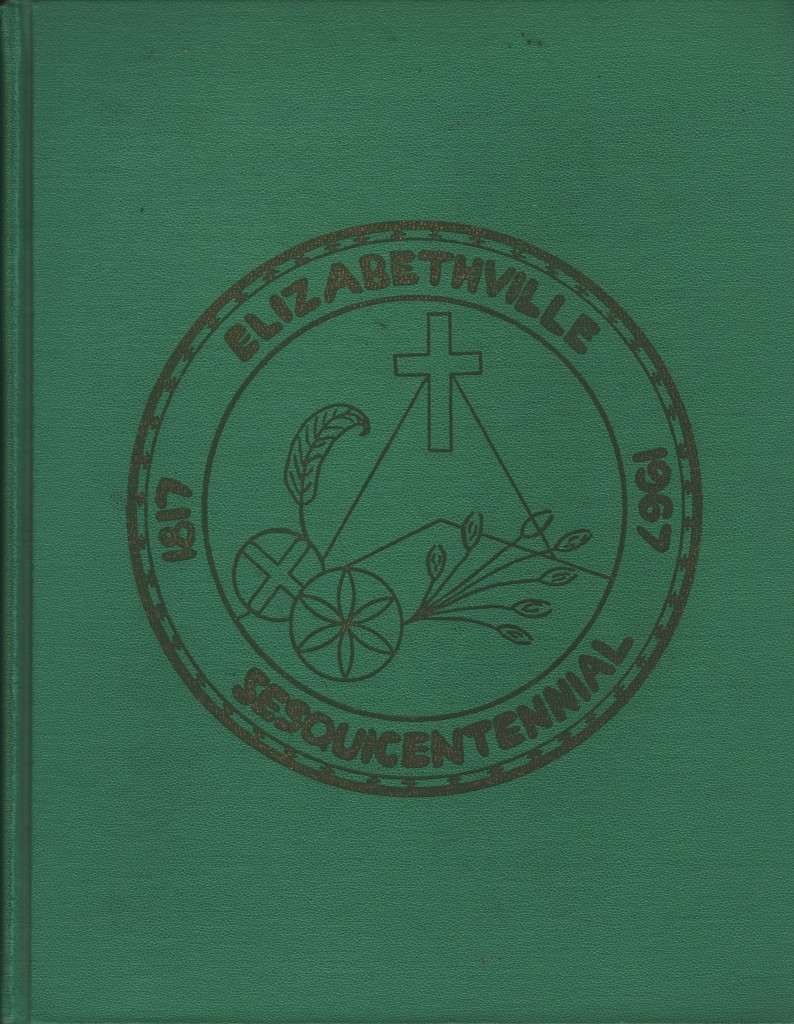 In 1967, Elizabethville, Dauphin County. Pennsylvania, celebrated its 150th anniversary and published a souvenir book.  The book was appropriately called, History of Elizabethville, Dauphin County, Pennsylvania, 1817-1967.  The foreword of the book explained the objectives of the Historical Committee:
This is the history of a town – Elizabethville, Pennsylvania – and in it we have tried to record not only how it began as a mere settlement and developed into a neighborhood, into a tow, into a borough, but also, whenever possible, to record present events within its borders, and the art its present inhabitants are playing in those events.  We hoped, thereby, to produce a reference book not only for our present generations but also for future generations.

During 1916 committees were formulated to observe the centennial anniversary of Elizabethville the following year – 1917 – but the plans were abandoned when the town had to forego a commemorative celebration because of the First World War.  Any omissions from this book have not been intentional, but are due entirely to the lack of a previous history of the town.  This made it necessary for the writers to do a large amount of research n order to uncover data that had remained hidden for 150 years. 

In addition to its purpose, namely to make this a reference book, another objective of the committee was to make the contents of this book as accurate as possible, for without accuracy, a history loses value.  To accomplish this we relied not on hearsay information, but resorted to authentic records whenever they were available….
No specific section of the book deals with the Civil War.  However, throughout the book – whether in sections on biographies, business, industries, communication, religion, etc. – the period of the Civil War, 1861-1865, is "covered".
The closest the book comes to specifically focusing on the Civil War is in the section on "Organizations."  As part of this section, the "Armed Forces" are presented, first in relation to the Draft Board that was established for World War I, and then in relation to the establishment of the American Legion Post in 1919.  The American Legion Home, at 7 South Market Street, was previously mentioned on this blog (click here).  In 1940, Draft Boards were established for World War II, and following the conclusion of the war in 1946, the Paul I. Spicher Post of the Veterans of Foreign Wars was established.  The All Wars Memorial in front of the Elizabethville V.F.W. Home was also previously pictured on this blog (click here), but since that time, the building was sold and the memorial was dismantled and partially moved across the street to the park.
Though not stated in the book, Elizabethville did not have a G.A.R. Post.  Men from Elizabethville who served in the Civil War could join the G.A.R. Post in Lykens, in Millersburg, or in Halifax.
In a final part in the "organizations" section, an attempt is made to list the names of the veterans:
War Veterans

As nearly as can be ascertained at least three hundred men and women of Elizabethville served their Country in her wars.  The number of those who served in the early wars is a small percentage of those who served in all the wars in which America was involved, and their names are given here, although even this small number should not be considered to be complete.  A roster of those who served in the First and Second World Wars, in the Korean War, and who are serving in Viet Nam, would contain several hundred names, and, for fear of many omissions, no attempt was made to publish these names.  We hope that some local organization will endeavor to compile such a list at some future time.
If such an attempt to publish a complete (or more complete) list than was published in the sesquicentennial history has already been done, it has not been seen by the Civil War Research Project. The Civil War Research Project Veterans List of now more than 2200 names is a regional list, put together from many sources.  Those from Elizabethville, according to the criteria established by the Project, could have had only a passing connection with Elizabethville – or could have lived there their entire lives.
The Civil War Veterans List for Elizabethville, as published on page 58 of the sesquicentennial book is as follows:
Capt. J. A. Ettinger ——– Elias Etzweiler ——- Aaron Evitts ——- Henry Evitts ——- Jacob Forney ——- John C. Harman ——- George E. Hoover ——- John A. Hoover ——- John Keiper ——- Jacob Klinger ——- Jonathan Klinger ——- J. M. Koppenheffer ——- Michael Matter ——- Amos McColley ——- Alexander McLaughlin ——- Dr. Wilson E. Naylor ——- John Ritz ——- John Romberger ——- Jonas Row ——– J. Sallada ——- Amos Schoffstall ——- Hiram Schram ——- Rev. James Shoop ——-James Snyder ——- John Snyder ——- Rufus Snyder ——- Jacob Swab ——- Jonas Swab ——- Philip Swab ——- John Sweesy ——- George W. Uhler ——- Jacob Warfield ——- Jacob L. Weaver ——- Adam Wert ——- Samuel Wert ——- Jacob Zerby
Two persons on this list will require further research – Dr. Wilson E. Naylor and Rufus Snyder.  Preliminary searches in the Veterans List indicate that they were not previously included.  There is also a question about Jacob Warfield – whether this is the same person as the Jacob Warfel, previously included.