Posted By Brian Tomlin on October 8, 2012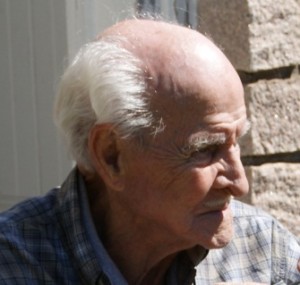 Ned Weaver was a longtime member, volunteer and Civil War expert with the Gratz Historical Society. 
Ned McLanachan Weaver was born in Elizabethville, Pennsylvania on September 19, 1924. With the exception of 2-1/2 years spent in the Army Air Corps in WWII, he lived his entire life in Elizabethville. He was one of four children of Richard L. and Grace Weaver and a member of the fourth generation of the prominent Weaver family to reside in Elizabethville. He was a great grandson of Fredrick Weaver who established one of the original general stores in Elizabethville, brought the railroad to town in the late 1890's and founded the Weaver Whiskey Distillery. His grandfather, H. H. Weaver, built the four-story building on Market Street and grew the distillery business until Prohibition in 1920. His father, Richard L., founded the Weaver Shirt Company.
A graduate of Elizabethville High School, Ned returned from military service in 1946 and joined his father in the family garment business which eventually became Nedrich Manufacturing Company after the death of his father in the early 1960's. He closed the company in 1982 and remained active in his many hobbies during his retirement years.
Ned and his high school sweetheart, Leah E. Radel of Berrysburg, were married while he was stationed in Madison, WI. They enjoyed 63 very happy years together until her death in 2008. Their home on Broad Street, where they raised their two sons, is just two doors away for the house where Ned grew up.
Ned was a Past President of the Elizabethville Rotary Club, a founding member of the Borough Sewer Authority, member of the Hershey Antique Car Club, member of the Gratz Historical Society and a member of the St. John's Lutheran Church.
He passed away on September 22 while visiting family in California and celebrating his 88th birthday. He was preceded in death by his parents, his brother Richard S. Weaver and sister Dorothy Kiehl. He is survived by his sister, Ruth Cook of Elizabethville; two sons and daughters-in-law, A. Michael and Susan of Ojai, CA and James R. and Mary of Concord, NC; five grandsons, Scott, Richard, Joshua, Abraham and Zachary; and eleven great grandchildren. He will be missed by all.
Services will be held at the Hoover-Boyer Funeral Home, 103 W. Main Street, Elizabethville, PA, on Friday, October 5, at 11 AM. Graveside services at Maple Grove Cemetery will be restricted to immediate family members. The family requests that donations be made to the in Ned's honor in lieu of flowers.
Obituary provided by family and also published in the  Harrisburg Patriot-News on 9/29/2012.