Posted By Norman Gasbarro on October 24, 2012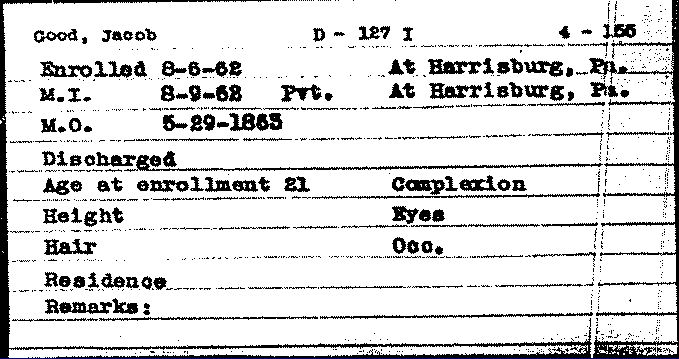 A biographical sketch of Jacob Good (1842-1904) appeared in the Commemorative Biographical Encyclopedia of Dauphin County:
Jacob Good, foreman of the boiler department of the Pennsylvania Steel Company, was born in Cumberland County, Pennsylvania, 22 October 1842.  His father died when he was quite young and he removed with his mother to Dauphin County and located in Harrisburg, where he attended the public schools.  He learned boiler making in the shops of the Pennsylvania Railroad Company, and was employed by that company for nine years.  He was afterwards several years with Robert Tippett.  In 1876 he was employed at Steelton by the Pennsylvania Steel Company as a journeyman.  In 1877 he was made foreman of the boiler department, which position he has held continuously since that time.

In 1862 he enlisted in Company D, 127th Regiment Pennsylvania Volunteers [127th Pennsylvania Infantry] and served nine months.  He took part in the battles of Fredericksburg and Chancellorsville.   He re-enlisted in August 1864 in Company D, 201st Regiiment Pennsylvania Volunteers [201st Pennsylvania Infantry], and served five months as orderly to Gen. J. P. Slough.

Mr. Good is a member of State Capital Lodge, No. 70, and Olivet Encampment, No. 56, I.O.O.F.; of Phoenix Lodge, No. 59, K. of P., and of Baldwin Commandery, No. 108, K. of M.  In 1890 he helped to organize the Mechanics' and Helpers' Relief Association, and has since been its treasurer.  He has served as a member of the Good Will Fire Company, No. 7, of Harrisburg, for a number of years, and is now president of the Citizen Fire Company, of Steelton.He is past commander of Sgt. Samuel W. Lascomb Post, No. 351, G.A.R.

Mr. Good was married in 1864, to Miss Maggie E. Pipes, daughter of George Pipes of Harrisburg.  They have four children:  George E. Good, roll-turner, of Steelton; Mary Lizzie Good, wife of George H. Yestadt, of Sparrow's Point, Maryland;  Glenzora Good, wife of Oliver Weigle, of Steelton; and Lawrence J. Good.  Mr. and Mrs. Good are members of St. Paul's Baptist Church, in which he is trustee, and Superintendent of the Sunday School.  Mr. Good is also a member of the Y.M.C.A.  (page 993)

According to his grave marker, Jacob Good died on 23 January 1904, but his Pension Index Card states his date of death was 20 March 1904.  He is buried in the Baldwin Cemetery, Steelton, Dauphin County, Pennsylvania.  His grave marker is pictured on Findagrave: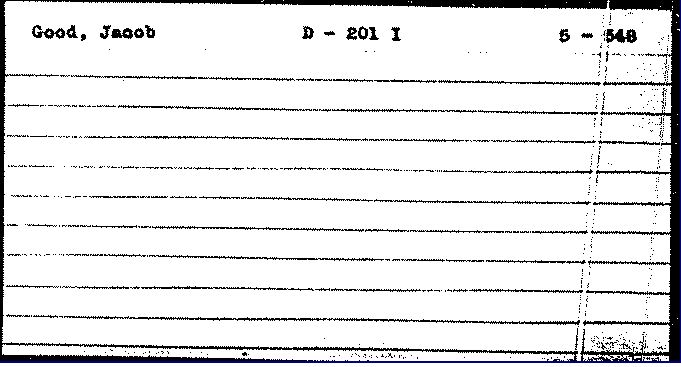 The Pennsylvania Veterans' Index Card (above) for the 201st Pennsylvana Infantry, contains very little information about Jacob Good.  The Index Cards shown on this post (above, and at the top of the post) are from the Pennsylvania Archives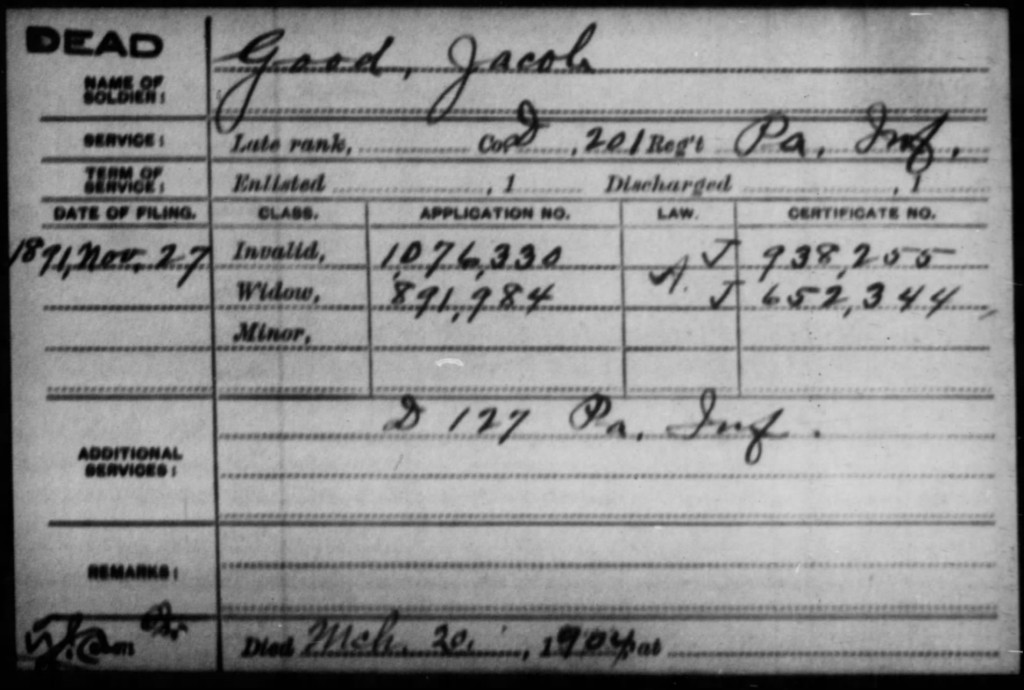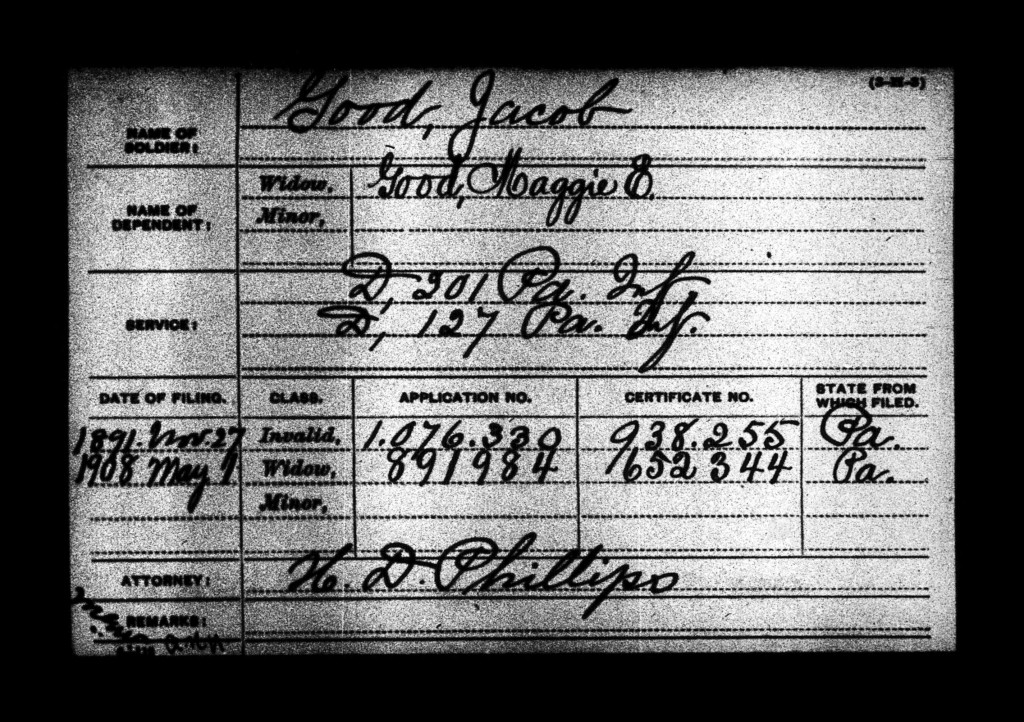 The two types of Pension Index Cards are shown above.  The first card is from Fold3 and notes the date of death of Jacob Good, but it does not indicate the widow's name nor the date she applied for the widow's pension.  The second card, from Ancestry.com,  notes the widow's name as Maggie E. Good, and indicates that she made application in 1908, about four years after her husband died.  The application numbers on both cards match, and it is under those numbers that the pension files can be obtained at the National Archives.
The Commemorative Biographical Encyclopedia of Dauphin County is available as a free download from the Internet Archive (click here).
Additional information is sought on this Jacob Good (1842-1904) who should not be confused with the Jacob Good (1839-1865) who was presented in the post yesterday.  Comments are welcome and can be added to this post or sent as an e-mail.