Posted By Norman Gasbarro on October 23, 2012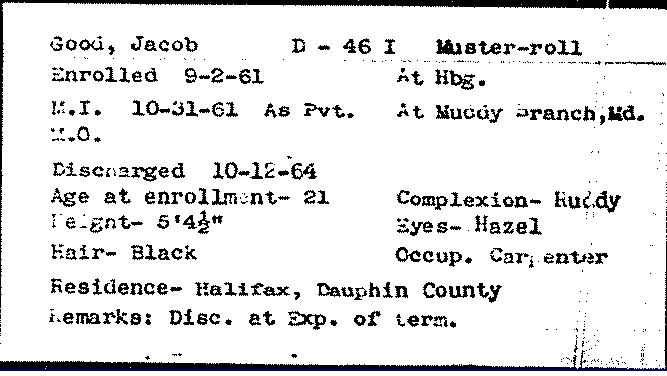 Jacob Good (1839-1865) was born in Halifax, Dauphin County, Pennsylvania, and served in the 46th Pennsylvania Infantry, Company D, as a Private, from 2 September 1861 through his discharge on 12 October 1864.  According to the Commemorative Biographical Encyclopedia of Dauphin County Pennsylvania, page 957, he was the son of Henry Good and Lydia [Enders] Good and was one of six children, the others being Barbara Good, John Good, Henry Good, Catharine Good, and Christian E. Good.
At the time of his enlistment at Harrisburg, Jacob Good was a carpenter living in Halifax.  He traveled to Muddy Branch, Maryland to be mustered into service.  He stood nearly 5′ 5″ tall, had black hair, hazel eyes, and a ruddy complexion.
Jacob's brother, John Good was a harness maker who was born in Upper Paxton Township, and educated there in the common schools.  He then went into an apprenticeship with Jonas Schoener at Linglestown, Dauphin County, and after becoming a master craftsman,  set up business for himself in Jackson Township, Dauphin County.  He married Catharine Sheesley in 1868.  There is no record that he served in the Civil War.
Jacob's brother Henry Good was first a carpenter and later a cabinet maker in Lower Paxton Township, Dauphin County.  He was born about 1838 in Upper Paxton Township and married  Sarah Ellen Hoon.  Although there are several persons of the name Henry Good who served in Civil War regiments, this Henry Good has not yet been connected to any of them.
In 1865, Henry Good and younger brother Jacob Good traveled to Media, Pennsylvania, to build railroad bridges.
The following information is from Captain Enders Legion:
Jacob Good was born 16 Nov 1839 in Upper Paxton Township, Dauphin Co., Pennsylvania, the son of Henry Good and Lydia [Enders] Good.  He accompanied his brother Henry Good to Media, Delaware Co., Pennsylvania and together they worked at building railroad bridges.  Jacob served in the 46th Pennsylvania Volunteer Infantry Regiment [46th Pennsylvania Infantry], Company D which was recruited in Dauphin County.  He was mustered in 2 September 1861 for three years service and mustered out 12 October 1864 with the rank of Private.  During this time, the 46th Pennsylvania fought in Virginia in battles at Front Royal on 23 May 1862, Winchester on 25 May 1862, and Cedar Mountain on 9 Aug 1862. These were followed by battles at Antietam, Maryland, on 17 Sepember 1862, Chancellorsville, Virginia, 1 May to 4 May 1863, and Gettysburg, Pennsylvania, 1 July to 3 Jul 1863.  Beginning in May of 1864, the regiment was involved with the Atlanta Campaign, including battles at New Hope Church and Kennesaw Mountain.

Jacob was wounded three times while serving with the 46th Pennsylvania.  He died 27 Oct 1865 in Media, Pennsylvania.  It's quite possible his death was related to his war wounds.

A pension record has not been located.  No newspaper stories have been located related to his death.  At this time it is only speculation as to how he died.
Additional information is sought from readers who may have researched this family (Jacob was an Enders family descendant).  Comments may be added to this blog post and/or information can be forwarded by e-mail (click here).
——————————-
Pennsylvania Veterans' Index Cards are from the Pennsylvania Archives.  Captain Enders Legion is available for sale through the Enders Family web site (click here).  The Commemorative Biographical Encyclopedia of Dauphin County is available as a free download from the Internet Archive (click here).