Posted By Norman Gasbarro on October 21, 2012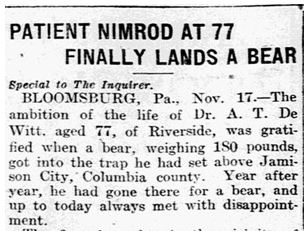 An small article appearing in the Philadelphia Inquirer, 18 October 1914, "Patient Nimrod at 77 Finally Lands a Bear," created a bit of curiosity as to the story behind a Northumberland County, Pennsylvania, physician, who after many years of trying, finally trapped a bear in Columbia County.  The age was in the correct range for this doctor to have served in the Civil War.  Further research revealed that not only did he serve in the war as a Surgeon, but that he had received his initial medical training under Dr. H. R. Caslow (1823-1881) of Halifax, Dauphin County.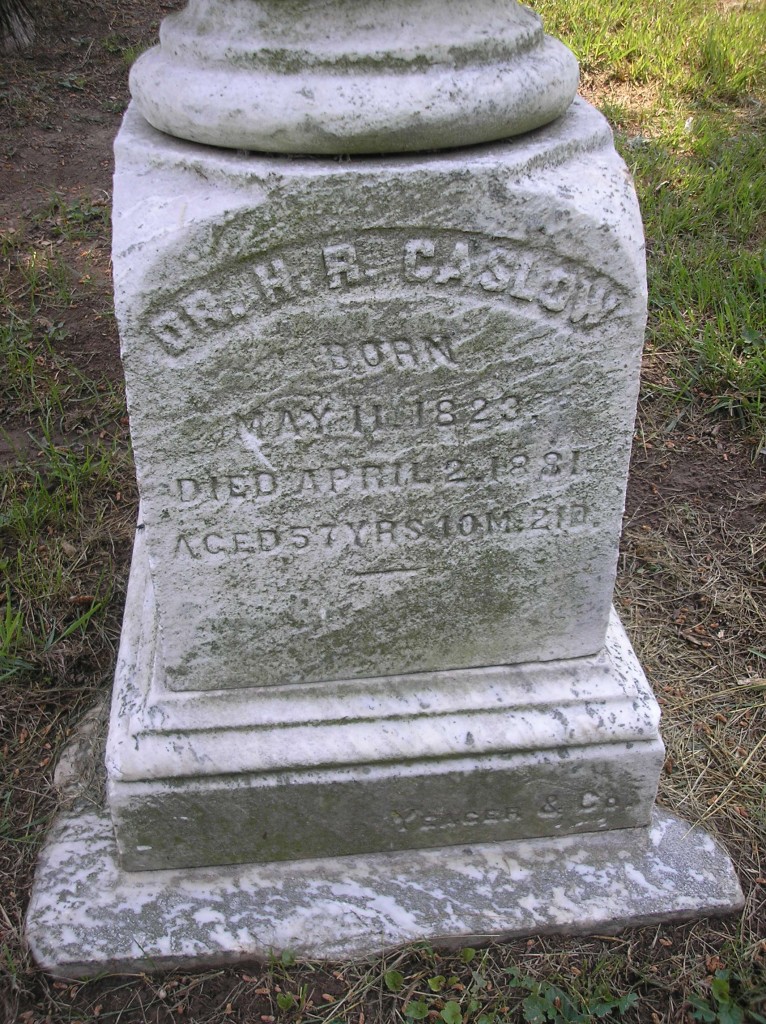 Dr. Caslow is buried in the Methodist Cemetery in Halifax, Dauphin County, Pennsylvania.
After the war, Dr. DeWitt established his practice in Northumberland County, and served for a time in the Pennsylvania House of Representatives, sponsoring a bill that insured that physicians were certified: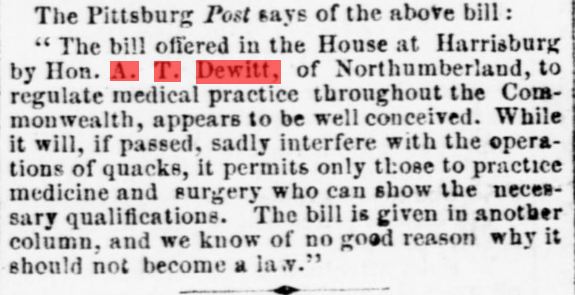 The Pittsburg Post says of the bill:

The bill offered in the House at Harrisburg by Hon. A. T. DeWitt, of Northumberland, to regulate medical practice throughout the Commonwealth, appears to be well conceived.  While it will, if passed, sadly interfere with the operation of quacks, it permits only those to practice medicine and surgery who can show the necessary qualifications.  The bill is given in another column, and we known of no good reason why it should not become a law.  [from Sunbury American, 27 March 1874].
In addition to Dr. DeWitt's accomplishments in the Civil War, which are outlined in a biographical sketch found in the Annals of Northumberland County (below), Dr. DeWitt created DeWitt Park in Riverside, Northumberland County.  The story of the park is found in a web blog (link provided below).
Dr. Abraham T. DeWitt

Dr. A. T. DeWitt was born in 1837, in Augusta Township, Northumberland County, Pennsylvania, and is a ember of the DeWitt family here.  In the early part of the seventeenth century, when the immigrant ancestors came to this country from Holland, they settled on Manhattan Island, naming it New Amsterdam.

The records show that there were two brothers, one remaining in New York, while the other moved to New Jersey.  About 1807, Paul DeWitt, a member of the New Jersey branch of the family, and grandfather of Dr. DeWitt, came with a number of other New Jersey families to Pennsylvania, settling in Augusta Township, Northumberland County,  He married Margaret Persing, and to them were born three children:  Abraham DeWitt, who moved to Philadelphia; William DeWitt, and Elizabeth DeWitt (Mrs. Reppard).

William DeWitt, son of Paul DeWitt, married Elizabeth Tressler, and to them were born seven children; Jacob DeWitt, who married Mary Clark and had three children; Isaac DeWitt, who married Elizabeth Cressiger and had seven children, two sons and five daughters; Paul DeWitt, who married Abigail Shipman, and had five children, three sons and two daughters; William DeWitt, who married Mary Latsha and had eight children, two sons and six daughters; Matthew DeWitt, who married Elizabeth Shipman, and had two children, one son and one daughter; Moses DeWitt, who married Lavina Strausser, and had four children, one son and three daughters; and Abraham T. DeWitt, who married Sarah Renn, and had four children, three sons and one daughter.

Dr. Abraham T. DeWitt, the youngest son, was reared upon a farm until he reached the age of sixteen years.  He next spent two years at work at the mill of his brother William DeWitt, and then took the opportunity to improve his early education, attending the academy at Boalsburg in Center County, Pennsylvania.   After that he began his experience as teacher, being then engaged for one term in Snyder County, Pennsylvania, at the close of which he became a student at what was then known as the Freeburg Academy, in Snyder County.  The following winter he taught school in Schuylkill County and then again resumed his studies at the Missionary Institute, now Susquehanna University, at Selinsgrove, Pennsylvania.  He began the study of medicine under the preceptor-ship of Dr. Caslow of Halifax, Dauphin County, and in 1861, entered the University of Vermont, from which institution he was graduated 9 June 1862.

Dr. DeWitt at once settled at Snydertown, Northumberland County, where he continued private practice until he took the examination for army service in June 1863, and passing was soon appointed Assistant Surgeon, 54th Pennsylvania Volunteer Emergency (of 1863) Men [54th Pennsylvania Infantry], for one hundred days' service.  The command was sent out of the State and Dr. DeWitt assisted in the capture of Gen. John Morgan, who was making his famous raid into Ohio.

After receiving his discharge with the regiment, at the end of his term, the Doctor entered the Union service, being appointed Surgeon of the 2nd Pennsylvania Heavy Artillery Regiment  [2nd Pennsylvania Artillery], within the fortifications at Washington, D.C., at the northeast; in 1864 he was transferred from the northeast to the southwest, Washington defenses.  In June 1864, the regiment was ordered to join the army under Gen. Grant, took part in the Battle of Cold Harbor, and subsequently marched to White House Landing, where the troops took transports for City Point.  The regiment was the first to advance upon Petersburg, where they remained until August, at which time they were stationed at Bermuda Hundred, continuing at that point until Lee evacuated Richmond.  They were then ordered to Petersburg, remaining in charge of the city until 1 January 1866, when they were discharged by General Order.  While in the defenses of Washington, D.C., Dr. DeWitt was a member of the staff of Gen. Fariero, with headquarters at Arlington.  During the summer of 1865 he was Chief Medical Officer of the District of Roanoke, with headquarters at Berksville Junction, Virginia.  He was mustered out at Philadelphia in 1866.

On 1 April 1866, Dr. DeWitt resumed the practice of his profession at Snydertown, Pennsylvania, in 1878 moving to the Borough of Riverside, where he has since been located.  He has won a place among the most esteemed citizens of that place by his busy and well spent life.  His skill as a physician has brought him a long list of patrons, to whom he is a friend as well as doctor, and he is widely known in Riverside and the surrounding territory.

While at Snydertown, in 1873, Dr. DeWitt was elected a member of the Pennsylvania House of Representatives, and was re-elected to serve in the same capacity in 1874, and in 1875 was elected transcribing clerk of the House.  Since becoming a resident of Riverside he has not been identified with public affairs as an office holder, but the establishment and maintenance of what is known as DeWitt's Park is due to his efforts and is a worthy monument to his interest in the general welfare.  It is a naturally wooded tract of some twenty acres which has been well equipped for amusement purposes, with a pavilion 50 by 110 feet in dimensions, a dining hall 65 by 36 feet, and large ball grounds with a 100-foot grandstand.  The park is well-supplied with flowing water, cool and of excellent quality, conducted through the grounds from a spring.  The spot is cool and beautiful on the hottest days and the recreation ground has proved not only an improvement to the vicinity but a blessing to the many who take advantage of its benefits.  The idea was typical of Dr. DeWitt.  He is a man of kind and genial disposition, and in spite of his advanced years is remarkably well preserved.

Dr. DeWitt married Sarah Renn, who died 2 July 1906, at the age of sixty-six years.  Of the four children born to this union, one son died young, the others being:  W. O. DeWitt, who married Luella Gruver of Nanticoke, Pennsylvania, and has children Helen DeWitt, Florence DeWitt, John DeWitt, and William DeWitt;  Heber Loran DeWitt, who married Anna Morrell and has two children, George DeWitt and Sarah DeWitt; and Cora Irene DeWitt, who married William Mettler and has one daughter, Evelyn Mettler.
Genealogical and Biographical Annals of Northumberland County Pennsylvania, pages 289-290, by published by J. L. Floyd and Company, Chicago, 1911, and is available as a free download (click here).  Copies of the original edition and reprint (Whipporwill Publications, Evansville, Indiana, 1988) are sometimes available from booksellers.
A blog post on The Daily Item tells of some of the history of the Dewitt Park (click here) and the picture (below) is referenced from that site.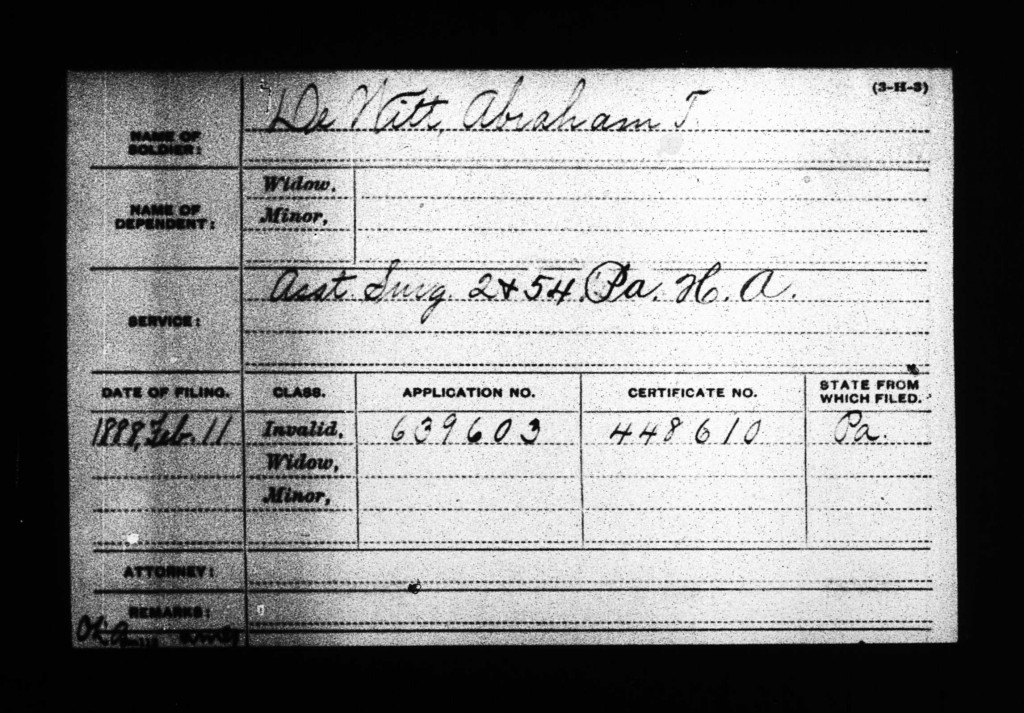 In 1888, Dr. DeWitt applied for and then received an invalid pension for his service in the Civil War.  Although his biography states that he served as Full Surgeon and later as a Chief Medical Officer, the pension records apparently only contain evidence of his service as Assistant Surgeon.  In the 1890 census he reported his disability as "malarial poisoning and rheumatism."
Dr. DeWitt died on 21 July 1915.  He is buried in Mount Vernon Cemetery Riverside, Northumberland County, Pennsylvania.
The news clipping from the Philadelphia Inquirer is from the on-line resources of the Free Library of Philadelphia.  The news clipping from the Sunbury American is from Chronicling America, the newspaper resource of the Library of Congress.   Pension Index Cards are from Ancestry.com.  Pennsylvania Veterans' Index Cards are from the Pennsylvania Archives.
No photograph has yet been located of Dr. Abraham T. DeWitt.  Anyone wishing to contribute photographs or any other information about his life can contact the Civil War Research Project (click here).