Posted By Norman Gasbarro on October 19, 2012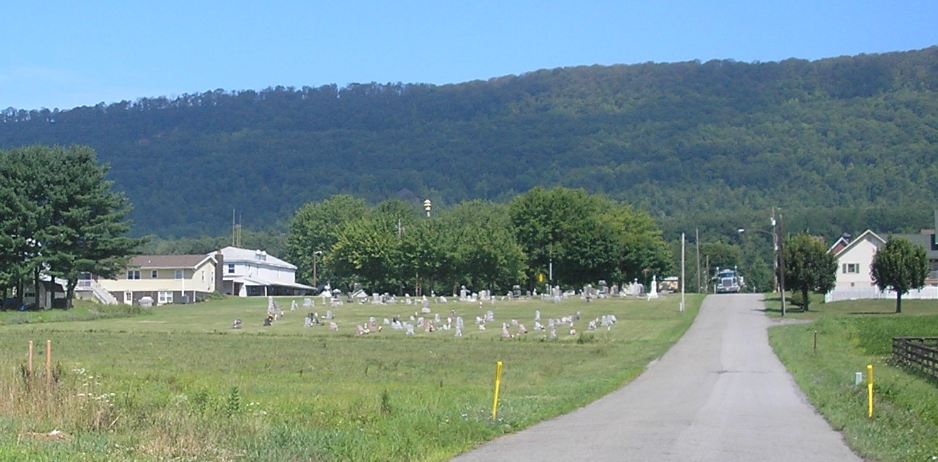 The Grace United Evangelical Cemetery is located on south Keystone Street in Muir, Schuylkill County, Pennsylvania.  From Interstate-81 (I-81), take the Tower City Exit (Route 209) and travel west on Rt. 209 to the community of Muir.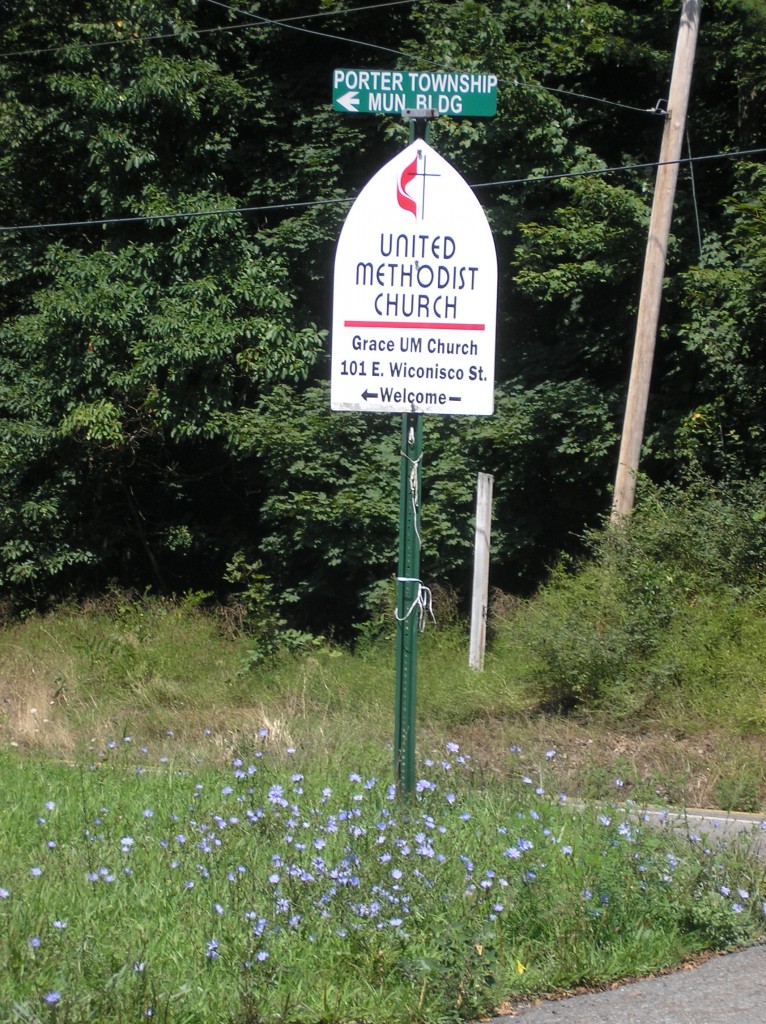 At the sign for the United Methodist Church (Grace United Methodist Church) and the Porter Township Municipal Building, turn left (south) onto Keystone Avenue and proceed about four blocks and the Methodist Church will be on the left.  The Muir All Wars Memorial will be on the left.  Proceed two short block and the cemetery will appear on the right.  It is located on the southwest side of the  intersection of Keystone Street and East Church Street.  At that intersection, there is a a sign for the Muir Fire Department which is on the north side of East Church Street.
The above photo looks north from the cemetery.  The Grace United Methodist Church can been seen at the far right in the photo (brick tower).
This cemetery has five known Civil War veteran burials.  Two will be presented today and three will be presented tomorrow.
——————————
CONRAD H. CASLOW (1837-1885)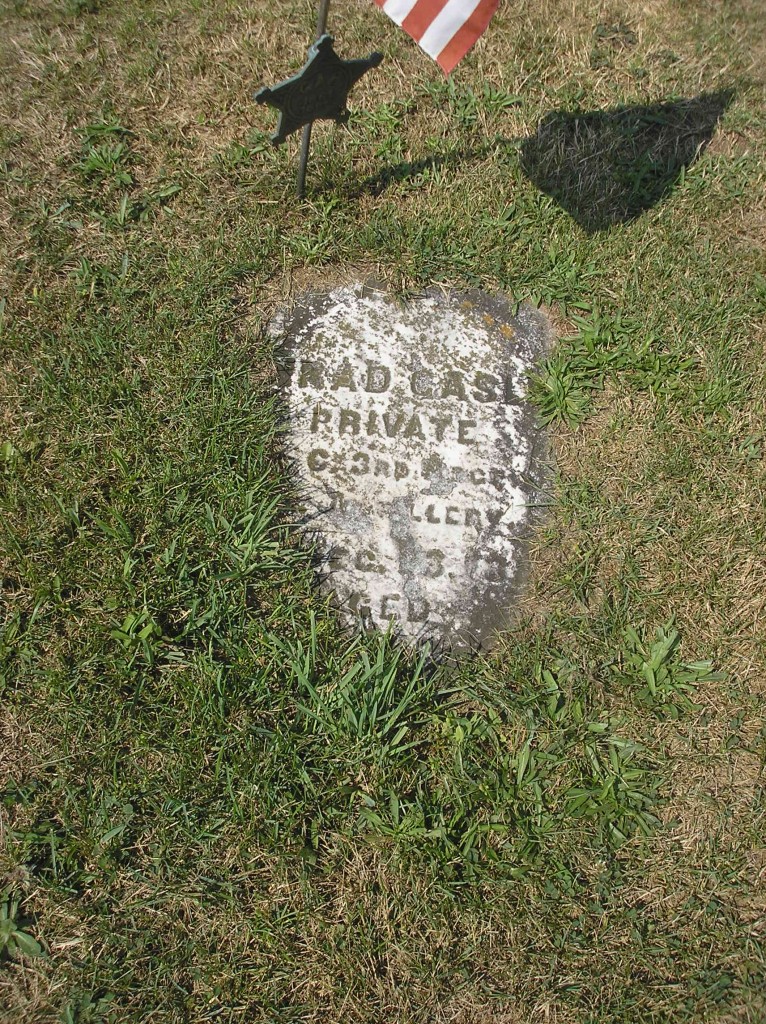 Conrad H. Caslow is named on the Tower City Veterans' Memorial as Conrad Caslow II.  It was erroneously mentioned in a prior post that he is buried in Fairview Cemetery.  He is buried in the Grace Cemetery as the stone pictured above indicates.  Conrad served in the 3rd Pennsylvania Heavy Artillery from 24 September 1864 through 23 December 1864 when he was discharged by Special Order.  Prior to the war he lived in Juniata County but after the Civil War he is found in Tower City where he died in 1885 in Porter Township, Schuylkill County.  He was married to a woman named Ellen who successfully claimed a widow's pension.
——————————
JOSIAH HAND (1834-1903)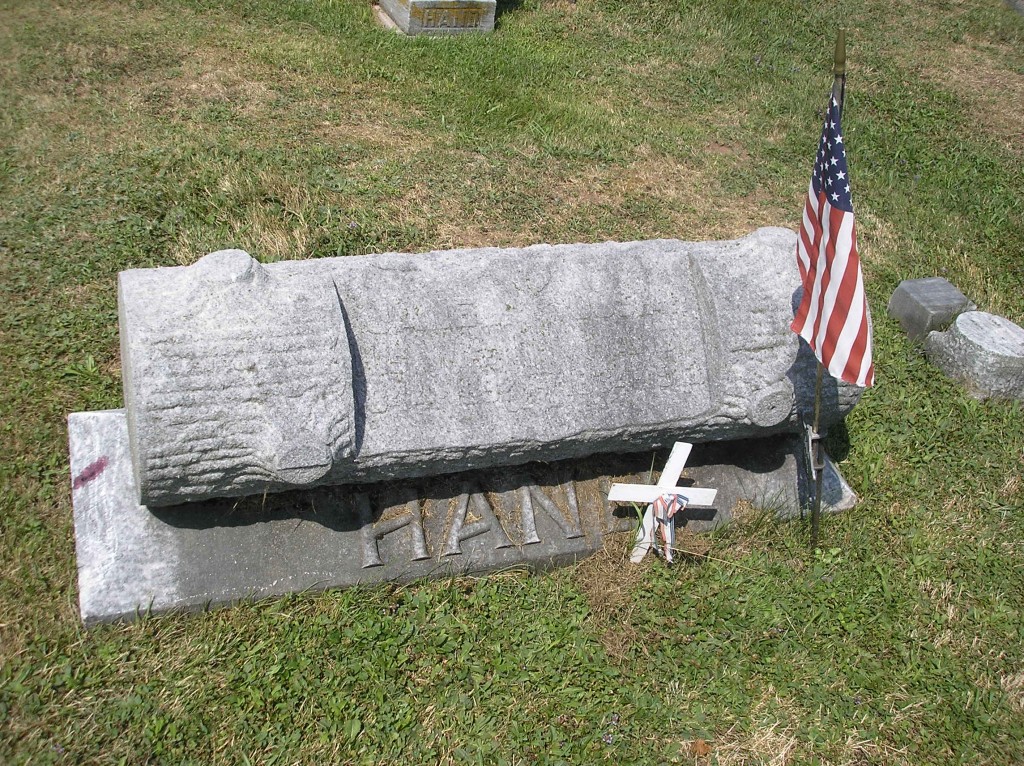 Josiah Hand, was a Private in the 173rd Pennsylvania Infantry, Company F.  He married a woman named Jane and was living in Porter Township in 1890.  The approximate birth year of 1833 that was mentioned in prior posts needs to be corrected to reflect the birth year on his grave marker – born in 1834 – and his death year of 1913 can now be added as indicated on the stone.
—————————–
Additional information is sought on these veterans and other veterans in the Civil War Research Project.  Comments can be added to this post or an e-mail can be sent to the project.  Of particular interest are pictures and stories.
Concludes tomorrow.