Posted By Norman Gasbarro on October 16, 2012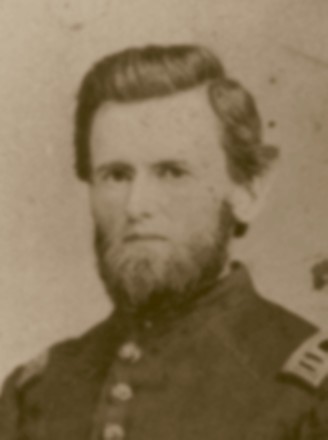 John Buyers (1827-1908) was the son of George Patton Buyers, a merchant of Sunbury, Northumberland County, Pennsylvania.  He was born in Sunbury.  Before the Civil War, he worked as a merchant in Sunbury and also for some time as a farmer.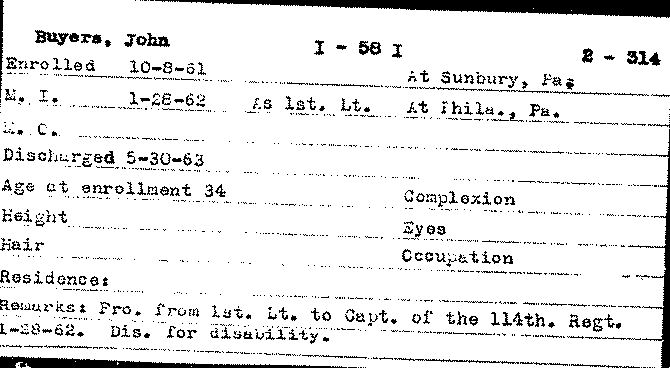 When the Civil War broke out, he raised Company I of the 58th Pennsylvania Infantry, which was known as the Augusta Rangers (named after Augusta Township, the original area of what is presently Upper Augusta Township and Lower Augusta Township, Northumberland County).  His service record indicates that he originally was a 1st Lieutenant but was rapidly promoted to the rank of Captain.  In all, he served from 28 January 1862  through 30 May 1863 when he was forced to resign due to disability.  The Pennsylvania Veterans' File Card (above) from the Pennsylvania Archives, states that he became a Captain of the 114th Pennsylvania Infantry, but other records have not been located to support this.  A biographical sketch of him which appeared in the Genealogical and Biographical Annals of Northumberland County (Chicago: J. L. Floyd & Company, 1911), states the following:
Mr. Buyers was a man of typical military appearance, weighed 160 pounds, and was of medium build and straight as an arrow.  He was officially connected with the old state militia, and he was a member of Good Intent Fire Company.  His neighbors and friends held him in high esteem, and he was called upon to fill township office.  But for the last twenty-five years of his life he spent most of his time reading, enjoying newspapers and books, and he became unusually well informed.  In religion he was a strict Presbyterian (page 986).
The marriage of John Buyers and Mary Alice Painter took place about 1854 and to the couple were born nine children:  William Buyers, who died when a boy; John Buyers Jr., who moved to Texas; Heber Buyers, who died at Fort Concho, Texas; Mary H. Buyers, who married the Rev. William P. Taylor, of the Methodist church, who died in Delaware while her husband was employed there; Howard Buyers, of whom more is said below; Kate R. Buyers, who did not marry and resided at Selinsgrove, Snyder County, Pennsylvania; Harris P. Buyers, who was residing in Sunbury in 1910; the Rev. Frank C. Buyers, who became a Methodist minister had had a parish in Lock Haven, Pennsylvania; and Emily A. Buyers, residing in Sunbury and who like her sister Kate did not marry.
In 1869, John Buyers moved to Buyers Island in the Susquehanna River south of Sunbury where he was able to farm about 95 fertile acres of land that belonged to his family for more than 100 years.  He remained there until 1887, when he moved back to Sunbury.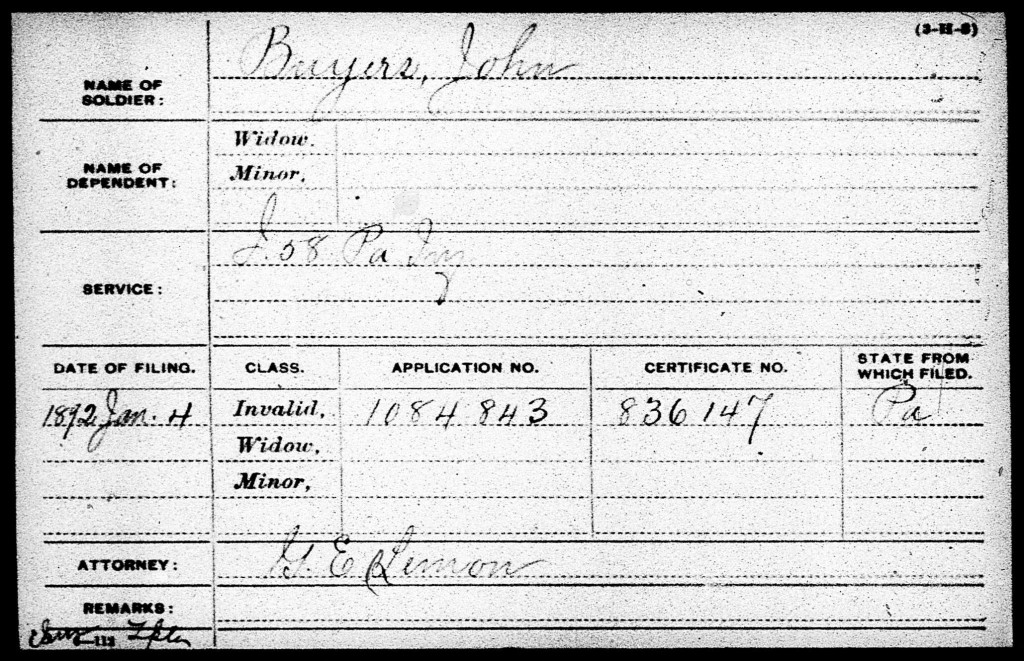 In 1890, he reported to the census that he was suffering from "nervous prostration" that resulted from his Civil War service. He did not apply for a disability pension until 1892 as the Pension Index Card (above) shows.
John Buyers remained in Sunbury until his death in April 1908.  He is buried in Pomfret Manor Cemetery, Sunbury.
Howard Buyers, son of the Civil War veteran, was born in 1862 and because there were no no schools on Buyers Island where he was raised, he was self-taught as well as receiving instruction from his father.  According to the Genealogical and Biographical Annals, "they kept regular school hours, and as the father was a man of remarkable intelligence and well informed, the children did not suffer for the lack of public school advantages (page 986).  Howard learned electrical engineering and construction and was employed by the Susquehanna Silk Mills to expand their facilities.
———————————
The Pension Index Card is from Ancestry.com.  The portrait of John Buyers was cropped from a picture posted on Ancestry.com.