Posted By Norman Gasbarro on September 2, 2012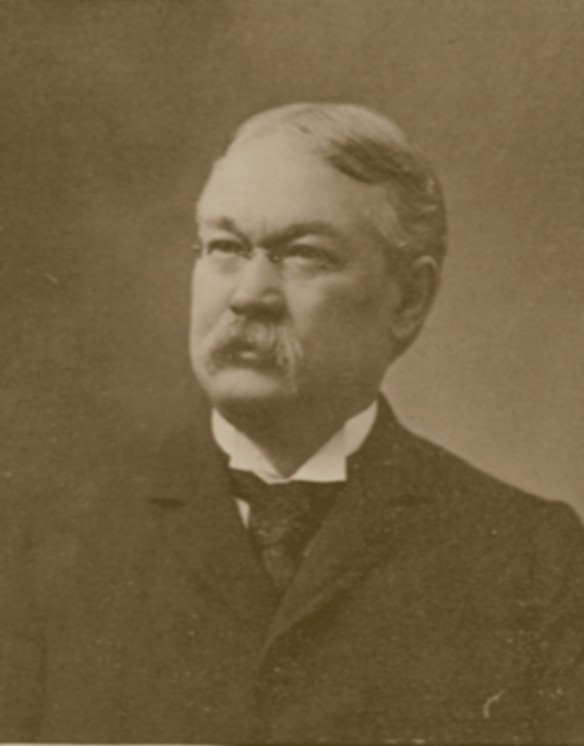 Adaline "Ada' Hoffman (1845-1915) was born in Harrisburg, Dauphin County, Pennsylvania, and was only one generation removed from the Lykens Valley.  Her father, Jacob David Hoffman (1812-1887) had been born in Lykens Township, and was the great-grandson of Johann Peter Hoffman (1709-1797), pioneer settler of the Lykens Valley.  Ada's mother was a Romberger, also from a pioneer family.  Ada had two brothers of Civil War service age but no record of military service has been found for them.  Likewise, none of her sisters appear to have married Civil War soldiers, although research is ongoing to determine more information about their husbands.
In 1867, Ada married Mathias Wilson McAlarney, a prominent publisher who had served as Provost Marshal of his district during the Civil War.  The 18th Pennsylvania District where McAlarney served, was re-districted from the 15th Pennsylvania District for the Congress that met in 1863 and its Congressman, James Tracy Hale, was from Bellefonte, Centre County. An 1863 Congressional map of Pennsylvania would probably confirm that Union County was also in this newly re-districted area.
A biographical sketch of Mathias Wilson McAlarney appeared in the Commemorative Biographical Encyclopedia of Dauphin County, published in 1896 by J. M. Runk and Company of Chambersburg, Pennsylvania:
Mathias Wilson McAlarney, son of John McAlarney (1802-1876) and Catharine [Wilson] McAlarney (1812-1892), was born 7 June 1840, in Mifflinburg, Union County, Pennsylvania.  He was educated at Bucknell University. He learned the art of printing in the Chronicle office at Lewisburg, and for a period of six years published the Potter Journal, a weekly newspaper at Coudersport.

During the Civil War he was Provost Marshal of the 18th Pennsylvania district.

He studied law with Hon. Isaac Benson, of Potter County, and was admitted to the bar 27 February 1867. In May of the same year he removed to Harrisburg and entered upon the practice of the law. From 1874 until the close of 1882 he was more or less actively engaged in editorial work on the Harrisburg Telegraph, and in the fall of 1883 he purchased a majority of the stock of the Harrisburg Publishing Company, publishers of the Daily Telegraph and Semi-Weekly Telegraph, and has continued from that date as editor of the Telegraph and manager of the publishing company.

In 1868 he was appointed clerk to the commission to settle the damages done by the border raids during the Rebellion, and in 1871, by appointment of Governor Geary, he was the attorney for the Commonwealth in connection with the same work in the county of Cumberland.

In the fall of 1874 he was a candidate for the Republican nomination for district attorney, with every prospect of success, when on 23 September 1874 he was appointed postmaster at Harrisburg, and continued in office under subsequent re-appointments until April 1887.  He purchased for the government the land upon which the United States post office was erected.  He was appointed disbursing agent during the construction of the building, and upon its completion in 1882 was appointed custodian of the building. He married, in 1867, Ada Hoffman, daughter of Jacob D. Hoffman, and they have two children, Martha Worden McAlarney and John Hart McAlarney. Three children died in infancy.
More information is sought on Mathias Wilson McAlarney.  His obituary appeared in the Philadelphia Inquirer on 6 December 1900, but tells little more than the biography that appears in the Commemorative Biographical Encyclopedia.  For a copy of the obituary, click here.  For a different portrait of McAlarney, click here.
There is a particular interest in finding a portrait of Adaline [Hoffman] McAlarney because of her family roots in Lykens Township.