Posted By Norman Gasbarro on September 29, 2012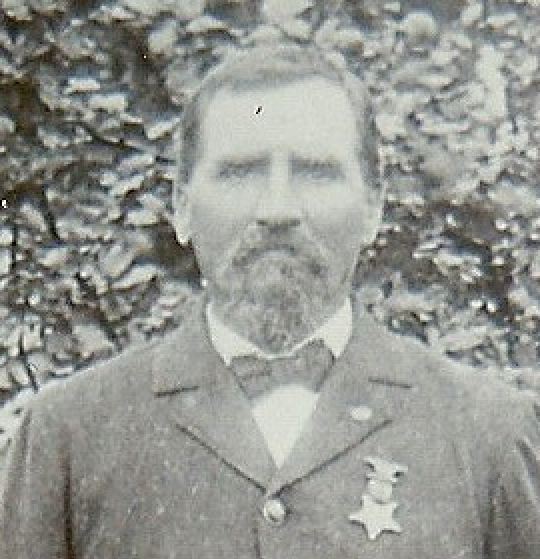 A biography of Jacob Kissinger appeared in the Biographical Encyclopedia of Dauphin County, page 886-887, published in 1896 by the J. M. Runk Company of Chambersburg, Pennsylvania.  A slightly edited version of that article appears below:
Jacob Kissinger, farmer and stockman of Gratz, Pennsylvania, was born in Lykens Township, Dauphin County, Pennsylvania, 14 November 1843. His grandfather, John Kissinger, was a native of Lykens Township and a farmer, who lived and died in that township. He married Elizabeth Klinger, of the Lykens Valley; their children were: John Kissinger;  Jonas Kissinger; Peter Kissinger; Angeline Kissinger; Susan Kissinger; George Kissinger; and Kate Kissinger.

George Kissinger, father of Jacob, was born in Lykens Township in 1817, and educated in the subscription schools of the township. His life was spent in farming. He owned a farm of sixty acres in Lykens Township, which he cultivated and improved, and on which he was engaged in stock raising. He is still an active business man. He is a Republican and a member of the Lutheran Church. George Kissinger was married in Schuylkill County, Pennsylvania, to Sarah Knerr, born in Berks County, Pennsylvania, in 1822. Their children were: John Kissinger, in Northampton County, Pennsylvania; Jacob Kissinger; Catherine Kissinger, wife of Benjamin Hoffman; Jane Kissinger, wife of Reuben Steeley, Lykens Township; Amos Kissinger, farmer, Lykens Kownship, and Amanda Kissinger, died young. Mr. and Mrs. Kissinger still reside in the township.  Mr. Kissinger took an active part in the Sunday School and was a teacher and treasurer for many years.

Jacob Kissinger attended the Kissinger School House in the winter and worked on the farm during the summer. He continued work at home until July 1, 1863, when he enlisted in what was called the "Home Guards," at Gratz, Pennsylvania. He was in company C, Thiry-sixth regiment of these militia troops [36th Pennsylvania Infantry], and served eight weeks at Gettysburg. Being then discharged, he returned home and remained on the farm until February 1864, when he re-enlisted at Gratz for three years in Company K, 9th Pennsylvania Cavalry, Col. Thomas J. Jordan and Capt. J. Frank Miller.  He was in the Atlanta campaign, and went with Sherman to the sea, and remained with Sherman's army, participating in marches and battles, until the surrender of Johnson, having been in forty-two battles and skirmishes. At the close of the war Mr. Kissinger was honorably discharged from the service at Harrisburg, returned home, and for two years assisted his father in cultivating the home farm. After this he cultivated a rented farm of eighty-five acres until 1885, when he bought the farm he now owns and occupies for $8,000. He has built upon it a dwelling costing $1,500, and made other important improvements. Besides farming, he carries on a stock and dairy business.

Jacob Kissinger was married, in Lykens Township, in August, 1867, to Amanda Williard, born in Lykens Township October 1, 1848, daughter of a farmer of that township, George Williard, and his wife, Lavinia [Deibler] Williard. Mr. and Mrs. Kissinger had eleven children: Harvey F. Kissinger, born 11 November 1868, farmer, Lykens Township; Mary Kissinger, born 8 February 1870, wife of Frank Hoffman, Lykens Township; S. Katie, born 9 June 1872; Daniel Kissinger, born 10 January 1874, farmer; Edmund O. Kissinger, born 9 November 1876, at home; Ida Kissinger, born 9 January 1878, died 19 January 1880; Dora E. Kissinger, born 13 December 1880; Annie Kissinger, born 21 September 1882, died in 1891; Charles W. Kissinger, born 4 September 1884; Jacob Kissinger, born 12 August 1886; and Thomas H. Kissinger, born 6 October 1888.

Mr. Kissinger is a member of Kissinger Post, No. 376, G.A.R., was commander of the Post one year, and has officiated as chaplain, vice-commander, and lieutenant vice-commander. He has also been a member of the Independent Order of Odd Fellows [I.O.O.F], and of the Grange. He is a Republican; has been four terms supervisor of roads and judge of elections, and has served in other township offices. Mr. Kissinger is also prominent in church affairs, being a member of the Reformed Church at Gratz. He has been an elder for three years, and has represented the congregation at synods. He has served in all offices of the church, and is a diligent worker, and an honorable and influential citizen.
The portrait of
Amanda [Williard] Kissinger
(above), wife of
Jacob Kissinger
, was cropped from a family photo.  The portrait of
Jacob Kissinger
at the top of this post was cropped from a late in life photo in his
G.A.R.
uniform.
Jacob Kissinger died in 1921.  A prior post featured his grave marker in the Gratz Union Cemetery.
For other posts on the 9th Pennsylvania Cavalry and the men who served in it, click here.
For other posts on the Gratztown Militia, or Home Guards, click here.
A brick honoring Jacob Kissinger was placed by his family at the Walk of Valor at the National Civil War Museum in Harrisburg and is pictured below: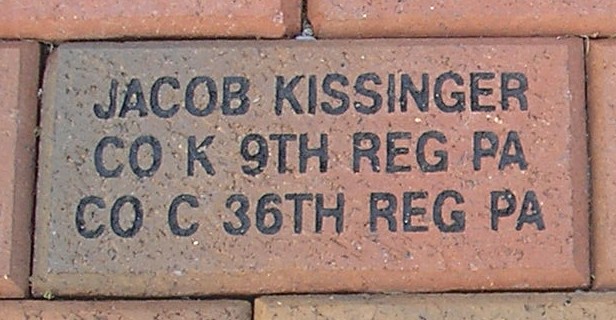 The Home Guards were mobilized as the 36th Pennsylvania Infantry, Company C, Emergency Militia of 1863, but did not take part in the Battle of Gettysburg.  They arrived at the battlefield after the battle had taken place and participated in the care of the wounded, the burial of the dead, and the general battlefield cleanup. Because they did not participate in the battle, the regiment is not recognized on the Pennsylvania Memorial.
In addition to the above-mentioned resources, the Project has 11 pages (digital scans) from the pension application file of Jacob Kissinger.