Posted By Norman Gasbarro on September 6, 2012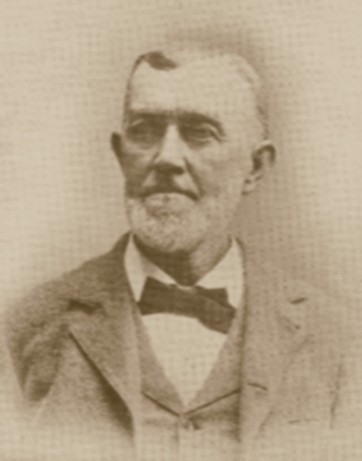 Daniel Y. Lenker (1841-1900).  Today's post presents another of the biographical sketches from the volume, Commemorative Biographical Encyclopedia of Dauphin County, published in 1896 by J. M. Runk and Company, Chambersburg, Pennsylvania.
Daniel Y. Lenker, distiller, was born in Lower Mahanoy Township, Northumberland County, Pennsylvania, 17 October 1871.  He is a son of Nicholas Lenker and Catherine [Yeager] Lenker.  Michael Lenker, great-grandfather of Daniel Y. Lenker, married Matilda Enterline.  John Lenker, grandfather of Daniel Y. Lenker, married Maria Bobb. They had ten children:  (1) Lydia Lenker; (2) Nicholas Lenker; (3) Daniel Lenker; (4) Adam Lenker; (5) Mary Lenker, wife of Andrew Ditty; (6) Catherine Lenker, wife of John Bonawitz; (7) John Lenker; (8) Jacob Lenker; (9) Elizabeth Lenker, wife of Josiah Negley; and (10) Michael Lenker, a minister of Lykens.

Nicholas Lenker, father of Daniel Y. Lenker, was born 5 September 1814, and died 29 March 1888.  His wife, Catherine Yeager, was born 16 April 1817, daughter of Christopher Yeager and Elizabeth [Radel] Yeager; she died 11 February 1895.  They had ten children:  (1) Sarah Lenker, deceased, wife of Daniel Keppenheffer; (2) Isaac Lenker, married Kate Zimmerman; (3) Mary Lenker, wife of Michael Metz; (4) Daniel Y. Lenker; (5) John Y. Lenker, married Lydia Hidle of Ohio; (6) David Y. Lenker, married Emma Kunzelman; (7) William Y. Lenker, married Susan Geibel; (8) Elizabeth Lenker, wife of William Forney; (9) Nicholas Y. Lenker, married Lizzie Wise; and (10) Catherine Lenker, wife of Charles Overholtzer.

Daniel Y. Lenker was four years of age when his parents moved to Mifflin Township, Dauphin County.  He attended the common schools of that township until he was thirteen, when they again remove to a place near Killinger Post Office in Upper Paxton Township.  There the children had the advantages of the winter district school.  Daniel not only helped on the farm, but also spent much time in his father's tailor shop, where he was a valuable assistant, saving his father many stitches and gaining a thorough knowledge of the trade.  He was employed in this way until he was eighteen, when he was permitted to supplement the instruction received in home schools by attendance for two terms at the academy at Freeburg, Snyder County, in the spring of 1860.  Returning home, he was engaged in tailoring with the father until he entered the army.

In 1 August 1862, Mr. Lenker enlisted in Harrisburg in Company G, 6th Regiment Pennsylvania Militia [6th Pennsylvania Infantry, Militia of 1862] under Captain Shers and Colonel Kieffer, and was moved with his regiment to the battlefield of Antietam, and thence to Fort Washington, where his term of enlistment expired, and he was mustered out.  He reached home in September 1862.  After passing the winter at home, Mr. Lenker re-enlisted in May 1863, and was made an orderly at Camp Curtin on the staff of the Provost Marshal, which position he held until June 1863, when he was ordered with the 26th Pennsylvania Militia (26th Pennsylvania Infantry, Emergency of 1863) to Gettysburg.  He was detailed with other to serve as spy, to locate the position of the enemy's forces; while on this service he and fifteen of his comrades were captured and sentenced to be shot or hanged; but the defeat of the Southern army at Gettysburg resulted in their being paroled.  Barefooted and with barely enough clothing to cover him, Mr. Lenker made his way on foot from Gettysburg to Dillsburg, and thence to his home, where he remained until December 1863. He then entered the State University at Columbus, Ohio, a pursued a course of study until 2 June 1864; after which he came home, and again enlisted in the United States Army at Harrisburg, joining Company G, 103rd Pennsylvania Volunteers [103rd Pennsylvania Infantry], in which he served until the close of the war, and was mustered out at Newberne [New Bern], North Carolina, in August, 1865.

In the winter of 1865 and 1866 he taught school in Lower Mahanoy Township, Northumberland County, in the old weaving shop of his grandfather, the room in which the first free school opened in that township was held.  In the spring of 1866, Mr. Lenker returned to Upper Paxton Township and engaged with his father at tailoring, at the same time carrying on a small farming business on a place near Rife Post Office, known as the Henry Pottinger Farm, which he had bought.  He continued in these lines of business until 1869, when the sold the farm and bought his present homestead near Millersburg, known as the Haldeman Farm, and once owned by Daniel Miller; there he engaged in farming, gardening and fruit raising.  He was also for some time a contractor.  In 1880 he took up the business of distilling fruit brandies, essential oils, and rye whiskey, in which he has been successfully and profitably engaged up to the present time.  Mr. Lenker has shown great energy and enterprise and much business ability, and is now rewarded by prosperity.  His products are of the best, and find a wide market, and his trade is secure and increasing.

Daniel Y. Lenker was married 23 October 1866 to Julia A. Kootka, daughter of William Kootka and Amelia [Year] Kootka, born 25 February 1844, at Keemnitz, near Berlin, Prussia.  Three of their eight children are deceased.  Their surviving children are:  (1) Mary V. Lenker, born 14 March 1863, wife of George Hoffman, has these children, Guy Lenker Hoffman, Harry P. Hoffman, and Esther Hoffman; (2) Mildred Lenker, born 3 March 1870;  (3) Catherine Lenker, 24 April 1872; (4) Harry Cordes Lenker, 10 February 1874; and (5) Earl Lenker, 24 July 1881.

Mr. Lenker has served as school director for about twelve years.  His political opinions are independent.  He is associated with the Masonic fraternity, being a member of State Lodge No. 22; he belongs also to Kilpatrick Post, No. 212, G.A.R., at Millersburg.  The family attend the Lutheran Church.
William Kootka, father of Mrs. Lenker, was born in Carnnitz, near Berlin, 1 April 1810, and came with his family to American in 1853.  He landed at New York, came to Wiconisco, in the Lykens Valley, and removed to Rife Post Office, where he engaged in milling;  he died in Millersburg, Pennsylvania, 19 September 1886, aged seventy-six; his wife also died in Millersburg, 6 September 1887, aged seventy four.  They had three children: (1) Amelia Kootka, wife of Willard Harper, who was killed in the Battle of the Wilderness, leaving one child, Thomas Harper; his widow, married George Falkenmeyer; (2) William A. Kootka, married Tina Sophia Weaver, has three children; and (3) Julia Kootka, Mrs. Lenker.
Daniel Y. Lenker's military service is referenced on three index cards at the Pennsylvania Archives, shown below: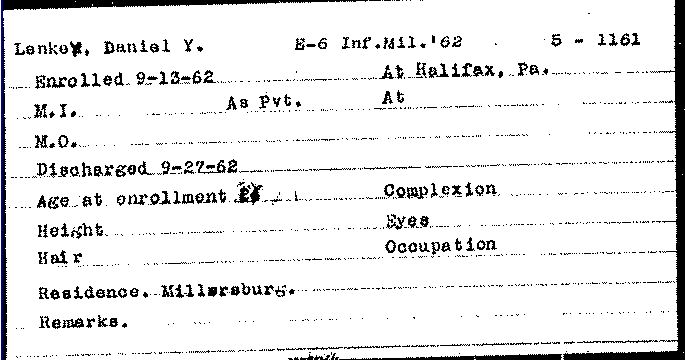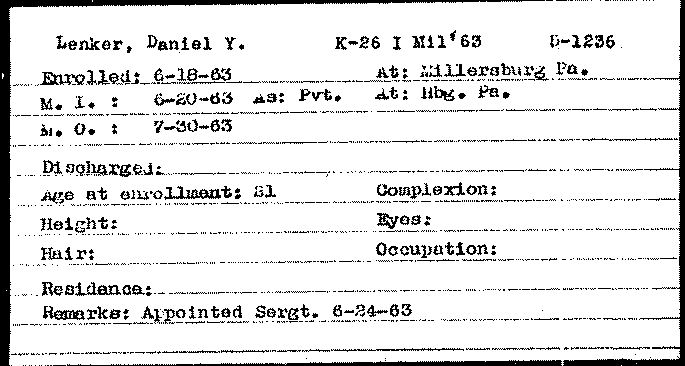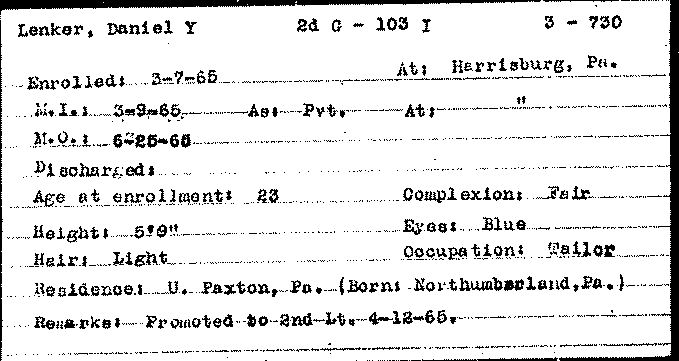 Compiling the information from the cards, it is noted that Daniel was five foot nine inches tall, had blue eyes, fair complexion and light colored hair.  He held various ranks ending with the rank of 2nd Lieutenant in the 103rd Pennsylvania Infantry.
For his service at Gettysburg, Daniel Lenker, who was then a Sergeant, is named on the Pennsylvania Memorial:
As a member of the Kilpatrick Post, G.A.R. in Millersburg, his name is also recorded on the Soldier Monument there:

Daniel Y. Lenker's combined service totaled more than three months and therefore he was eligible for a pension, which he applied for and received: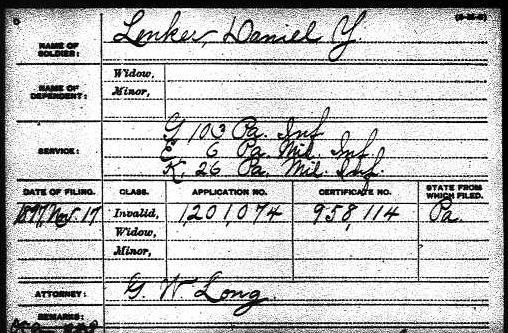 Daniel Y. Lenker died on 15 May 1900 and is buried in Oak Hill Cemetery, Millersburg.
Pension Index Cards are from Ancestry.com and reference pension files in the National Archives in Washington, D.C.  Veterans' Index Cards reference military records at the Pennsylvania Archives and specific pages in Bates.