Posted By Norman Gasbarro on August 10, 2012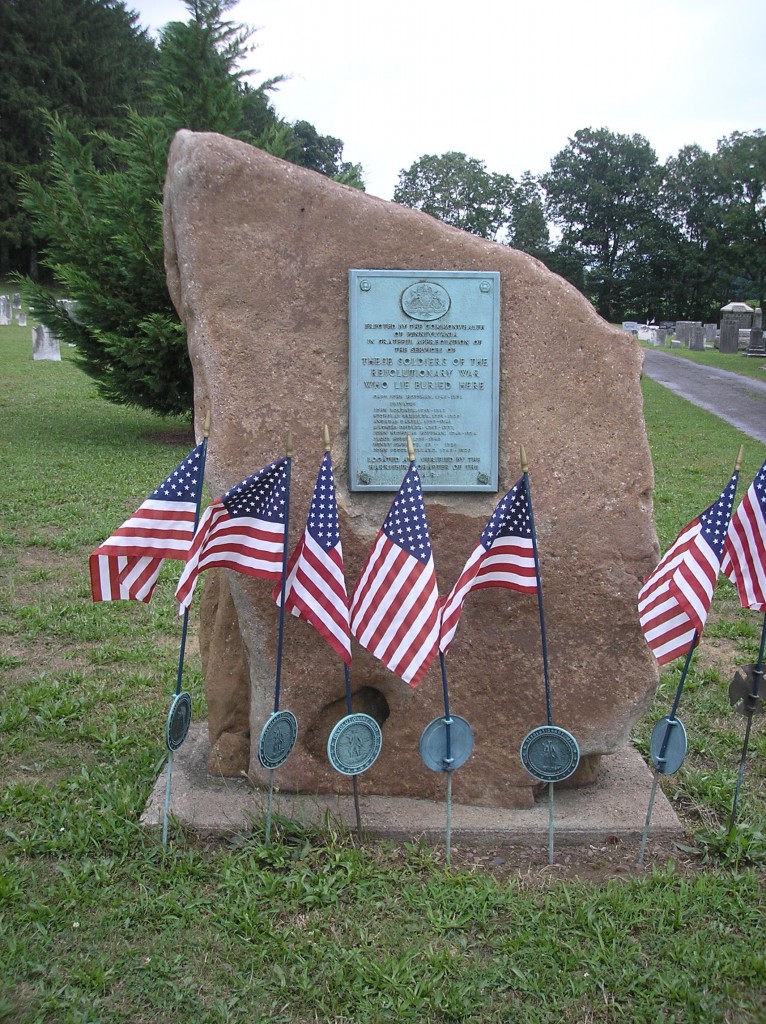 As mentioned in the post yesterday, a monument in the Hoffman Church Cemetery recognizes veterans of the Revolutionary War who are known to be buried in the cemetery or who are believed to be buried somewhere in the cemetery.
The monument is located in one of the oldest cemeteries in the Lykens Valley area can be found on the Crossroads near Route 25 in Lykens Township, Dauphin County, Pennsylvania.
The monument was erected by the Commonwealth of Pennsylvania at the urging of the Harrisburg Chapter of the Daughters of the American Revolution.  The plaque reads:
Erected by the Commonwealth of Pennsylvania in Grateful Appreciation of These Soldiers of the Revolutionary War Who Lie Buried Here

Capt. John Hoffman, 1746-1831

Privates

John Bordner, 1758-1812

Nicholas Bressler, 1751-1825

Andreas Daniel, 1757-1841

Mathias Deibler, 1763-1837

John Nicholas Hoffman, 1749-1814

Jacob Huber, 1756-1849

Henry Umholtz, 17-? -1829

John Peter Williard, 1745-1822

Located and Verified by the Harrisburg Chapter of the D.A.R.
If the names of the Revolutionary War soldiers sound familiar to readers of this blog, it is because they represent some of the pioneer settlers of the Lykens Valley area whose many descendants were veterans of the Civil War.
Since the monument was placed early in the 20th century, at least one family has been successful in having a Revolutionary War memorial added to this cemetery.  The name of Henry Hartman, who was omitted from the monument, was memorialized with a bronze, in-ground plaque in the cemetery at the place where the family believes he is buried.
Another family of a Revolutionary War veteran, the descendants of Johann Jacob Laudenslager (1756-1824), believes that his final resting place is also in this cemetery.  In the 1980s, an in-ground plaque was placed in the Gratz Union Cemetery at what the family (and the Veterans' Administration) though was his grave.  Research has shown that the Gratz Cemetery was not established until the 1830s, and although Johann Jacob's wife Sophia is buried at Gratz, he would have been buried elsewhere.  Also, the family has discovered that the dates on Sophia's stone were erroneously thought to be his dates and were placed on the military plaque.  Logic, as well as other facts found through research, is now pointing toward Johann Jacob Laudenslager being buried in Hoffman's Cemetery.
While the Revolutionary War Monument in the Hoffman Church Cemetery wasn't erected until well after the Civil War, the veterans of the Civil War were keenly aware of the service of their grandfathers and great-grandfathers.  Many published biographies of these Civil War veterans in county histories that were produced at the end of the nineteenth century point out the genealogical connections to these Revolutionary War patriots.
In the posts for next Wednesday and Thursday, the Civil War burials in the Hoffman Church Cemetery will be featured.