Posted By Norman Gasbarro on August 3, 2012
During the Civil War, Luther R. Keefer served as Deputy U.S. Marshal for the 14th Sub-District of Pennsylvania, which included Harrisburg and Gratz in Dauphin County.  He was also a veteran of the Civil War having served in the militia that was called into state service for the Emergency of 1863.

KEEFER, 28 July 1908, at Reading, Pennsylvania.  LUTHER R. KEEFER, aged 74 years, 4 months and 28 days. Relatives and friends of the family are respectfully invited to attend the funeral services, at his late residence.   Cressona, Pennsylvania, on Friday afternoon, at 2:30 o'clock.  Interment at Cressona Cemetery.
A biographical sketch of Luther R. Keefer appeared in Biographical and Portrait Cyclopedia of Schuylkill County, by Samuel T. Wiley, and published in Philadelphia by Rush, West and Company, in 1893:
Senator Luther R. Keefer, State Senator from the Twenty-ninth district serving his fifth consecutive term in that capacity, was born 5 March 1834, in Harrisburg, Pennsylvania, and is a son of Andrew Keefer and Catherine [Brua] Keefer….

Senator Keefer attended the public schools of his native city, and after removing to Schuylkill Haven [Schuylkill County] was admitted to the higher classes in the public schools of that place.  He also pursued an academic course in a private school of his town, and then taught in the public schools for a time.  He was then apprenticed to learn the trade of founder in the Colebrookdale Iron Works in Berks County, of which W. W. Weaver was proprietor.

After serving a full apprenticeship of four years, he returned in 1853 to his home, and in partnership with his brother, John B. Keefer, established a foundry and machine shop at what was then known as West haven, now Cressona, Schuylkill County.  This business was successfully carried on until 1875, when Mr. Keefer withdrew from active business.

From his earliest manhood, Mr. Keefer has been held in the highest esteem by his neighbors, being an enterprising and progressive citizen.  He has been frequently called upon by the people of the community in which he lives to serve them in various capacities, and has been in turn elected a member of council, burgess and school director.

Upon the breaking out of the Civil War his business affairs were in a such a shape as to require his personal attention.  He so arranged matters, however, that he was able to give to his country his services, and for two years was the enrolling officer of his district.

In 1863, when Pennsylvania had been invade by the rebel hosts, he joined Company A, 27th Regiment P. V. I. Emergency Service (27th Pennsylvania Infantry).

He afterwards was appointed Deputy U.S. Marshal for the Fourteenth Sub-District of Pennsylvania.

Mr. Keefer is not an orator in the common acceptance of the term, though he is one of the most industrious and successful of legislators.  He served on the Senate Committee on railroads, as chairman for twelve years.  At the present time [1893] he is serving on the following committees:  Finance, Appropriations and Gratuities, Corporations, Apportionments, Mines and Mining, and Elections.

In 1880 he served on the special committee to examine into the alleged misappropriation of money by the State Treasure, and in 1888 was one of the special committee to draft a general revenue bill.

During the session of 1889 he was a member of the special election committee to determine the election contest in the Third Senatorial District of Philadelphia; case, Osborne vs. Devlin.

He is a member of the Board of Trustees of the Pennsylvania College at Gettysburg, and the Board of Trustees of the Keystone State Normal School, at Kutztown, Pennsylvania, and it takes a great interest in the subject of education.

Hon. Luther R. Keefer takes a prominent part in secret and fraternal matters, and is an honored member of a number of the most prominent ones.  He has been a Mason since 1856, serving as Master of Page Lodge, No. 270, as early as 1863, and of Cressona Lodge, No. 426, in 1872.  He belongs to Tamaqua Chapter, No. 127, R. A. M., and Ivanhoe Commandery, No. 31, K. T., also belongs to Denzer post, No. 29. G.A.R., at Cressona, and has filled all the executive offices oin the post; for many years he has been a member of Washington Camp, No. 129, P.O.S. of A.

On 27 November 1855, Mr. Keefer and Anna Osler, daughter of Jehu Osler, of Pottsville, Pennsylvania, were united in marriage.  To them have been born six children:  Ida S. Keefer, the wife of Dr. H. F. Palm, of Camden, New Jersey; Brua C. Keefer, who after graduating from the Pottsville High School, read law with the Hon. Lin. Bartholomew, finishing under the preceptorship of D. C. Henning, and was admitted to the Schuylkill County Bar.  He is now located in Williamsport, Pennsylvania.  Alice Keefer, at home; William B. Keefer, attending the Pennsylvania College at Gettysburg; and two that died in infancy.

He is very popular among his constituents as his long-continued service as senator from his district fully attests.  Personally he is very congenial and affable.
Sen. Keefer's military service is recorded on a Pennsylvania Veterans' Index Card at the Pennsylvania Archives: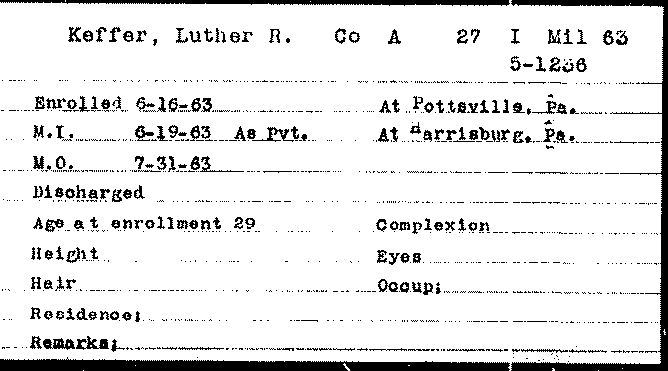 Other than his age, no physical description of him is given in the records.  Luther R. Keefer only served for about 6 weeks and therefore was never eligible for an invalid pension.
In 1902, after he was retired from the Pennsylvania Senate, he tried to revive his own political career by promoting the gubernatorial candidacy of his uncle, ex-Senator J. Donald Cameron as the article from the Philadelphia Inquirer attests: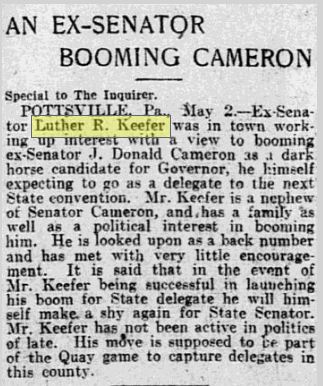 An EX-SENATOR BOOMING CAMERON

Special to the Inquirer

POTTSVILLE, Pennsylvania, 2 May 1902 — Ex-Senator Luther R. Keefer was in town working up interest with a view to booming ex-Senator J. Donald Cameron as a dark horse candidate for Governor, he himself expecting to go as a delegate in the next State convention.  Mr. Keefer is a nephew of Senator Cameron, and, has a family as well as a political interest in booming him.  He is looked upon as a back number and has met with very little encouragement.  It is said that in the event of Mr. Keefer being successful in launching a boom for State delegate he will himself make a shy again for State Senator.  Mr. Keefer has not been active in politics of late.  His move is supposed to be part of the Quay game to capture delegates in this county.
Sen. Luther R. Keefer died on 28 July 1908 and is buried in Cressona Cemetery, Cressona, Schuylkill County.  The Pennsylvania Veterans' Burial Card from the Pennsylvania Archives notes this fact: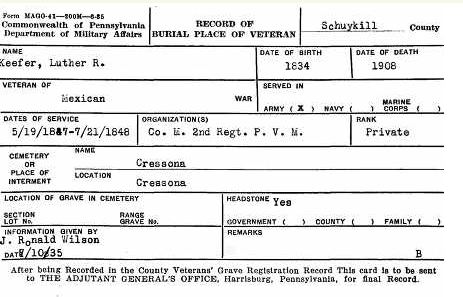 Additional information is sought on the life and career of Luther R. Keefer, including for the time he served as Deputy Marshal for the 14th Sub-District of Pennsylvania.  Comments can be added to this post or to send an e-mail, click here.
The portrait of Luther R. Keefer has been photo-enhanced from the one published in the Wiley book mentioned in this post.  News articles are from the on-line resources of the Free Library of Philadelphia.  Pennsylvania Veterans' Burial Cards are available from Ancestry.com.  A copy of the Wiley book is available as a free download from the Internet Archive.  Click here.