Posted By Norman Gasbarro on August 28, 2012
Isaac Lyter (1844-1912) was previously featured here as part of a series of posts on the Halifax Bank robbery.  The following biographical sketch is from the Biographical Encyclopedia of Dauphin County, published in 1896 by J. M. Runk and Company of Chambersburg.  While it sheds little light on his military service, additional interesting information is presented about his family and his life.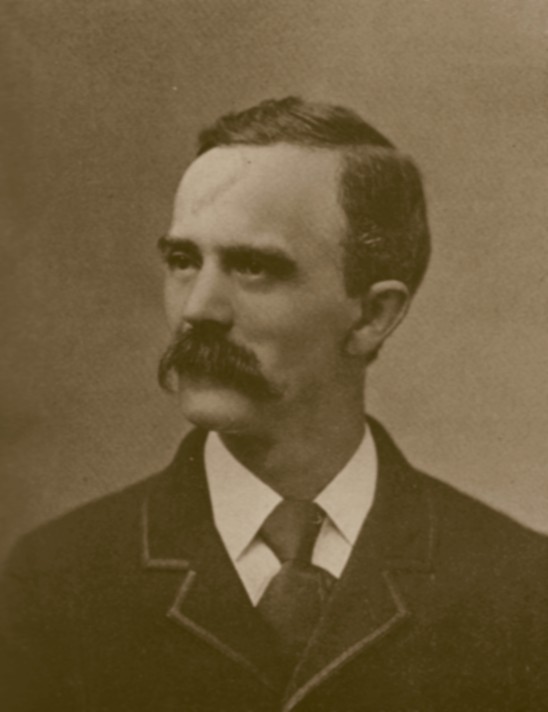 Isaac Lyter, bank teller and county commissioner, was born in the Borough of Halifax, Dauphin County, Pennsylvania, 11 November 1844.  He is a son of Christian Lyter and Catherine [Bowman] Lyter.  His great-grandfather, Christian Lyter, is supposed to have been born in Germany.  When a child he came with his parents to America.  They settled in Lancaster County, Pennsylvania, and removed thence to Lower Paxton Township, Dauphin County, Pennsylvania.  Christian Lyter lived to the age of one hundred and our years and passed away suddenly, one morning, while sitting at the breakfast table.  Peter Lyter, grandfather of Isaac, was born in Lower Paxton Township, and was a farmer. He married a Miss Shirk.  Their children were:  Joseph Lyter; Christian Lyter; Henry Lyter; Abram Lyter; Daniel Lyter; John Lyter; Moses Lyter; Louisa Lyter, married a Mr. Utz; and Betsy Lyter, married a Henry Bowman.  Mr. Lyter died in Halifax, in February, 1870.

Christian Lyter, father of Isaac Lyter, was born in Lower Paxton Township, Dauphin County, where he was educated and grew to manhood.  He came with his father to Halifax in 1831 and learned the trade of blacksmith, which he followed in addition to the business of auctioneering.  He traveled much over this part of the state as an auctioneer, and was one of the most skillful and successful men in the business.  His death, which occurred 9 July 1874, was much lamented.  He had been justice of the peace for twenty years and had filled other local offices.  His children are:  Ellen V. Lyter, wife of A. J. Shammon, Halifax; Elspy Lyter, wife of G. W. Botomstone, Wyoming, Iowa; Isaac Lyter; Sarah Lyter, deceased, wife of H. C. Brubaker; William H. Lyter, grocer, Harrisburg, Pennsylvania; John F. Lyter, clerk, Harrisburg; and Lawrence W. Lyter, conductor on the Northern Central Railway, resides in Halifax.  Mrs. Lyter, mother of Isaac, died 10 January 1896, aged seventy-seven.  She had long been a great sufferer from a complication of diseases.

Isaac Lyter attended the schools of his native place a part of each year until he was seventeen.  During his boyhood he assisted his father both on his farm and in his blacksmith shop.  In this way he gained considerable knowledge of the trade.  Isaac enlisted at Harrisburg, 14 September 1864, in Company I, 46th Regiment Pennsylvania Volunteers (46th Pennsylvania Infantry), and served until the close of the war, and was with Sherman on his march to the sea.  He was discharged in Harrisburg, Pennsylvania, 8 June 1865, and at once returned home.

In the spring of 1866, Mr. Lyter entered into partnership with his father in the blacksmith business, and continued with him two years.  He then bought and conducted the business alone until 1888; he then sold it to assume the position of teller in the bank at Halifax, which he was efficiently filled since that date.  He is also a stockholder.

Mr. Lyter was married, 6 January 1870, to Mary Brubaker, daughter of Joseph Brubaker and Esther Brubaker.  They have four children:  Harry W. Lyter, born 4 December 1871; Pearl E. Lyter, 20 June 1874; May Lyter, 29 January 1877; and Catherine Lyter, 19 October 1881.  Mr Lyter has been honored by his fellow citizens with about all the offices in their gift, from the lower places of trust up to the office of burgess.  He was first elected county commissioner in 1889 and is now serving his second term in that responsible position.
Th portrait of Isaac Lyter is adapted from one that appeared on page 719 of the Biographical Encyclopedia.