Posted By Norman Gasbarro on August 18, 2012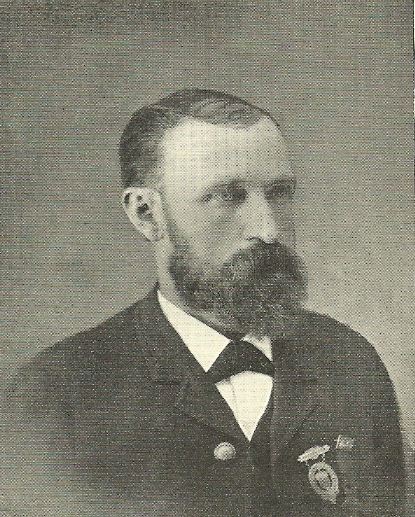 Henry Cordes (also found as Harry Cordis) was the subject of a lengthy biographical sketch in the Biographical Encyclopedia of Dauphin County, published in 1894.  His military exploits during the Civil War were presented in great detail, including the loss of his arm as the result of a gunshot wound that occurred near Jonesboro, Georgia, in 1864.
Henry was born in Bremen, Hanover, Germany, on 29 July 1838, and came to America with his sister Anna Cordes in 1852, arriving at New York, and then traveling to Harrisburg where he accepted a baking apprenticeship with his uncle, Henry Luebken.  Not finding this occupation to his satisfaction, he moved to Philadelphia and was for a time in the employ of Herman Haupt, chief engineer of the Pennsylvania Railroad.  When Henry's parents arrived in Philadelphia from Germany, he followed them to Harrisburg, but a short time later decided to travel to Florida where he was employed by the Florida Lumber Company.  But the Florida climate was not suitable for his health and after a while, he returned to a Harrisburg area once again, but this time assisting the brother-in-law of his uncle in a butchering business in York County.  Restless and not able to settle on any particular trade or occupation, the opening shots of the Civil War presented an opportunity to once again try something different.
The story of his military service is now told through the biographical piece that appeared in 1894:
[On] 18 April 1861… he enlisted at Camp Curtin, Harrisburg, in Company B, 2nd Pennsylvania Volunteers [2nd Pennsylvania Infantry], Capt. John Deebler and Col. Frederick Staumback.  His regiment moved from Harrisburg to the vicinity of Baltimore, and after a short stay there was sent to York, Pennsylvnaia, thence through Maryland and into Virginia, and thence through Baltimore to Harrisburg, where he was discharged at the end of three months' service.
Not satisfied with his very short military service, Henry re-enlisted, this time in the U.S. Infantry, Regular Army:
Mr. Cordes… re-enlisted [9 August 1861] in the 18th United States Infantry in which he served until 25 January 1865.

This regiment was ordered to Columbus, Ohio, in November, 1861, was transported to the Army of the Cumberland, at Louisville, Kentucky, and participated in the campaign through Kentucky, ending in the defeat Gen. Zollicoffer's army at Mill Springs, after which it retired to Louisville.  The movement of the regiment was then from Louisville to East Point, Kentucky, thence by boats down the Ohio River to the Cumberland, up to Fort Donelson, thence to Nashville, Tennessee, thence to Shiloh, thence to Corinth, Mississippi, thence to Rienzi, Blackland, Boonesville, to near Holly Springs, Mississippi, thence back to Corinth, thence to Inka, thence to East Port Landing, crossing the Tennessee River to Alabama, whence they returned to Louisville, Kentucky, via Athens, Tuscumbia, Decatur, and Salem, Alabama; Deckard, Murfreesboro, and Nashville, Tennessee; Bowling Green, Mumfordsville, and East Point, Kentucky, and reaching Louisville, 1 October 1862.

After resting four days they started on the Perrysville Campaign, via Shepherdsville, Bardstown, and Springfield to Perrysville or Chaplain Hills, thence to Crab Orchard, Frankfort, Greenville, Mumfordsville, Bowling Green, Kentucky; Gallatin, Bellows Ford, Pilot Knob, Edgefield and Nashville, Tennessee.  They then moved on Christmas Day 1862 to Murfreesboro (Stone River) where they lost nearly half the regiment.  From Murfreesboro they moved to Tulahoma, Tennessee; thence to Cowen, across the Cumberland Mountains into the Crow Creek Valley; thence to Stephenson, Alabama; thence to Bridgeport, Alabama, where they crossed the Tennessee River and Raccoon Mountains into the Trenton Valley, Georgia; thence across Lookout Mountain into the Chickamauga Valley, Georgia; thence to Chattanooga, Tennessee, where in September, 1863, they were in a number of engagements and remained in that vicinity until 14 May 1864.

They then began the Atlanta Campaign, moving first to Ringgold, Georgia; thence to Tunnel Hill, thence to Buzzard's Boost, thence to Snake Creek Gap to Reseca; thence to Kingston, Cassville, Burnt Hickory, New Hope Church, Pumpkin Vine Creek, Big Shanty, Kenesaw, Smyrna, Chattahoochie River, Peachtree Crek, Atlanta, Eutaw Creek, to Jonesboro, Georgia, where Mr. Cordes received a serious gunshot wound in his left arm necessitating amputation on the battlefield, after which he was taken a distance of twenty miles to the hospital at Atlanta, suffering intensely on the way.  He remained in the hospital until 23 October 1864, when he was sent with others in freight cars to Chattanooga, Tennessee, and was finally discharged at Columbus, Ohio, 25 January 1865, on account of disability resulting from wounds received in battle.
After his discharge, Henry Cordes used some of the service-related connections he had made to secure admission in Crittenden's Commercial College in Philadelphia where he studied bookkeeping and telegraphy and on completion of his coursework was employed by the Northern Central Railroad, first at its offices in Harrisburg, and later at Marysfield in Perry County.  In September 1868, he was assigned to Millersburg, and remained there as station dispatcher for the remainder of his working years.  The station at Millersburg was at the junction of the lines of the Lykens Valley Railroad (also called the Summit Branch Railroad) and was one of the busiest points on the rail line.
See:  Lykens Valley Railroad at Millersburg.
Henry Cordes died in 1914 and is buried on Oak Hill Cemetery, Millersburg.
Previous posts on Henry Cordes can be found by clicking here or here.  The photo of Henry Cordes is enhanced from one that appeared in the Biographical Encyclopedia of Dauphin County.