Posted By Norman Gasbarro on August 29, 2012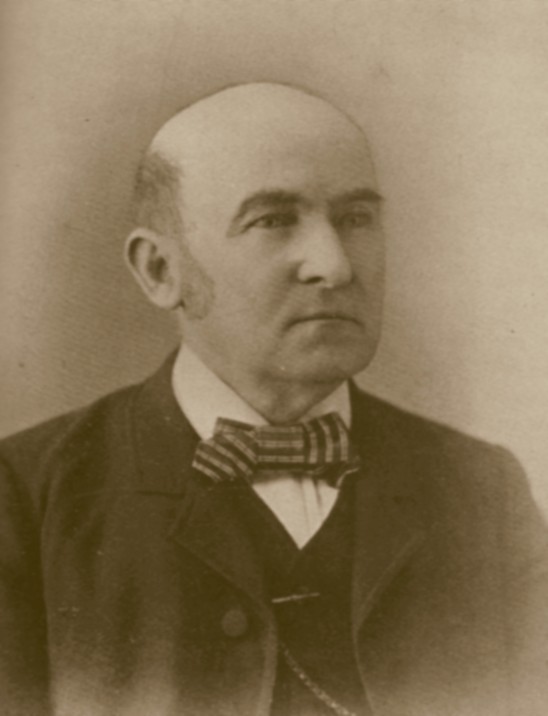 The following sketch of the life of Frederick R. Gilbert is from the Biographical Encyclopedia of Dauphin County, published in 1896 by J. L. Runk and Company of Chambersburg:
Frederick R. Gilbert, merchant tailor, was born at Loyalton, Dauphin County, Pennsylvania, 16 November 1825, the son of John Gilbert, and Elizabeth [Rathron] Gilbert.  His great-grandfather, Samuel Gilbert, was born in Germany, 10 August 1743, and died in Upper Paxton Township, Dauphin County, 8 April 1826.  He came to America with two brothers in 1752.  He married Catherine Saul, born 11 December 1757, died 11 June 1806.  She was a daughter of Nicholas Saul, who resided near Jonestown, Lebanon County, and later removed to Lykens Valley, where he died in 1814.  Mr. and Mrs. Samuel Gilbert had three children.  Jacob Gilbert, grandfather of Fred R. Gilbert, was born 2 April 1783. He was prominent both in business and politics, and was a member of the State Legislature during the early history of the State.  He first married Elizabeth Long [and] they had six children: Samuel Gilbert; John Gilbert; Jacob Gilbert; Sarah Gilbert; Catherine Gilbert; and George Gilbert.  Mrs. Elizabeth Gilbert died, and Mr. Gilbert was united to second marriage to Elizabeth Mark.  John Gilbert, father of Frederick R. Gilbert, married Elizabeth Rathron [and] they had four children:  Frederick R. Gilbert; Elmira Gilbert, widow of Michael Ward; Henry L. Gilbert; and Jeremiah S. Gilbert.  Mr. and Mrs. John Gilbert are both deceased.

Frederick R. Gilbert was brought by his parents to Upper Paxton Township in his early childhood, and there attended the public schools until he was sixteen, at which time he began to learn tailoring with Jacob Ziegler, at Millersburg, Pennsylvania.  After an apprenticeship fo four years, he was employed for one season by Judge Walker, at Sunbury, Pennsylvania.  In 1846, he went to St. Joseph, Missouri, where he worked at his trade as a journeyman until the spring of 1847.  He then returned to Millersburg, Pennsylvania, and began the tailoring business on his own account.  He was very successful and later added a general dry goods business.  In 1884 he erected the large and convenient building on market Street, which now accommodates his extensive trade, and where he carries a full stock of clothing and dry goods, and enjoys his full share of the patronage of the surrounding territory.

Mr.Gilbert has been prominent in numerous important enterprises in Dauphin and other counties.  He was one of the original movers in the establishment of the Millersburg Bank, having drafted the constitution and by-laws of that institution; his draft was adopted by the board of directors with the change of but one word; he afterwards served for some years as director of the bank.  He was one of the organizers of the Mifflin and Patterson Water Works at Mifflin, Pennsylvania, and at Steelton, Pennsylvania, a stockholder in both, and elected president of both corporations, in which position he served several years.  From 1868 to 1884 Mr. Gilbert and his family resided on his Mt. Pleasant farm; since then their home has been in Millersburg.  Mr. Gilbert has experienced the ordinary vicissitudes of a business life, and he has steadily preserved, meeting adversity bravely, and enjoying prosperity without undue elation.  The outcome of his enterprise and prudence is an ample competence for himself and the family.

Mr. Gilbert was married, 1 January 1846, to Sarah Ann Ditty, daughter of David Ditty and Annie [Osmond] Ditty, born 14 January 1827.  Three of their seven children are deceased…

Mrs. Gilbert died 5 January 1881.  she was affectionate and faithful as wife and mother, active and devout in her religious life, and beloved by all who knew her.  Mr. Gilbert's second marriage, 4 October 1890, was to Miss Clara A. Wagner, who was born in West Beavertown, Snyder County, 17 June 1856.  She was a daughter of Abraham Wagner and Sabine Wagner, the former of Snyder County, the latter of Mifflin County, Pennsylvania, and both now deceased.
At the time of the 1890 Census, living on Market Street in Millersburg, Frederick R. Gilbert reported that he was a Civil War veteran, but for some unknown reason, did not indicate a specific regiment, company or length of service.
In checking the card file at the Pennsylvania Archives, the following card was located: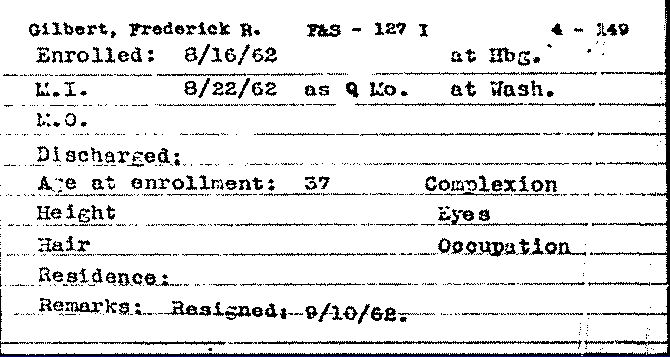 The enrollment of Frederick R. Gilbert as Quartermaster of the 127th Pennsylvania Infantry, took place at Harrisburg with muster in at Washington, D.C. on 22 August 1862.  For an unexplained reason, Frederick resigned on 10 September 1862.  Why he never mentioned his service except to the 1890 Census is unknown.  Millersburg had a very active G.A.R. post in the latter part of the 19th century and early 20th century and Frederick is not mentioned on the Millersburg Civil War Monument.  No record has been located to indicate that he applied for a pension..
More information is sought on this brief service in the 127th Pennsylvania Infantry.  Note:  There is also the possibility that the Frederick Gilbert who enrolled in the 68th Pennsylvania Infantry, Company C, at Philadelphia in July 1862 and then deserted is the same person as the Frederick R. Gilbert who was in the 127th Pennsylvania Infantry. There is an overlap of several days, but not enough to insure that they are two different people.
The portrait of Frederick R. Gilbert is from the Biographical Encyclopedia of Dauphin County, page 755.