Posted By Norman Gasbarro on August 16, 2012

The St. Peter (Hoffman) Cemetery is located along the Crossroads between Loyalton (on Route 209) and Route 25.  It is one of the oldest cemeteries in the Lykens Valley area.  Today's post concludes a look at some of the Civil War veterans who are buried there,
——————————-
JONAS W. HOFFMAN (1838-1887) also known as JONAS HOFFMAN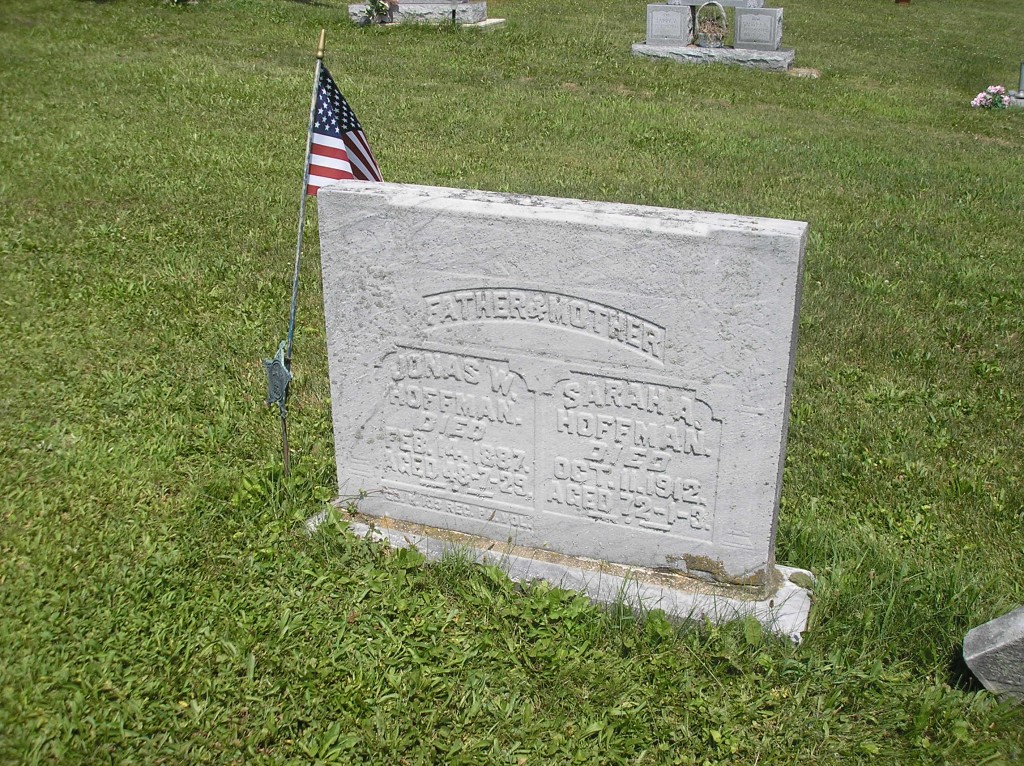 Jonas W. Hoffman was a direct descendant of Johann Peter Hoffman (1709-1798), pioneer settler of the Lykens Valley.  His wife was Sarah Ann Rickert (1840-1912), one of the daughters of Martin Rickert and Betsy [Yerges] Rickert, and his brother-in-law was Harrison Riegle (1840-1899) who married Sarah Ann's sister, Hannah Rickert.  Jonas' mother-in-law, Betsy Rickert, was previously featured in a post entitled Midwives and the Civil War.
Jonas W. Hoffman was the son of John Peter Hoffman (1809-1867) and Elizabeth [Umholtz] Hoffman (1806-1886).  Through his mother, he was a descendant of lines that include Jury, Seidenstricker and Wiliard.
Jonas served in the 103rd Pennsylvania Infantry, 2nd Company G, as a Private, from March to June 1865 along with many others from the Lykens Valley.  He was discharged at New Bern, North Carolina.
Prior to the Civil War, Jonas and Sarah Ann had begun their family and between the years 1859 to 1883, they had eighteen children, but not many survived into adulthood.  Many of the children who died young are buried in the Hoffman Cemetery.  Jonas was a coal miner.  He died of consumption on 14 February 1887.
—————————-
JOSEPH RUSSELL (1836-1901)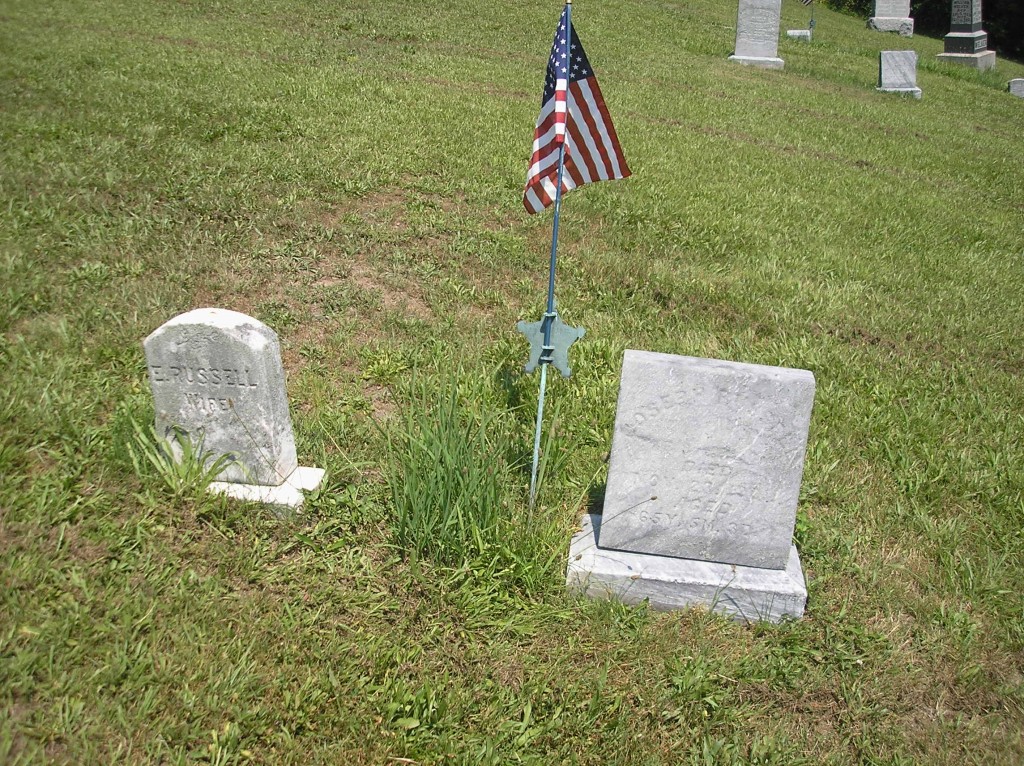 Joseph Russell, son of David Russell and Catharine Russell, of Washington Township, Dauphin County, was a laborer who served in the 9th Pennsylvania Cavalry, Company B, as a Private.  He was captured and held as a prisoner of war at Andersonville, Georgia, and Libby in Richmond.  During the Civil War he married Elizabeth Batdorf and they began their family.  In 1890, Joseph was living in Loyalton, Washington Township, when he reported to the Veterans' census that he had been a prisoner at Libby and that he was suffering from weakness of the spine and rheumatism.  There is a possibility that the Joseph Russell who is listed on the Lykens G.A.R. Monument is the same person since Loyalton did not have a G.A.R. post and the closest community where he could join was at Lykens.
—————————
JOHN BELLON (1819-1892)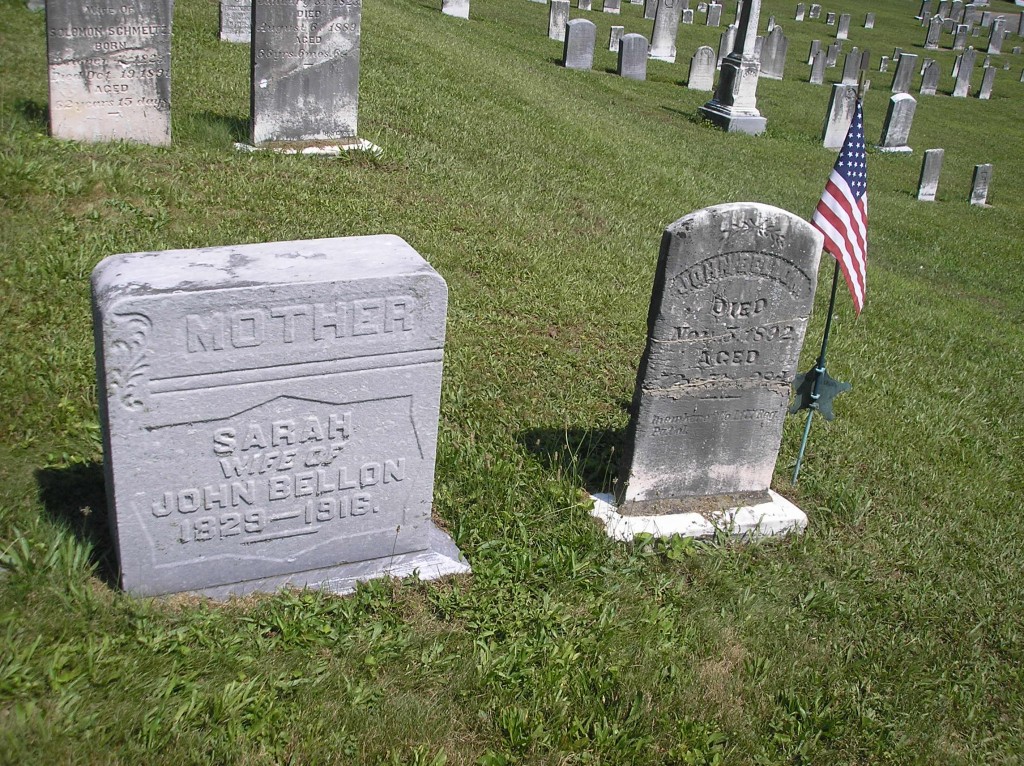 At some time in the late 1840s, Sarah J. Burd married John Bellon, an immigrant from Wurtemberg, Germany.  Sarah bore children from about 1850 through about 1876, with fifteen recorded births.  John was drafted into service in the 177th Pennsylvania Infantry, Company I and served as a Private under Captain Evitts and at the end of the war served in the 103rd Pennsylvania Infantry, 2nd Company G.  A prior post noted his record in more detail and featured a different view of his grave marker as well as a copy of his Pension Index Card.
——————————
DANIEL HARMAN (1842-1904)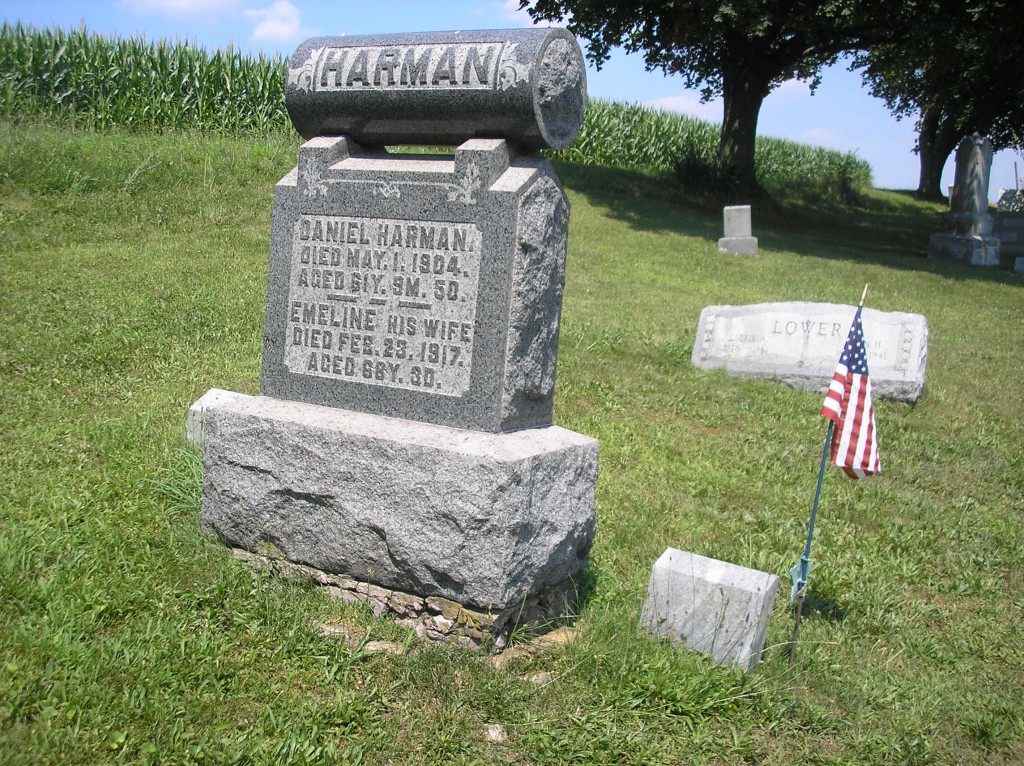 Daniel Harman was married to Emmaline Jane Matter (1849-1917).  He was a farmer and day laborer who lived in the area of Lykens Township mist of his life.  During the Civil War he answered the call to service during the Emergency of 1863, serving in the 36th Pennsylvania Infantry, Company C, along with many of his neighbors from Lykens Township and Gratz Borough.  For a prior post, see The Death of Daniel Harman.  Daniel was also mentioned in the post entitled The Gratztown Militia and the Home Guard.
——————————
WILLIAM WEAVER (1834-1910)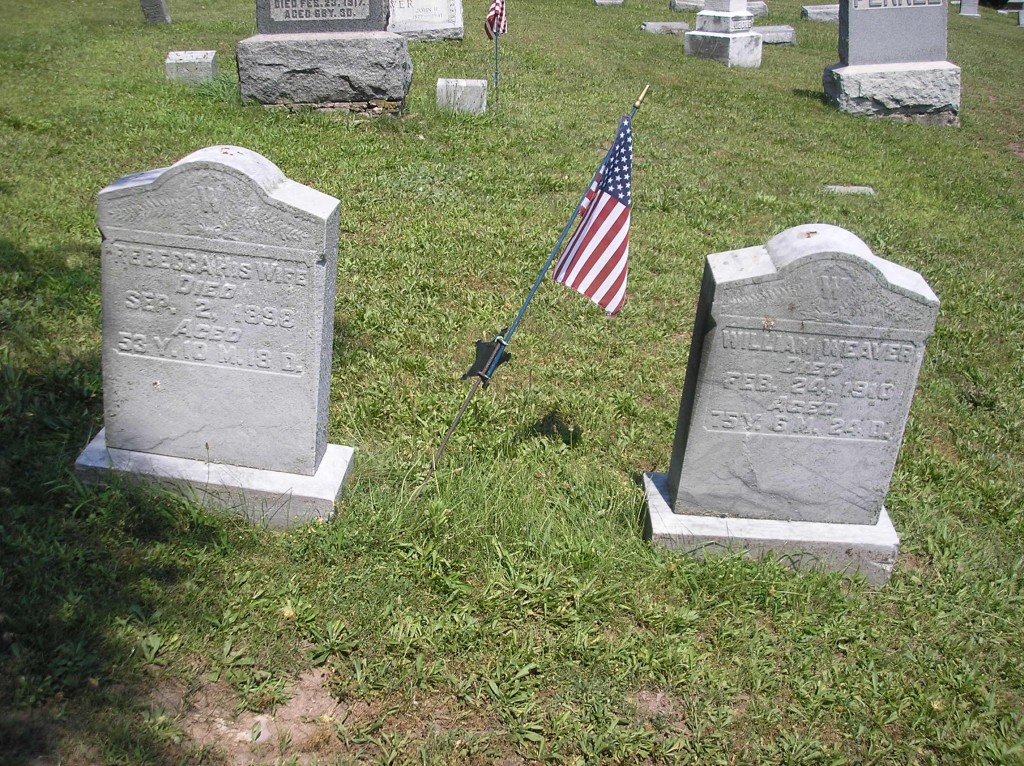 William Weaver was previously mentioned in the study of the 177th Pennsylvania Infantry, Company I, which served under Capt. Evitts and his Pension Index Card was shown at that time.  Additional information about him has been discovered in Hoffman Cemetery.  He was the son of John Weaver and Rebecca Weaver.  John was a farmer in Lykens Township, Dauphin County in 1860 and son William was living at home and working on the farm.  William has not yet been located in any other census except for the 1890 Veterans' Enumeration, where he was living in Curtin, Mifflin Township, Dauphin County, and reported no Civil War-related disabilities.  He is buried next to his wife Rebecca Weaver (1844-1898), maiden name unknown.
—————————–
This concludes the two-part series on Civil War Burials in the Hoffman Church Cemetery.  To see the first post, click here: