Posted By Norman Gasbarro on August 23, 2012
The Halifax United Methodist Church Cemetery is located at the corner of Rise Street and Wind Hill Drive in Halifax, Dauphin County, Pennsylvania.  The graves of twenty Civil War veterans are easily located in this cemetery.  A prior post described the cemetery and showed old maps with its location noted.  Today, Part 5 of a 5 part series is presented, each part focusing on four of the twenty veterans buried here.
——————————–
HIRAM BRUBAKER (1834- ?)
Hiram Brubaker has a "military issue" grave marker and a G.A.R. star at the base of the stone.  There was a Hiram Brubaker who was initially found in the Halifax Bicentennial Book where he was named as a Civil War veteran.  Preliminary research has indicated that Hiram sered in the 192nd Pennsylvania Infantry, Company H, as a Corporal, and that his wife's name was Margaret.  Anyone who can help further identify this veteran can either add a comment to this post or send an e-mail to the Civil War Research Project.
———————————
GEORGE W. ETTER (1838-1915)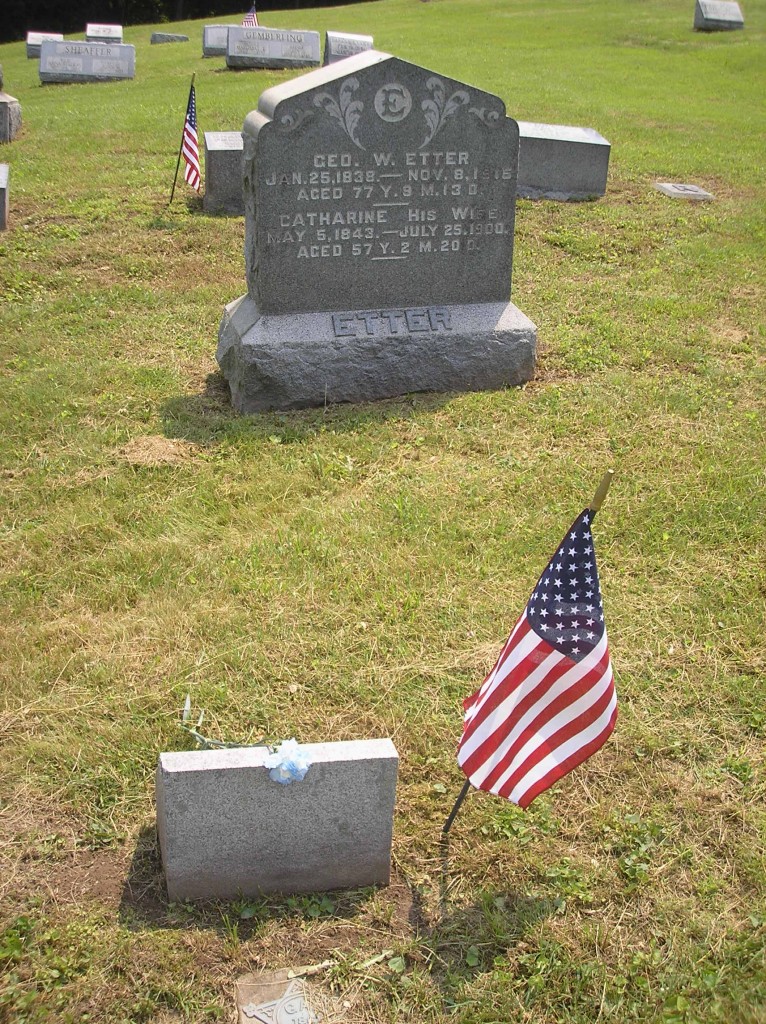 George W. Etter was the son of John Etter (1814-1876) and Susannah [Enders] Etter (1816-1911).  George's mother was a descendant of the pioneer Enders family in the Halifax–Jackson Township area of Dauphin County.  During the Civil War, George married Catharine Lebo, and at least one child, John W. Etter, was born of this marriage.
In 1863, when George registered for the draft, he was living in Mifflin Township, Dauphin County, and was working as a carpenter.  He was married at the time and noted no current or prior Civil War service.  It has not yet been determined which regiment or company he served in during the Civil War.  His grave is marked with a G.A.R. star, but no Pension Index Card has been found and he has not yet been located in the 1890 Veterans' Census.
In 1900, George Etter was living in Halifax Borough and was working as a bridge foreman.  He died in 1915 and was buried in the Halifax United Methodist Church Cemetery.
More information is sought on George Etter, his family, and his Civil War service.  The photo of George, taken late in his life, was cropped from a family photo in the collection of the Gratz Historical Society.
——————————-
CHARLES W. RYAN (1841-1901)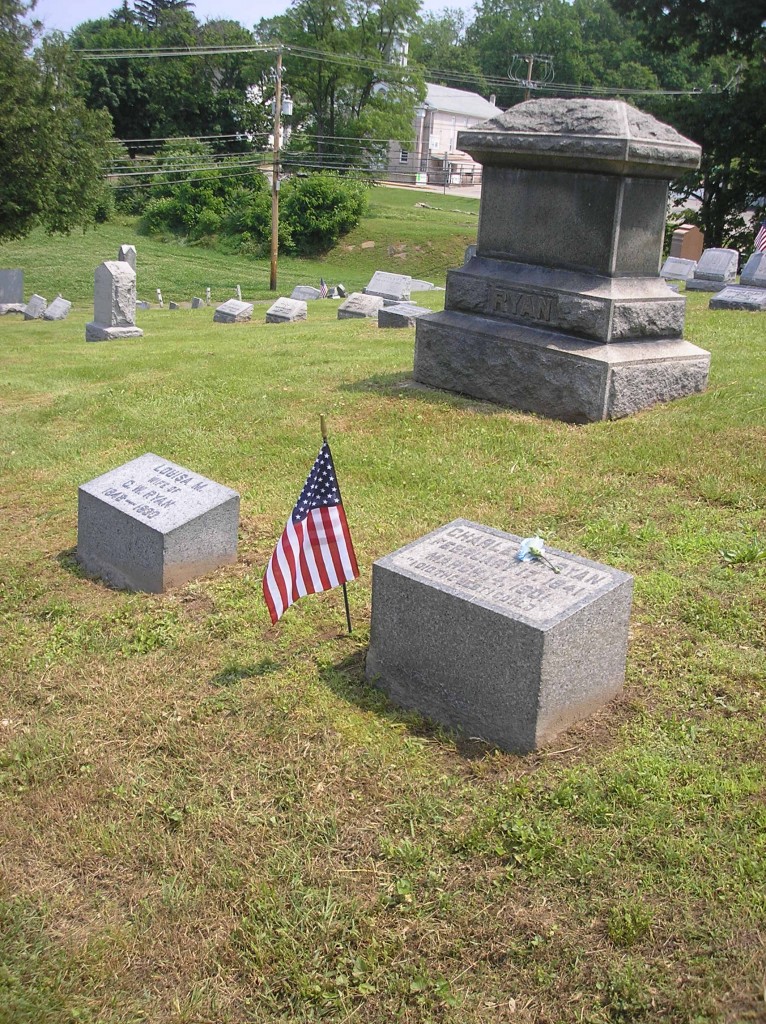 Charles W. Ryan was previously featured in a post entitled, Halifax Bank Robbery – Charles W. Ryan.  He was the victim in the robbery.  New information added here includes a wide view of his grave site and a wood-cut drawing of him as it appeared in the Philadelphia Inquirer at the time of his death.
Charles served in the 6th Pennsylvania Infantry, Company E, as a Private, from 15 September 1862 to the 28 September 1862 for the state emergency of that time.
—————————–
CORNELIUS A. HARPER (1822-1895) or C. A. HARPER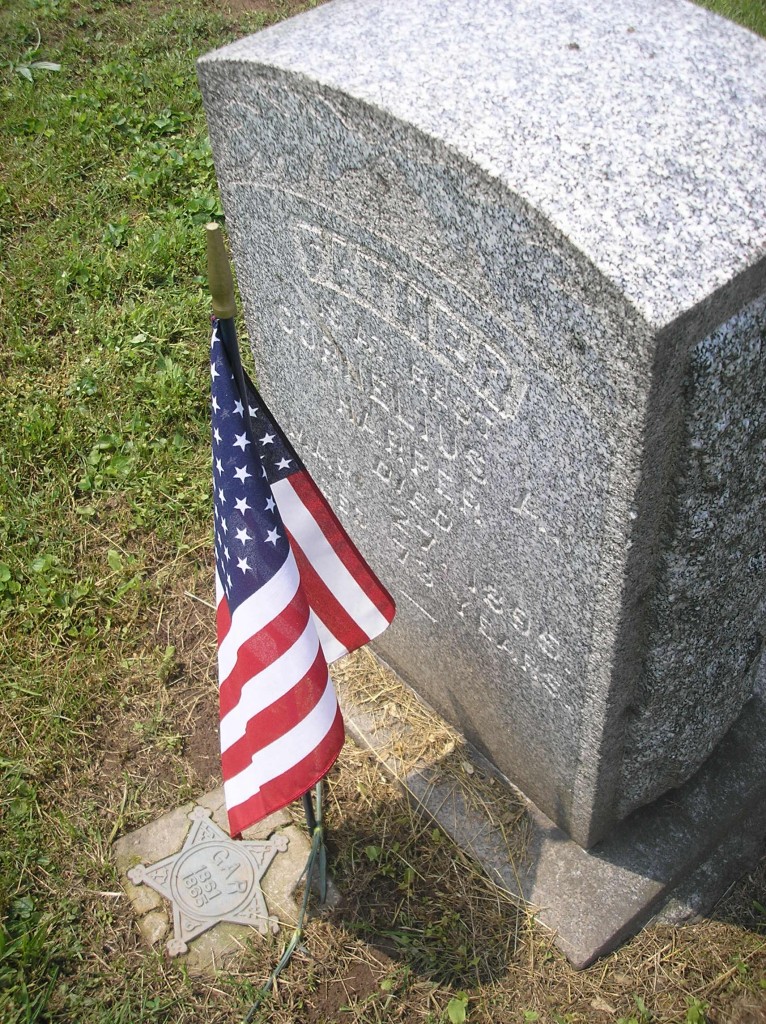 Capt. Cornelius A. Harper was the commanding officer of the 2nd Company G, 103rd Pennsyvlania Infantry, from 12 April 1865 through 25 June 1865, the company composed primarily of Lykens Valley men from the Gratz and Lykens Township area.  His prior service was as Captain of the 173rd Pennsylvania Infantry, Company K, a drafted regiment.  That service was from 15 November 1862 through 18 August 1863.  In early March 1865, Capt. Harper was selected as a recruiting officer in Harrisburg and at the time of his own enrollment in the 103rd Pennsylvania Infantry, he stated that his residence was Wiconisco, Dauphin County.  Pre-war records show that Capt. Harper was involved in business in Wiconisco as a merchant and as a clerk.
After Cornelius Harper was discharged from the service in 1865, he went to work for the railroad as a dispatcher and worked in Wiconisco Township, but for some unknown reason, gave that up to become a farmer in Halifax Township where he was found in the census of 180. In 1890, Cornelius gave his service record to the census taker, but did not indicate any war-related disabilities.  He died in 1895 and was buried in the Halifax United Methodist Church Cemetery.
Cornelius Harper married Sarah Ulrich some time prior to the birth of their oldest child, Samuel S. Harper (born about 1843 in Wiconisco).  Samuel enlisted in the 9th Pennsylvania Cavalry, Company B, rising in rank to Sergeant before his discharge on 18 July 1865.  After the Civil War, Samuel Harper moved to Montana where he met and married Augusta Frances Wilkins.  There, the couple operated a ranch as well as a farm.  By 1910, Samuel moved to California where he again took up ranching.
Surprisingly, no pictures of Capt. Harper have been found.  Considering that he was the captain of two companies composed almost exclusively of Lykens Valley men, and it was common practice for officers to have their pictures taken frequently and given to the men in their command, a picture may yet surface that has been hidden in a attic or album and unidentified these many years.  If any readers have unidentified pictures of men in captain uniforms, and know of their ancestors' service under Capt. Harpers' command, then it is possible the picture is of Cornelius A. Harper.
—————————
This concludes the series of five posts on the veterans buried in the Halifax United Methodist Church Cemetery. For all posts in this series, click here.