Posted By Norman Gasbarro on August 21, 2012
The Halifax United Methodist Church Cemetery is located at the corner of Rise Street and Wind Hill Drive in Halifax, Dauphin County, Pennsylvania.  The graves of twenty Civil War veterans are easily located in this cemetery.  A prior post described the cemetery and showed old maps with its location noted.  Today, Part 3 of a 5 part series is presented, each part focusing on four of the twenty veterans buried here.
—————————–
GEORGE W. SPIES (1840-1920) also known as GEORGE WASHINGTON SPIES
George W. Spies, the son of Henry Spies and Barbara Spies, lived in Halifax, Dauphin County, prior to the Civil War and learned the saddler trade from his father.  In 1862, with the state emergency at hand, George was activated in the 6th Pennsylvania Infantry, Company E, and served as a Corporal from 15 September 1862 through 28 September 1862.  After his discharge, he returned to Halifax and worked in the related trade of harness maker.  His short Civil War service did not qualify him for a pension.  He and his wife Rebecca continued to live in Halifax.  George died in 1920 and although his war service qualified him for a veteran marker at his grave, no marker was seen.  However, his name was included in the list of Civil War veterans that appeared in the commemorative book that was published for the Halifax Bicentennial. Additional research may produce more details about his life and service, including the possibility that a picture of him exists.
—————————–
JOHN F. KLINE (1825-1906)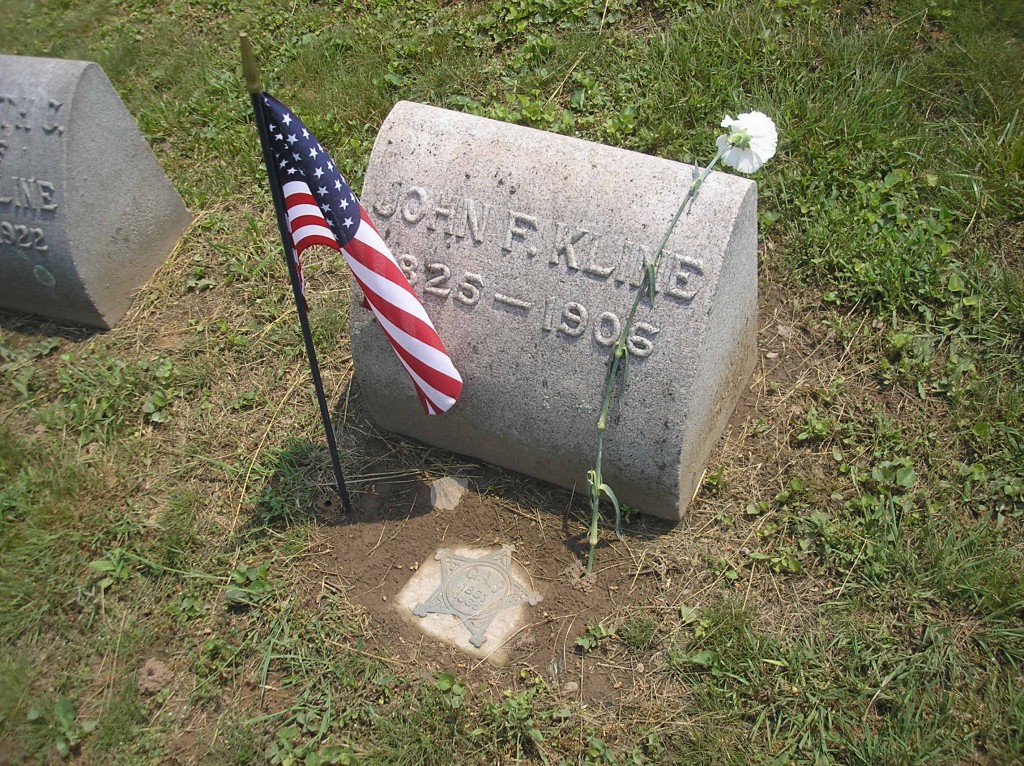 A G.A.R. star marks the grave of John F. Kline but his specific Civil War service has not yet been identified by the Civil War Research Project.  John Kline was a very common name for a Civil War soldier and can be also found with the spelling "Klein."  The known information about the John Klein who is buried here is the following:  (1) In about 1852, he married a woman named Elizabeth (maiden name not found); (2) He was residing in Dauphin Borough, Dauphin County, in 1880, and working as a railroad conductor; (3) He was residing in Sunbury in 1900, but no occupation was given in the census; (4) Known children were Emma K. Kline (born about 1856), Ida May Kline (born about 1857), Sarah A. Kline (born about 1861), Harry W. Kline (born about 1864), and Lizzie Kline (born about 1870).  No Pension Index Card has been located (there are hundreds of possibilities) and he has not yet been located in the 1890 Veterans' Census.  As a railroad employee, it appears that he lived in various places along the route of the Northern Central Railroad, but was buried in Halifax when he died in 1906.  More research is needed to properly credit this veteran with his Civil War service.  Perhaps one or more of his descendants has information to contribute.
——————————
WILLIAM LODGE (1830-1903)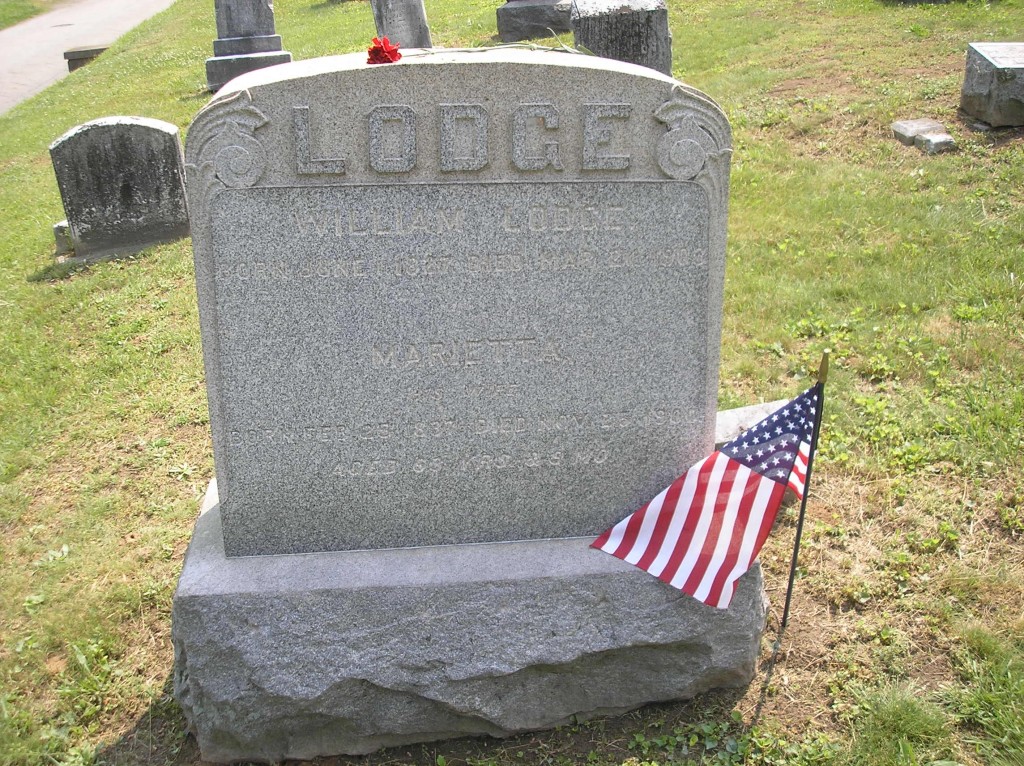 William Lodge was first identified as a Civil War veteran through the list that appeared in the Halifax Bicentennial Book.  In researching his life, it was discovered that prior to the Civil War, he married Marietta Hoffman (born about 1837), who was a direct descendant of Johann Peter Hoffman (1709-1797), pioneer settler of the Lykens Valley.  In 1862, William answered the state emergency by serving in the 6th Pennsylvania Infantry, Company E, as a 1st Sergeant, from 13 September 1862 through 27 September 1862.  A veteran named William Lodge was also found in the Emergency Force of 1863 serving as the 49th Pennsylvania Infantry, Company C, as a Private, in July through September 1863, but because no pension record or other record has been located showing both services, the conclusion cannot be made that for certain this is the same person.  Therefore, not much more is known about William at this time.
——————————
CORNELIUS D. WALDRON (1834- ?)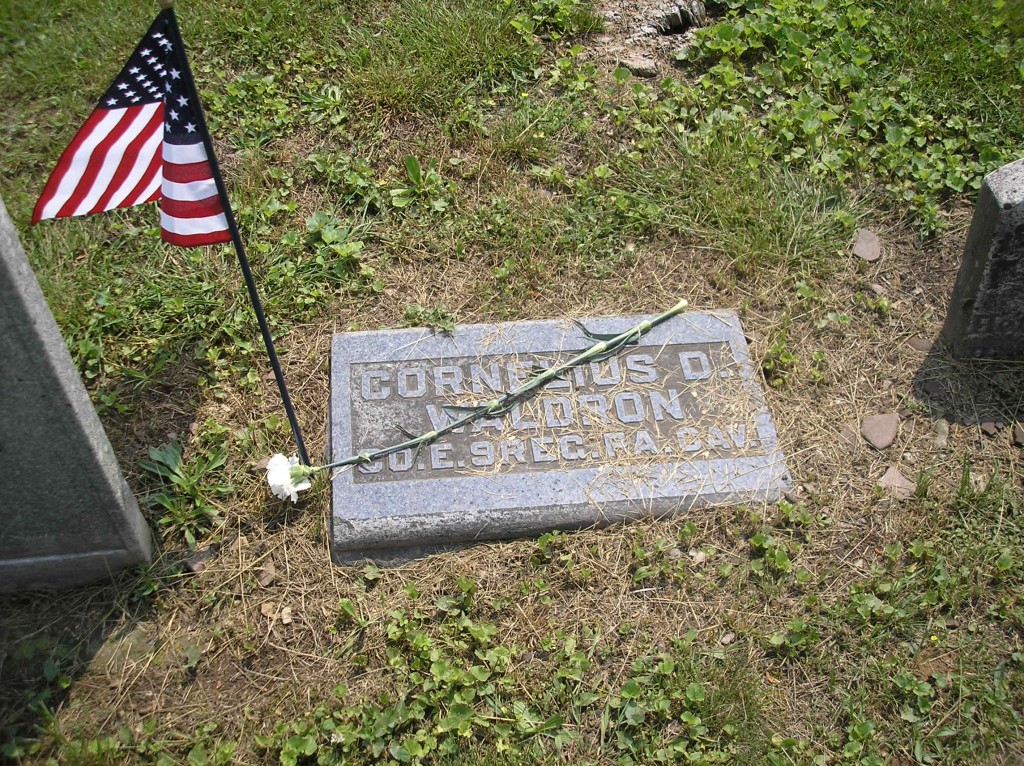 The grave marker of Cornelius D. Waldron clearly credits him with service in the 9th Pennsylvania Cavalry, Company E, where he was a Private from 9 September 1861 through the expiration of his enlistment and discharge, which occurred on 24 December 1864.  Cornelius was the son of William Waldron (born about 1813) and Deborah Waldron (born about 1810, maiden name not identified).  William was a farmer in the Halifax area but by 1860, Cornelius was working as a merchant in Halifax and living in the household of his widowed mother.  When Cornelius enrolled in the cavalry in 1861, he gave his occupation as "postmaster."  It was common practice in rural areas that post offices were established in general stores and that the proprietor of the store was the town's postmaster.
After his Civil War service, Cornelius married Margaret Agnes "Mary" Lodge, perhaps related to the William Lodge (above) whose grave is in close proximity to that of the Waldron graves in this cemetery.  In 1870, Cornelius continued to operate a store in Halifax, but by 1880, he is recorded as a farmer in the same area, and his mother-in-law, Elizabeth Lodge, a 77 year old widow, is living in his household.  In 1900, Cornelius' sister Hannah Waldron, age 56 and not married, is living in his household in the Halifax area, and Cornelius is working as a farmer.  But by 1910, Cornelius is listed as "Borough Constable" for Halifax.  The year of Cornelius' death is not recorded on the gravestone.
As for his Civil War record, no war-related disabilities were reported in the 1890 Census.  Cornelius did apply for an invalid pension,  but that occurred in 1890, when the rules were sufficiently relaxed to permit documentation of three months or more of service as the major qualifier as opposed to injury or disability connected to war service, which usually had to be documented before 1890.  Cornelius' wife is not named on the Pension Index Card, which usually indicates that she died before he did.
This veteran surely left more records than have been discovered to date, particularly since he operated a business in Halifax, was for a time the postmaster, and later served as constable.   Perhaps a reader of this blog can add more information about him, including a picture.
——————————
Continued tomorrow…. For other posts in this series, click here.