Posted By Norman Gasbarro on July 22, 2012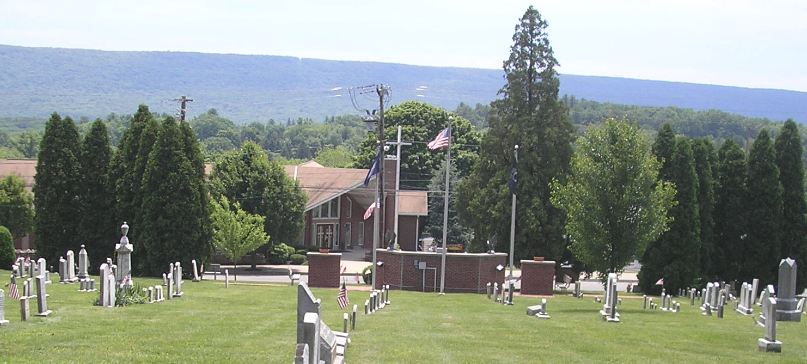 The Tower City Borough, Porter Township and Rush Township Veterans Memorial is located at St. Paul's Lutheran Church Cemetery which is located along Route 209 in Tower City, Schuylkill County, Pennsylvania.  It was the subject of a prior post on this blog on 30 December 2010.
Within the glass cases on the monument are name plates for each of the eligible veterans who served in America's Wars.  The Civil War veterans are noted in the left case in the center section of the monument.  To give due recognition to each of the Civil War veterans named on the monument, the name plates will be individually pictured followed by a brief description of the Civil War service of the veteran.
—————————-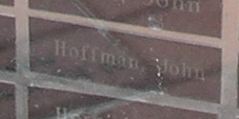 JOHN HOFFMAN (? – ?), a name by which many Civil War soldiers were known, has not yet been connected to the Tower City area.  Anyone with information on the John Hoffman who is recognized on this memorial is urged to contact the Civil War Research Project or add a comment to this post.
——————————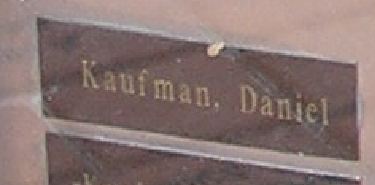 DANIEL KAUFMAN (? – ?) is also unknown at this time.  There is also a second person of this name on the memorial, but spelled "Daniel Kauffman."
——————————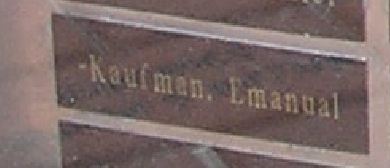 EMANUEL KAUFMAN (1822-1863), also known as "Emanual Kauffman" and "Emanuel Kauffman," is believed to be the same soldier who served in the 100th Ohio Infantry, died of typhoid fever at Knoxville, Tennessee, and is buried in the Old Gray Cemetery at that place.  It is said that he was married to Adaline Keener and that their son also died in the war.
——————————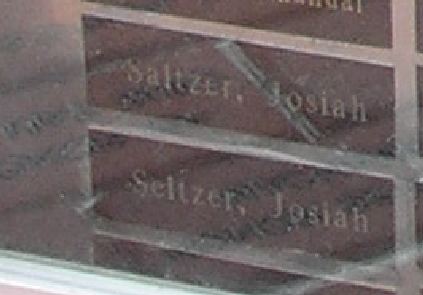 JOSIAH SALTZER (1845-1898) is one of two adjacent name plates of a similar name, the other being Josiah Seltzer.  There is a Josiah D. Seltzer who is buried in the Zion (Klinger's) Church Cemetery in Erdman, Lykens Township, Dauphin County, who served in the 50th Pennsylvania Infantry, Company A, as a Private, and is also found in the Prisoner of War (POW) records.  That Josiah was married to Violet Klinger and also to Barbara Wiest.  Violet was a direct descendant of Johann Peter Hoffman (1709-1798), pioneer settler of the Lykens Valley.
——————————

JOHN GOTLOB (? – ?) is named at the bottom of the case and the nameplate is difficult to read and photograph.  At this time it is unknown who he was or in what Civil War regiment he served.
——————————


PETER F. LUCAS (1837-?) is named twice on the memorial but only one person of this name has been found in the military records.  He first served in the 10th Pennsylvania Infantry, Company F, as a Private, from April 1861 through July 1861 and then returned home, eventually re-enlisting in the 50th Pennsylvania Infantry, Company A, as a Private on 27 February 1864, where he served until discharged on 30 July 1865.  His wife's name was Catharine.  In 1890, he was living in Tower City and he complained of liver and kidney disease which he said he contracted as a result of his war service.
——————————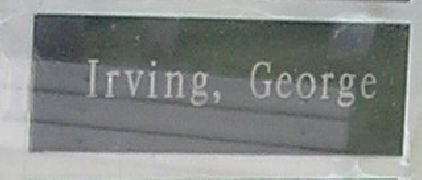 GEORGE IRVING (1842-1920) enrolled at Minersville, Schuylkill County, in the 55th Pennsylvania Infantry, Company E, as a Private and served from 1 March 1864 through 30 August 1865.  His residence at the time of enrollment was Northampton County and his occupation was miner.  He married a woman named Maggie.  In 1890 he was living in Lykens and when he died, he was buried in Greenwood Cemetery, Tower City.
—————————–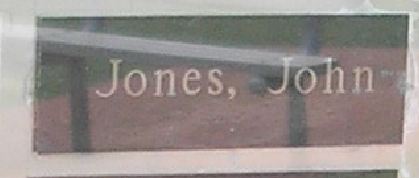 JOHN JONES (1844-?) was living in Ravine, Schuylkill County, in 1890.  He stated that he served in the 194th Pennsylvania Infantry, Company K, as a Private, from 18 July 1864 though 6 November 1864.  Not much else is known about him except that for his military service he enrolled in Harrisburg.
——————————

WILLIAM JONES (1827-1906), was an immigrant from Wales who was married to Annie Shannon.  His military service was as a 1st Lieutenant in the 26th Pennsylvania Infantry (Emergency of 1863), Company D, in June and July of 1863.  He is also found in the records as William H. Jones and William Woodwill Jones.  In 1890, while living in Lykens, he told census takers that he wasn't certain of his dates of service because his "discharge burned when his house burned."
—————————–
To be continued tomorrow….
Other posts in this series may be accessed by clicking here.