Posted By Norman Gasbarro on July 15, 2012
The post today concludes a look at three men with connections to Tremont, Schuylkill County, who served in the Civil War in the 50th Pennsylvania Infantry:  Jacob Shade (1833-1864); William Henry Hiney (1840-1864); and Emanuel Eckle (1843-1864) – all of whom died as a result of the war.  This post is also a continuation of the series on the men who served in Company A and Company C of the 50th Pennsylvania Infantry.
—————————
EMANUEL ECKLE (1843-1864)
Emanuel Eckle was born about 1843 probably in Schuylkill County.  Not much is known at this time about his background.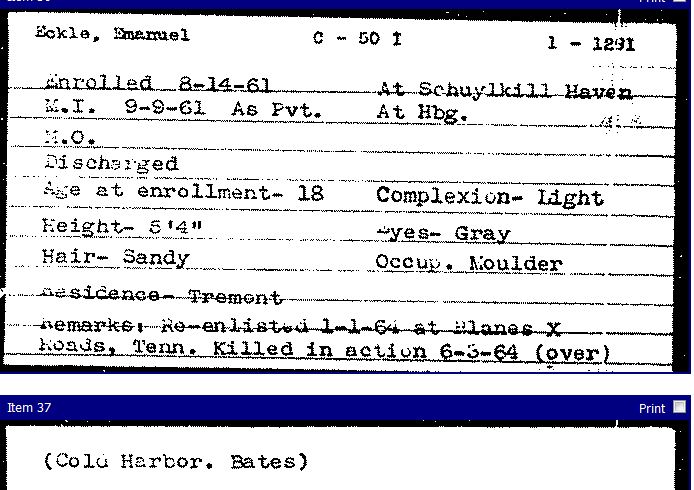 On 14 August 1861, Emanuel enrolled as a Private in the 50th Pennsylvania Infantry, Company C, at Schuylkill Haven, Schuylkill County.  When he mustered in at Harrisburg on 9 September 1861, he was registered as an 18-year old moulder who lived in Tremont.  He was 5 foot, 4 inches tall, had sandy hair, gray eyes, and a light complexion.  Emanuel served without serious injury and on 1 January 1864, at Blaine's Crossroads, Tennessee, he re-enlisted.   Unfortunately, he was killed at Cold Harbor, Virginia, 3 June 1864.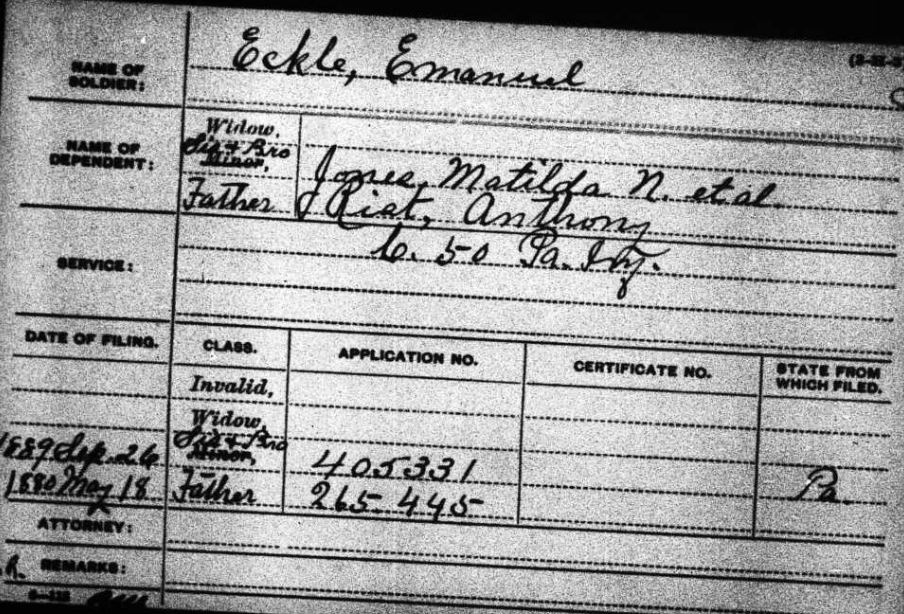 Emanuel had not married and the only survivors who through they could collect a pension based on his service were siblings, for which a Matilda N. Jones applied and a father whose name was Anthony Rist.  Neither pension was awarded possibly indicating that a relationship could not be established.
More information is sought on Emanuel Eckle and readers are urged to contribute what they know about this Tremont resident who gave his life for the Union.
This is the final post on three Tremont men who served in the 50th Pennsylvania Infantry who died in the Civil War.
Pennsylvania Veterans' Index Cards are from the Pennsylania Archives.  Pension Index Cards are from Ancestry.com and reference records in the National Archives in Washington, D.C.