Posted By Norman Gasbarro on July 8, 2012
The post today continues a look at three men with connections to Tremont, Schuylkill County, who served in the Civil War in the 50th Pennsylvania Infantry:  Jacob Shade (1833-1864); William Henry Hiney (1840-1864); and Emanuel Eckle (1843-1864) – all of whom died as a result of the war.  This post is also a continuation of the series on the men who served in Company A and Company C of the 50th Pennsylvania Infantry.
——————————-
WILLIAM HENRY HINEY (1840-1864)
William H. Hiney was born about 1840, probably in Schuylkill County, the son of Frederick R. Hiney (1809-1897), a brick maker, and Roseanna [Reed] Hiney (?-1848).  The record suggests that William's mother died when he was about eight years old, probably as a result of complications from childbirth as a young brother, Charles Hiney, was born the same year.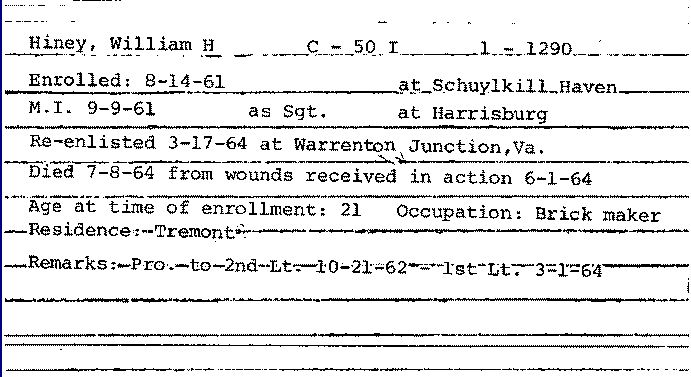 In 1861, when William enrolled in the 50th Pennsylvania Infantry, Company C, as a Sergeant at Schuylkill Haven, Schuylkill County, he was a brick maker living in Tremont.  His muster date was 9 September 1861 and the place was Harrisburg.  On 30 August 1862, William's brother George W. Hiney, who was a private in the same regiment and company, was killed at Bull Run.  On 21 October 1862, William was promoted to 2nd Lieutenant, and on 17 March 1864, he was promoted to 1st Lieutenant when he re-enlisted at Warrenton Junction, Virginia.  On 1 June 1864, William Henry Hiney died in Armory Square Hospital, Washington D.C., as a result of wounds received in battle.  His body was brought to Dauphin County where he was buried in the Harrisburg Cemetery.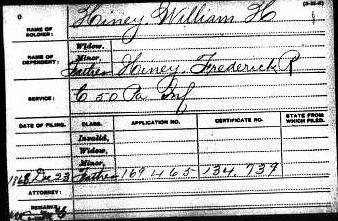 Since William was not married and had no children, his father Frederick R. Hiney applied for benefits in 1868 and received William's pension, which he collected until his death in 1887.
Additional information is sought on William Henry Hiney.  Anyone with information is urged to contribute it.
On Sunday 15 July 2012 the final post of three on the men of Tremont who served in the 50th Pennsylvania Infantry and who died in the war.  It will feature Emanuel Eckle (1843-1864).